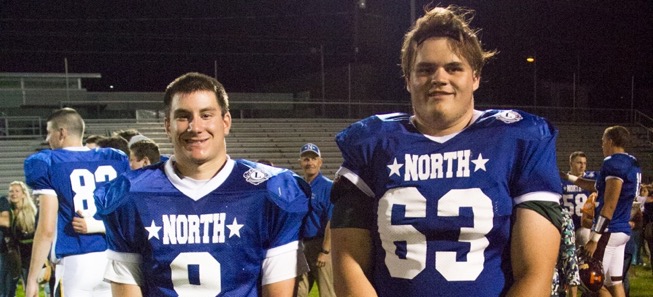 Covert, Tremper end careers at All-Star game
By: Ed Weaver / June 25, 2016
Seniors Owen Covert and Nick Tremper finished their high school football careers at the 26th annual District IV North-South All-Star football game on Friday, June 24.
Tremper and Covert both contributed as the North won their second straight game, 28-21. Covert manned the offensive line for the majority of the night, while Tremper was credited for 3 tackles from his linebacker position.
The South scored the game's first points as Selinsgrove's Shawn Turber caught a 19 yard pass from Shikellamy's Christian Schlegel, but the kick missed to make it 6-0. The North then took a 7-6 lead with 25 seconds remaining in the opening quarter as Jersey Shore's Travis Bradley connected with Athens' Austin Lister on a 61 yard pass, followed by an extra point by Towanda's Tyler Basse.
The North extended their lead as Troy's Ben Sherman, the North's Offensive MVP, plowed across the end zone from 3 yards out to make it 13-6 with 8:37 remaining in the first half. The South scored with 31 seconds left before the half as Turber caught his second touchdown, a 34 yard pass from Southern Columbia's Nick Becker, to pull within a point. Bloomsburg's Tommy Harrison then converted the two-point attempt to give the South a 14-13 lead.
Both teams traded touchdowns in the third quarter. Sherman again scored on a 3-yard run and Basse's kick made it 20-14 with 7:32 remaining, then Tuber caught his third touchdown of the night, a 45-yarder from Schlegel to put the South back up 21-20 after Selinsgrove's Joe Radel made the extra point at the 5:37 mark.
The North then scored the game's winning touchdown with 8:59 remaining in the game as Athens' Aaron Barry connected with Montoursville's Keith Batkowski on a 13-yard pass. Sherman converted the two-point try to give the North the 28-21 win.
For both Covert and Tremper, Friday's game was the final game of their tremendous careers in Green and White. During the past four years, Covert and Tremper have helped turn the Hornets into a force to be reckoned with. Three years prior to their freshmen years, the Hornets had won a total of 6 games.
When both were freshmen, the Hornets were 5-5 in former head coach Steve Boyce's last season, then once current head coach Matt Hildebrand took over when the two were sophomores, the team went 10-1, 8-3, and 10-3 with 4 straight wins over rival North Penn for the Morton F. Jones Trophy, 3 straight District IV playoff appearances, their first District playoff win, the program's first ever District IV championship, and a PIAA playoff appearance.
For Tremper, he will miss playing under the lights.
"It feels pretty good because we got the win, but it's also kind of sad because it's over but I get to continue on at the next level. It's just great that I could end it on a win. You can't have a better ending."
"It was different to play with different people," Covert said. "We had to gel this past week, it wasn't like we knew the other guys so we had to get ready and get into it with them and learn how to play together."
Tremper also commented on what it was like being teammates with former rivals.
"It was pretty cool actually, I actually liked it a lot. We got to meet new guys and become friends and we gelled right away as a team."
WellsboroFootball.com would like to congratulate the North squad on their win and would like to congratulate Nick and Owen on a great game and great careers at Wellsboro.