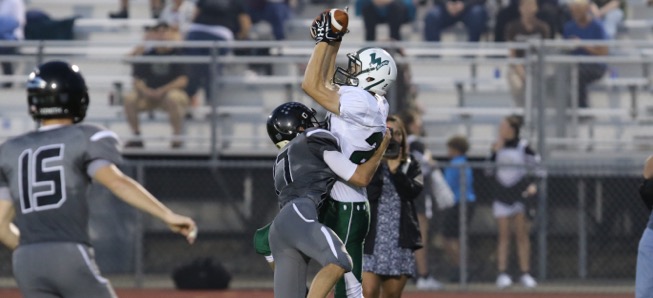 Hornets improve to 3-0 with 28-14 win over Athens
By: Ed Weaver / September 12, 2016
The Wellsboro Varsity Football team improved to 3-0 (3-0 NTL) with a 28-14 win over Athens on Friday, September 9.
Athens received the ball to start the game, and after three attempts of the opening kickoff, the Wildcats put together a solid 10-play drive that went into Wellsboro territory, but ended with three straight incompletions from the Hornets' 26-yard line.
Junior Alex Kozuhowski gained 18 yards on Wellsboro's first play from scrimmage, but the drive stalled and Wellsboro was forced to punt. Athens' ensuing drive ended after a three-and-out, and the Hornets immediately went to the air on their next drive. On the Hornets' second play of the drive, Junior Quinn Henry connected with junior Dalton Prough on a deep pass, then Prough carried an Athens defender 10 yards for the 42 yard score. Junior Nic Ingerick's kick was good, and Wellsboro led 7-0 iwth 3:20 remaining in the first quarter.
"I'm very pleased and we've harped on that," said head coach Matt Hildebrand. "The last two weeks we haven't come out very strong and it was a point of emphasis this week. Athens is a good team and we didn't want to give them any life and get behind. I was really pleased with how we started this week so we have to continue to build upon that."
Athens' next drive ended in another three-and-out and again Wellsboro's offense took off. Henry hit senior Parker Jones on a 6 yard pass before connecting with Prough again, this time for 29 yards, down to the Athens 22-yard line. From there, Henry called his own number and raced 22 yards to make it 14-0 Hornets with 11:46 left in the second quarter.
The score remained at 14-0 Wellsboro for the remainder of the half, thanks to the Wellsboro defense. Coming into the game, Wellsboro has yet to allow an opponent to score. The Hornets recorded three sacks in the second quarter that ended two Wildcat drives, then held Athens on fourth down inside the Wellsboro 15-yard line as the first half ended.
The Wellsboro offense came out firing on all cylinders. After short runs by Kozuhowski and fellow junior Chase Moser, Moser broke free from the Wildcat defense for 48 yards down to the 10. Two short passes to Jones, with a negative run by Kozuhowski in between, setup the Hornets at the 3 where Henry ran a quarterback draw into the end zone. Ingerick made his third kick of the night to give Wellsboro a 21-0 lead with 8:06 remaining in the third.
Athens failed to move the ball on their next drive, giving the Hornets back the ball. A 6 yard run by freshman Aidan Hauser and a 20 yard pass from Henry to senior Brandon Lamphier moved the ball into Athens' territory, but the drive was stalled as Henry was intercepted for the second time of the night.
Wellsboro's defense again came up big on the Wildcats' next drive, this time creating a turnover. Junior Collin Pietropola got into the backfield and sacked quarterback Justin Reagan and stripped the football in the process. Senior Brody Coolidge picked up the loose ball and rumbled 41 yards down to the Wildcats' 4-yard line, where Kozuhowski punched the ball in a play later to make it 28-0 Wellsboro with 1:11 left in the third.
Athens would eventually get on the scoreboard in the fourth quarter with two touchdowns from Zack Jayne. The first score came with 7:18 remaining on a 12 yard run, then with 2:17 on a 1 yard run to bring the score to 28-14. Athens attempted an onside kick, but Jones secured the ball to give the Hornets control. From there, Henry broke a 23 yard run to move into Athens' territory, then the Hornets ran out the clock to secure the win.
"Our defense has been tremendous all year and it was again tonight," Hildebrand said. "To hold teams to 14 points in three weeks, let alone hold Athens to 14 points. It very easily could have been a shutout. I think our guys got a little down after they scored once because they wanted a donut on the scoreboard, but you have to keep pushing on. It was eventually going to happen (a team scoring), and its out of our system now and we can just play. We played solid all night and I think at the end we got a little fatigued so that's an area we'll address. We don't have a lot of guys so we're going to have to get in better shape for the fourth quarter."
Henry was 7-for-12 for 101 yards passing and a touchdown on the night, and rushed for 81 yards with 2 scores on 12 carries. Moser carried the ball 5 times for 62 yards, and Kozuhowski had 33 yards on 9 attempts. Prough led all receivers with 2 catches for 71 yards and a score, Lamphier finished with a catch for 20 yards, and Jones caught 3 passes for 13 yards. On the defensive side, Pietropola made a career-high 16 tackles with a forced fumble and a sack, Jones had 10 tackles and 2 sacks, Coolidge made 8 tackles, had a sack, and a fumble recovery, and sophomore Robert Brown made 6 stops.
The Hornets travel to Towanda (1-2) this Friday, September 16. Last season, the Black Knights were the only team to hold the Hornets scoreless.