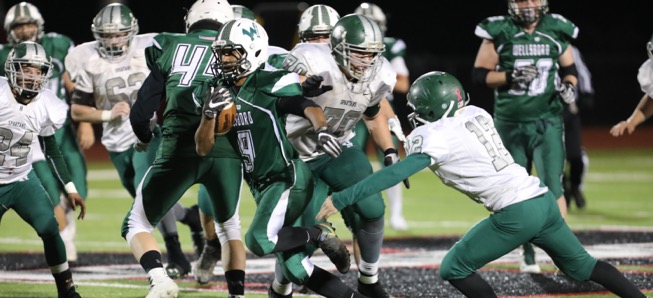 Hornets roll past Hughesville in District IV quarterfinals
By: Ed Weaver / November 5, 2016
The Wellsboro Varsity Football team rushed for 341 yards en route to a 49-26 victory over Hughesville in the first round of the District IV Cass AA playoffs on Friday, November 4.
"It was a different win than we've had this year but I'm proud of our boys and the character that they showed," said head coach Matt Hildebrand.
What Hildebrand was referring to was what Hughesville did that no other team has done this season - score in the first half of a game. Coming into Friday's game the Wellsboro defense allowed only 33 points the entire season. Hughesville scored on the game's opening drive, something no team has done to the Hornets all year.
"It was a different situation we've been in all year and you don't know how they are going to respond to that," Hildebrand continued. "Being down for the first time all year they came back and responded in a big way kept the hammer down and kept fighting all night. We said once you get to the playoffs the whole nature of the beast changes and I'm really proud of the boys and how they fought all night."
Hughesville put together an 11-play drive to start the game, highlighted by a 12 yard run on third down by Ryan McClain and a fourth down pass from Landon Henry to Julian Brehm. The Spartans marched down inside the Wellsboro 5 and scored on a 4 yard run from Gavin Steele to give the visitors an early 6-0 lead.
Trailing for the first time all season, Wellsboro's offense took some time to get started. After punting on their first drive, junior Collin Pietropola pinned the Spartans at their own 7-yard line. Wellsboro's defense forced a punt that junior Quinn Henry returned to the 20-yard line. It took the Hornet offense only 6 plays to find the end zone with a short field. Henry found senior Parker Jones from 24 yards out, over two Hughesville defenders, for the score with 1:54 remaining in the first quarter. Junior Nic Ingerick's extra point was good and the Hornets led 7-6.
Wellsboro's defense forced two three-and-outs on Hughesville's next two drives. A fumble in between Hughesville drives didn't hurt the Hornets as they scored their second touchdown of the night in only two plays. After a 14-yard run by Quinn Henry, senior Dupree Hosey cut through the Spartan defense for 48 yards to put the Hornets up 14-6 with 8:38 remaining in the second quarter.
Hughesville threatened and got to the Wellsboro 20-yard line, but Quinn Henry intercepted a Landon Henry pass. Wellsboro turned the ball back over for the second time of the night, then was hit with a personal foul to setup the Spartans inside the Hornet red zone. Hughesville's Landon Henry threw a short pass to Brenden Gardner, then rushed back-to-back for 7 totals yards to put the Spartans at the Wellsboro 9. Wellsboro's defense held for the first three downs, but Henry connected with McClain from 4 yards out to bring the score to 14-12 with 35 seconds left in the first half.
Hughesviile thought that they would go into halftime down two scores, but Quinn Henry thought otherwise. With the Hornets starting at their own 42 yard line, Henry rushed twice on the drive and scored from 55 yards out to put the Hornets up 21-12 with 18 seconds left before the half.
"That probably wasn't the most conventional call but Quinn isn't your conventional quarterback," Hildebrand said. "With 18 seconds left before the half most teams are going to throw the ball, but they sat deep in a cover-4 and we have Quinn Henry, so give him the ball and if there's not that many people in the box he's gonna get in the end zone."
Wellsboro got the ball to start the second half but again didn't get started until their second drive. Wellsboro's defense held after the Spartans tried to pick up a first down on fourht-and-9 and gave the offense great starting field position. From the Hughesville 45 Hosey picked up a gain of 9 yards before Henry found senior Brandon Lamphier from 34 yards out for the score to put the Hornets up 28-12 with 6:55 remaining in the third.
Hughesville refused to quit and scored on their next drive to cut the lead to 8 points. The Spartans picked up one first down on their own, then received two more as the Hornets were hit with two questionable personal foul penalties to put ball at the Wellsboro 17. On the following play Landon Henry hit Jase Wright for 17 yards for a score, then hit Malachi Savage on the two-point conversion to make the score 28-20 in favor of the Hornets with 4:20 remaining in the third quarter.
Wellsboro added two more scores to close out the third quarter. The first one came on a 13-yard run by Henry with 2:13 left, then a 60-yarder by Hosey with 42 seconds left to increase the Hornets' lead to 42-20.
Hughesville scored once more on the night to start the fourth quarter on a 6 yard pass from Landon Henry to Brenden Gardner before the Hornets scored their final touchdown on the night on their next drive. Following a short kick the Hornets started on their own 47-yard line. Henry and Hosey got them to the Hughesville 35-yard line before Henry hit Lamphier for a gain of 32 down to the 1-yard line. Henry followed that up a play later for the final score of the game to give the Hornets a 49-26 win, their 11th of the season.
Wellsboro put up 472 yards of offense on the night. Henry threw for 131 yards on 8 completions and 2 touchdowns. Henry has now thrown for 837 yards this season and 2,213 for his career. Henry also rushed for 121 yards on 13 carries and 3 scores to give him 930 yards on the year and push him over 1,980 for his career. Hosey had a career night as he rushed for 170 yards and 2 touchdowns on 14 attempts. Lamphier led the team with 66 yards on 2 receptions and Jones had 54 yards on 3 catches.
Defensively, sophomore Robert Brown led the team with 11 tackles, Henry had 8 tackles and an interception, Jones had 7 tackles and a sack, tying him with with Rob Kreger with 14 career sacks. Pietropola and junior Brent English both had 7 tackles, and junior Dalton Prough had 5 tackles. As a whole, Wellsboro's defense allowed 277 yards on the night.
"They (Hughesville) found a few chinks our armour and exposed the flats a little bit tonight, but we eliminated the big plays out of them tonight," said Hildebrand on the team's defensive effort. "They have a great receiver. (Brenden) Gardner is a great receiver and (Landon) Henry is definitely the best quarterback we've seen this year. Moving ahead we need to contain quarterbacks. Even though our defense was scored upon they did what they had to do to keep them out of the end zone. It was definitely a team win."
Next up the the Hornets (11-0) is a rematch with #3 South Williamsport, 40-0 winners over Mount Carmel, next Friday, November 11 back at Mansfield University.
"I'm excited to see some film on them this weekend and get back to work," Hildebrand said. "They got us here a few years ago and I want to get one back from them. They're a good football team and have played some tough opponents and they've had some great games this year. We have to come ready to play. I'm expecting another physical football game once again."