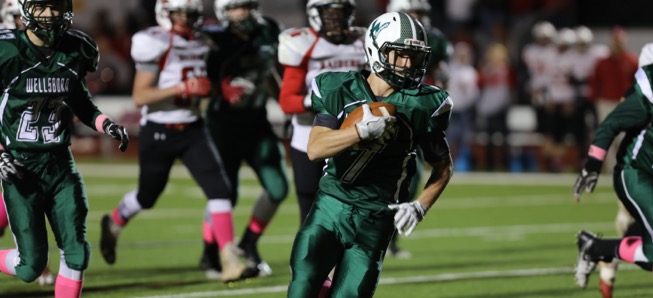 Hornets romp Red Raiders on Homecoming
By: Ed Weaver / October 15, 2016
The Wellsboro Varsity Football team rushed for over 350 yards on their way to their 8th straight victory with a 62-6 win against Montgomery for Homecoming on Friday, October 14.
While the Hornets gave up a late touchdown in the fourth quarter, they have only allowed 33 points on the entire season (4.13 per game), and have out-scored their opponents 216-19 in their past 4 games.
"We played our football tonight and did what we needed to do to get the win," said head coach Matt Hildebrand (36-7). "Our defensive continues to play really well. We did some good things on offense, our offensive line did a lot of good things, and we got a lot of guys in the game tonight."
Wellsboro scored in all three phases of the game, their second straight game they accomplished that feat, as they scored one defensive touchdown, one special teams touchdown, and multiple offensive touchdowns, despite running only running 11 offensive plays in the first half. The Hornets also had a punt return touchdown called back on a roughing penalty.
"It's great to show that we can get the ball into the end zone in multiple ways," Hildebrand continued. "The more ways we can do that the more dangerous we are. Those are things we work on every week and it was one of our goals coming into tonight. We've been trying to block a punt all year and it's one of those things we look at getting even better at."
Wellsboro scored just minutes into the first quarter as junior Dalton Prough intercepted Brayden Strouse's first pass attempt of the night and returned it 65 yards to the house to put the Hornets up 7-0 early after senior Jacob Singer's extra point. Wellsboro scored another touchdown in less than 3 minutes after holding Montgomery to a 3-and-out on a 26 yards run by junior Chase Moser to make it 14-0 with 6:06 remaining in the opening quarter.
The score remained 14-0 in favor of the Hornets until 11:08 in the second quarter as Moser broke off another run, this time for 72 yards, to make the score 22-0 after junior Quinn Henry rushed for the two-point conversion. Wellsboro added another quick touchdown, this time after holding Montgomery to 3 plays, on a blocked punt return. Senior Caleb Sinkler recorded the block and senior Brody Coolidge picked the ball up and returned it 28 yards to paydirt to increase Wellsboro's lead to 29-0.
Wellsboro scored 3 more times to close out the first half. Senior Dupree Hosey flashed his speed on a 68 yard run to make it 36-0, then Henry returned a punt 62 yards to the house to make it 43-0, and Henry added the final score of the half on a 37 yard run to make it 50-0 Hornets at halftime.
With the win secure, Wellsboro's JV team played the entire second half and scored two touchdowns. The first came on the Hornets' opening drive of the half. Freshman Aidan Hauser was the workhorse of the drive rushing 6 times for 69 yards, with the last carry being a 40 yard touchdown to make it 56-0 Hornets. Wellsboro's final touchdown came with 5:52 remaining in the game as junior Brent English punched the ball in from 5 yards out after Coolidge got Wellsboro into scoring position on a 30 yard run.
Montgomery scored their lone touchdown of the night on the following drive. Keith Habersham peeled off a 50 yard run on their first play from scrimmage to get down to the Wellsboro 18-yard line, then Strouse connected with Habersham from 17 yards out on fourth down to make the final score 62-6 for the Hornets' third Homecoming win in the past 4 years.
Wellsboro only attempted 4 passes on the night with Henry (3 yards) and English (5 yards) both going 1-for-2. Sophomore Isaac Bechtel led the team with 1 catch for 5 yards and senior Parker Jones had the other catch for 3 yards. Moser led all rushers on the night with 109 yards on 4 carries, and now has over 1,000 for his career (1,029), and scored twice. Haused finished with 77 yards on 7 carries, Hosey had 68 yards on his only carry of the night, Henry had 42 yards on 2 carries and a touchdown, and Coolidge added 36 yards on 5 carries.
On the defensive side, Jones led the Hornets with 9 tackles and a sack, for his 155th career tackle and 13th career sack (in two years). Junior Collin Pietropola recorded 8 tackles and recovered a fumble, Hauser made 7 stops, Sinkler had 6 tackles, and Coolidge added 5 tackles to go along with his blocked punt return.
Coming up next for Wellsboro are two tough weeks in Wyalusing and North Penn-Mansfield that will decide the NTL Large School Division.
"We departmentalize the season and these last two weeks are the start of post-season for us and they're going to mean a lot", Hildebrand concluded. "We have to take care of business. The trip to Wyalusing is always rough and we have to focus on just that game a not look ahead to week 10. Next week is a perfect trap game so we have to take care of week 9 before we move ahead to week 10."
Wellsboro is now 8-0 (8-0 NTL) and will be on the road on Friday, October 21 against Wyalusing.