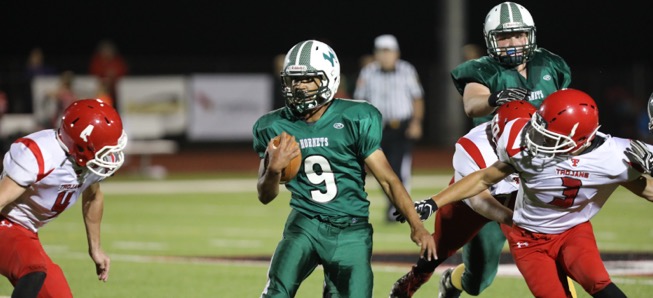 Hornets run all over Troy
By: Ed Weaver / September 24, 2016
The Wellsboro Varsity Football team rushed for 367 yards en route to a 54-13 win over Troy on Friday, September 23.
The win is Wellsboro's fifth of the year (5-0, 5-0 NTL), and is the third time in 4 years under head coach Matt Hildebrand (33-7, .825%) that the Hornets have started 5-0.
"We talked all week to the kids about playing a complete game," Hildebrand said. "We haven't done that this year until tonight. We needed to come out firing on offense and put the ball in the end zone every time we had the football. Now we need to continue to do what we did tonight, start fast and finish the football game."
The Hornets controlled the ball the entire night in their first dominant win of the season. Junior quarterback Quinn Henry also had his best night of the season with 5 combined touchdowns (3 passing, 2 rushing) along with accounting for 254 of Wellsboro's 486 yards of total offense.
"He's pretty dynamic with the football," Hildebrand said of Henry. "It's stuff that you can't coach. He's very comfortable out here (Mansfield University) and has played well on this field. I think he's more dangerous on turf than he is on grass."
After Troy's opening drive, their longest of the night that featured a fake punt, the Hornets took right over after a missed field goal. Henry broke a run of 22 yards, followed by a 15 yard gain by junior Alex Kozuhowski. After an 11 yard run by Henry, Kozuhowski broke through the middle of the Troy defense for a 23 yard touchdown. Junior Nic Ingerick's extra point was good, and the Hornets held a 7-0 lead with 6:28 remaining in the first quarter.
Troy's next drive was stopped short by the Wellsboro defense, and again the Wellsboro offense went back to work. Henry picked up a gain of 21 down tot he Troy 34-yard line, then after a Troy penalty, Henry broke free for 29 yards for the score to make it 14-0 with 3:05 remaining.
Troy's third drive ended in a turnover as Clark Jackson fumbled the ball away, but the Trojans got the ball back 4 plays later on a Henry interception. The possession would be short lived, however, as sophomore Hunter Brown recovered a Ja Wallace fumble to give the Hornets the ball. Again, Wellsboro capitalized on their excellent field position for another scoring drive. Henry picked up a gain of 21 on third-and-3 down to the Troy 10, then hit senior Parker Jones for another one-handed touchdown grab to push the score to 20-0 with 10:22 left in the first half.
The Hornets forced Troy to punt on their next drive, and put together an 8-play scoring drive. The Hornets featured junior Chase Moser on the drive, as he rushed 3 times for 32 yards to get inside the Troy 20. Henry then picked up 6 yards, sophomore Robert Brown picked up 3, then Henry scored his second rushing touchdown from 5 yards out with 4:26 left in then opening half. Wellsboro's ensuing two-point conversion failed and the Hornets led, 26-0.
The Hornets added one more score before the half expired after another failed Troy drive. Henry picked up a gain of 18 yards before connecting with senior Brandon Lamphier for a 55 yard strike to make it 34-0 after Henry's two-point conversion run with 1:39 remaining.
After halftime, Wellsboro picked up right where they left off with another scoring drive. The Hornets mixed runs by senior Dupree Hosey with a 10 yard pass from Henry to Lamphier before Henry hit senior David Straniere for 44 yards to make it 40-0 Hornets with 9:02 left in the third. Troy finally got on the scoreboard midway through the third as Wallace took a Jackson pass 70 yards to pay dirt to bring the score to 40-6.
Wellsboro increased their lead on their next drive that ended the third and started the fourth quarter. Hosey carried the ball the majority of the drive, gaining 43 yards on 9 carries, to bring the score to 47-6 with 11:58 remaining in the game.
Troy put together a 13-play drive down to the Wellsboro 30 on their ensuing drive, but Wellsboro stopped Troy on an incomplete pass on fourth down. The Hornet offense put together their final drive, a 3-play drive, immediately after. Hosey broke free of the Troy defense for a 66-yard gain down to the Troy 4, then two plays later senior Brody Coolidge punched the ball in from 2 yards out to make the score 54-6.
Troy added one more touchdown, a 4 yard run by Nate Martin, on their next drive to bring the final score to 54-13 Hornets.
Henry led the way for Wellsboro, completing 4-of-10 passes for 119 yards and 3 touchdowns and rushed for 135 yards and 2 scores on 10 carries. Hosey finished with 119 yards on 14 carries, and Moser ran 8 times for 44 yards. Kozuhowski finished with 38 yards on 2 carries, and Robert Brown rushed for 29 yards on 5 attempts. Lamphier caught 2 of Henry's passes for 65 yards, Straniere caught 1 for 44, and Jones caught 1 for 10 yards.
On the defensive side of the ball, Jones led the team with 12 tackles, junior Collin Pietropola made 7 tackles and forced a fumble, Robert Brown made 6 tackles, Hunter Brown had 4 tackles, and Coolidge added 3 tackles and a sack. For the year, the Hornets have surrendered 27 points (5.4 per game), and have held opponents to 137.2 yards of offense in 5 games.
For Troy, Jackson was 5-for-13 passing for 87 yards, Zachary Zimmerman rushed 15 times for 83 yards, and Wallace caught 2 passes for 86 yards.
Next up for the Hornets are the Muncy Indians (2-3), who lost 23-22 to Sayre. Kickoff is scheduled for 7:30 on Friday, September 30 at Mansfield University's Karl Van Norman Field.