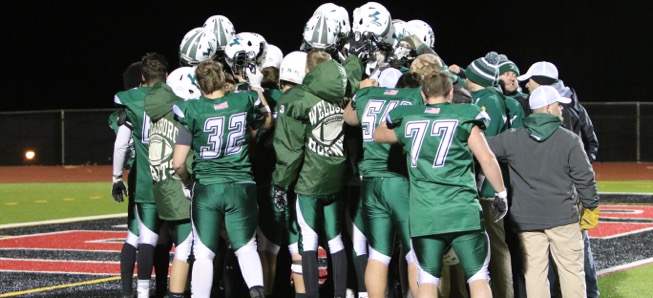 Hornets' season comes to an end against South Williamsport in D4 AA semis
By: Ed Weaver / November 12, 2016
The Wellsboro Football team's magic season came to an end with 3 seconds left on the clock in a 28-24 loss to South Williamsport in the District IV Class AA semi-finals on Friday, November 11.
Leading 24-21 after junior Nic Ingerick booted a 23 yard field goal with 4:27 remaining in the game, South Williamsport put together the game's final, game-winning drive.
Starting at their own 32-yard line, the Mounties marched 68 yards in 12 plays, 10 of those being on the ground by Ashton Martin with two completions from AJ Flick to Rion Withers. With time running out Flick faked the ball to Gideon Green, who only played 2 plays in the second half after being injured in the first, then ran a naked bootleg around the left end of the Hornet defense from a yard out to give the Mounties a 28-24 lead.
Wellsboro had a chance to make one last play on the game's last kickoff. Junior Alex Kozuhowski fielded the at his 24-yard line and returned it up to the 36. As Kozuhowski was getting tackled he lateraled the ball to junior Chase Moser. Moser broke free from the pile, but Kozuhowski's forward progress was ruled dead, ending the game.
"The plan was to throw it around so I don't know if it was a fumble, or he was down or if they called forward progress or not," head coach Matt Hildebrand said. "We didn't hear a whistle on our sideline. I just hope that it wasn't an inadvertent whistle. I hope that we just didn't hear it and they got the call right. We can live with that. I'd hate to see that the game ended on a missed call like that."
South scored the game's first points as Martin recovered a fumble and returned it 45 yards to make it 7-0 with 7:04 remaining in the first. The score stayed that way until early in the second quarter when they scored again. A sack ended the Hornets' second drive at South's 27-yard line, and the Mounties turned to their ground game that featured a heavy dose of Gideon Green and Martin. The two combined for 11 of the 12 plays before Green punched the ball in from a yard out to make it 14-0.
Wellsboro came alive on their next drive as junior Quinn Henry broke an 85 yard run to close the gap to a 14-7 difference with 9:33 remaining in the first half. South put together two more drives, each consisting of 10+ plays, to close out the first half.
Wellsboro started the second half with the ball and put together a 6-play drive, highlighted by a 51-yard run by Henry down inside the South 13. Three plays later Henry hit Moser from 9 yard out on a swing pass to tie the game at 14-14 with 9:15 left.
South scored on their next drive as Martin carried the way after Green was helped off the field in the second quarter. Martin rushed 7 times and scored from 6 yards out to make it 21-14 with 4:50 left in the third. The Hornets' next drive ended with an interception, but the Hornet defense held and forced South to punt.
Wellsboro took over, down Henry and senior Parker Jones due to injuries, at their own 43. After a holding penalty senior Brandon Lamphier hit Kozuhowski with a bomb down the Wellsboro sideline and Kozuhowski carried it the remainder of the way for a 67-yard touchdown to tie the game at 21-21.
Wellsboro again held South on downs on their ensuing drive and forced another punt. Taking over at their own 20-yard line after a touchback. Moser picked up 10 yards on their second play from scrimmage for a first down, then Lamphier connected with junior Dalton Prough for a huge 37-yard pass to the South 32. The Hornets had trouble moving the ball on their next three plays, but Lamphier again found Prough on fourth down, this time for a gain of 21, for first-and-goal down to the South 8. Wellsboro again had trouble moving the ball, but managed to get points on Ingerick's field goal.
Lamphier led the Hornet air attack with 135 yards on 4-of-6 passing with a touchdown and interception. Henry went 1-for-2 for 9 yards and rushed 6 times for 144 yards and a score before leaving the game with an injury. Moser finished with 47 yards on 10 attempts. Kozuhowski was the leading receiver with 67 yards on his only catch and Prough added 58 yards on 2 receptions.
Henry finished the year with 1,074 yards, his second straight 1,000 yard rushing season. He now has 2,128 yards for his career on the ground, and with 846 yards passing this season, he has thrown for 2,222 yards. Henry also became the third Hornet to rush for back-to-back 1,000 yard seasons. Tim Driebelbies (1984, 1985) and Chris Morral (1992, 1993) are the other two.
Lamphier finished the season 12-for-23 for 268 yards, and threw for 541 yards for his career. As a receiver he caught 14 passes for 283 yards this season, and had 26 catches for 507 yards and 7 touchdowns for his career. Jones finished his offensive career with 828 yards on 59 catches and 12 touchdowns in only two years. On the defensive side of the ball, Jones finished with 96 tackles from his defensive end position for the year, and 179 tackles and 14 sacks for his career.
On the defensive side of the ball, sophomore Robert Brown led the team with 22 tackles, junior Collin Pietropola had 14, junior Brent English has 12, and senior Dominic Spencer finished with 11. Brown broke the 100-tackle mark for the season with 114 and Pietropola finished the season with 99.
The loss ends the Hornets' season with an 11-1 record and is the final game for this year's senior class. In the time this class went through middle school, Wellsboro won a combined 11 games in 4 years. Once this year's seniors got to high school, Wellsboro won 39 total games (out of 47), had 2 undefeated regular seasons, won a District IV championship (the only one in school history), and played in a PIAA state playoff game. No other team in Wellsboro history has won as many games in their time in a Green and White uniform.
"These seniors came in with me and set the program where it is today," Hildebrand said. "They were baby-face freshman and with a new coach coming in, they trusted us and did what was required to win. They really put this program on the map and why people know Wellsboro football now. Looking back it's been very rewarding to watch them grow from the time they were freshman until now. They have all come a long way ,both on and off field, and will be very successful moving ahead. I hope they learned a lot of football, but more importantly a lot about life."
WellsboroFootball.com would like to congratulate this year's seniors on a fantastic career, and thank them for everything they have done to turn the Wellsboro program around to what it is today.