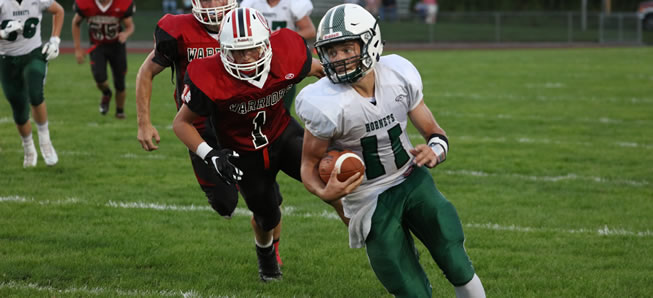 Hornets shutout Canton, 46-0
By: Ed Weaver / August 27, 2016
The Wellsboro Varsity Football team started the 2016 season on a positive note by shutting out Canton 46-0 on Friday, August 26.
It took the Hornets' offense a few series to come alive as they were forced the punt on their opening drive, then turned the ball over on their second possession. The turnover didn't hurt the Hornets, however, as junior Alex Kozuhowski intercepted a Ridge Moore pass to give the Hornets the ball at the Canton 35-yard line. Junior Quinn Henry broke a 27-yard run to get down inside the Canton 10, then hit Kozuhowski on an 8 yard pass to give the Hornets a 7-0 lead after junior Nic Ingerick converted the extra point attempt with 4:53 remaining in the first quarter.
The Hornets caused a turnover on Canton's next drive as James Bowman fumbled inside the Canton 30-yard line. Canton would get the ball back three plays later, however. Henry again broke a long run, this time for 35 yards, but fumbled at the 2-yard line. Wellsboro would capitalize three plays later as sophomore Hunter Brown sacked Moore in the end zone for a 5 yard loss and safety to put the Hornets up 9-0 with 2:00 remaining in the opening quarter.
The Hornets turned the ball over for a third time in the first half as Henry fumbled 2 plays after getting the ball back after the safety, but the Hornet defense forced Canton to punt to get the ball back at the Wellsboro 37-yard line. Runs by Henry and freshman Aidan Hauser moved the ball inside the Warriors' 30-yard line, where Henry would cap the 9-play drive with 7:58 remaining in the first half on a 27-yard run to put the Hornets up 16-0 after Ingerick's extra point.
Wellsboro added two more scores before the first half came to an end. The first cam with 3:11 remaining, as Hauser scored his first career touchdown on a 6-yard run, after a 24-yard pass from Henry to senior Parker Jones and a 9-yard run by Henry set the ball up at the Canton 6-yard line. Then as the first half expired, Ingerick booted a 27-yard field goal to make it 26-0 Hornets at the half.
Wellsboro picked up right where they left off in the second half, and cleaned up their sloppy first half play. On the second series of the second half, Hauser carried the way with runs of 5, 4, 8, and finally punched the ball in from 10 yards out to put the Hornets up 33-0 with 5:16 remaining in the third quarter.
The Hornets scored twice more in the game. With 3:14 remaining in third, Kozuhowski scampered 37 yards and senior Jacob Singer made the extra point to make it 40-0. Freshman Billy Lechler scored the game's final touchdown from 11 yards out with just over a minute left in the fourth quarter to give the Hornets the 46-0 NTL Large School win.
"You'll definitely take a win in the first game of the year," head coach Matt Hildebrand said. "We had a lot of first-game mistakes out there. I think we had over 100 yards in penalties in the first half so I'm not really pleased with that. You go into halftime and we got on them a little bit to improve our focus. If we clean up those things we can be even better."
Hildebrand, who won his 29th career game as head coach (third all-time in Wellsboro head coaching history behind Russ Manney and Ted Yeager), thought the team responded well after halftime.
"It's the first game of the year so I think we played tight and they just have to loosen up. The boys don't play well tight, and they never have, so they need to loosen up and have fun. Once they start having fun and play football and stop thinking that's when things started to move better."
Wellsboro racked up 398 of total offense on the night, compared to Canton's 34 yards. Henry went 6-for-11 for 91 yards passing with a touchdown and rushed for a game-high 113 yards on 13 carries and a touchdown.
"We came out together but it was a little sloppy and not what we wanted but a win is a win," Henry said.
Hauser finished with 101 yards and 2 touchdowns on 12 carries, and Kozuhowski accumulated 53 yards rushing on 5 carries and caught 3 passes for 57 yards. Junior Dalton Prough caught 2 passes for 10 yards and Jones had a catch for 24 yards.
"I couldn't do it with my linemen," Hauser said. "They opened up hole and I ran through them."
Defensively, sophomore Robert Brown recorded 8 tackles and a sack, Hunter Brown made 6 stops and recorded a sack, junior Collin Pietropola made 4 tackles, Jones had 3 stops and a sack, and senior Kaleb Smith had a sack.
Next week the Hornets (1-0, 1-0 NTL Large School Division) travel to Sayre, who lost 18-6 to Wyalusing, for a 7:00 p.m. kickoff.