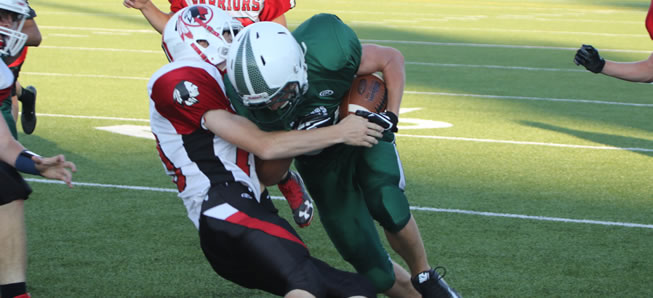 JV Hornets survive late Canton scare
By: Ed Weaver / August 30, 2016
A late interception by freshman Alex Burrell thwarted a potential Canton scoring drive to help seal a 19-16 Hornet victory on Monday, August 29.
Canton trailed 19-8 with under 1:30 in the fourth quarter and perfectly executed a "hook and ladder" play to pull to within 19-16 after a successful two-point conversion with 34 seconds remaining. Then the Warriors recovered the ensuing onsides kick to go on the game-winning drive before Burrell picked off a pass to let Wellsboro run out the clock.
The game was scoreless until 6:36 remaining in the first half when freshman Clayton Orsborn rumbled for 14 yards to put the Hornets up 7-0 after freshman Carson Davis' extra point. Four minutes later freshman Billy Lechler caught a middle screen from freshman Karter Witmer and took it 33 yards to the house to give Wellsboro a 13-0 lead with two minutes before halftime.
Canton scored their first touchdown to make it 13-8 with 8:13 left in the third. Wellsboro's final touchdown came with 1:25 left in the game on a 9 yard run by Burrell.
"We had too many turnovers and mental lapses which we will improve on with more game experience," said coach Chase Kriner. "Obviously we would of liked to play better in all 3 phases of the game.
"It's the kids first game of the year and we will continue to get better," continued Kriner. "We found a way to win and that's always a positive because at the end of the day the goal is to get a win and the kids were able to do that tonight."
With the win, the JV Hornets start the season 1-0. The team will be back in action on Tuesday, September 6 at Sayre.