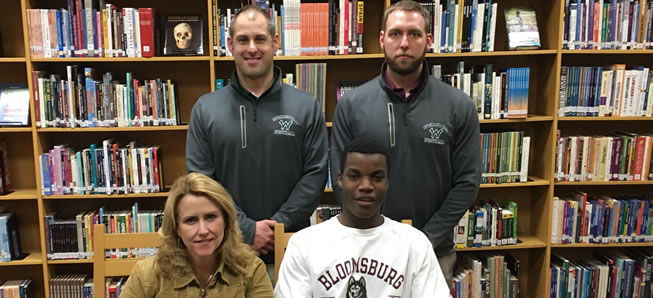 Smethers to play football at Bloomsburg
By: Ed Weaver / January 30, 2016
Former Hornet Kieron Smethers announced that he will continue his football career this year for Division II Bloomsburg University on Friday, January 29.
Smethers graduated last year and spent the fall at East Coast Prep in Great Barrington, Massachusetts. East Coast Prep is a one semester post graduate college football prep program that provides individuals with an opportunity to fulfill their goals at the college level. Smethers will now be a preferred walk on at Bloomsburg, where he will be .
"The recruiting process was very stressful because I only had two months to go through a bunch of schools and figure out where I was going to go and what I wanted to do," Smethers said. "This decision is very big for me and it's a weight off my shoulders."
During his semester at East Coast Prep, Smethers played among some of best athletes looking to further their dreams of someday playing college football.
"I really had to learn fast once I got there, and it was either sink or swim."
Smethers graduated Wellsboro as the program's all-time leading pass catcher with 88 career receptions, 1,616 career yards gained, with 712 coming in his senior season of 2014, and touchdowns (20).
"It's great to see Kieron go on to the next level," said head coach Matt Hildebrand. "As a coach it's very rewarding to see one of your players get a great education while playing a sport they love. Kieron is going to a great program in Bloomsburg that has a great tradition. It will be a good fit for him and I'm very proud of him."
Smethers, the fourth athlete to play college football that Hildebrand has coached, will now join former teammates Michael Pietropola (IUP) and Nick Marple (Lock Haven) in the PSAC, along with Jack Chambers who kicks at Bucknell.
WellsboroFootball.com would like to congratulate Kieron on his commitment to Bloomsburg, and would like to thank him for all his hard work and dedication during his career.