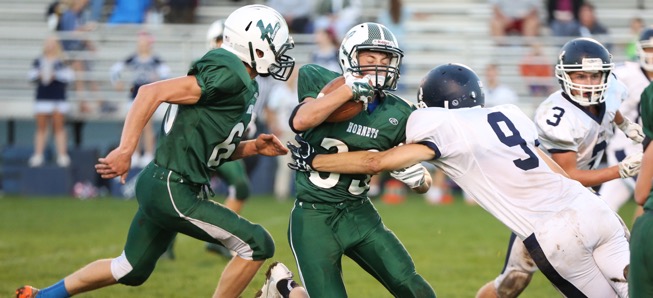 Special teams key JV Hornets' win over Muncy
By: Ed Weaver / October 4, 2016
The Wellsboro JV Football team picked up their second win over the year by holding on to beat Muncy 25-22 on Monday, October 3.
The Hornets found themselves trailing 8-0 after Muncy scored on the game's opening drive, but rebounded in the second quarter on a short run by freshman Aidan Hauser. Wellsboro attempted a two-point conversion to tie the game, but the try failed and the Hornets trailed 8-6.
Wellsboro took the lead to start the second half as Hauser returned the kickoff 65 yards to put the Hornets up 12-8 with 9:47 remaining in the third. Muncy quickly answered to retake the lead just over a minute later as quarterback Kolby Moyer snuck his way into the end zone for the score. Muncy's following two-point conversion failed, but they maintained a 14-12 lead.
On the ensuing kickoff, Hauser again broke a long return down to the Muncy 5-yard line, but a fumbled snap on the Hornets' first play from scrimmage turned the ball right back over to the Indians. Wellsboro's defense buckled down and forced Muncy to punt and sophomore Hunter Brown blocked the punt, picked the ball up, and went untouched into the end zone to put the Hornets up 18-14 with 5:47 left in the third.
"Hunter's blocked punt was great to see," said coach Chase Kriner. "We came close to blocking one earlier in the game, so we knew we could block one. He did a great job of scooping and scoring."
Both teams managed one score each in the fourth quarter. Wellsboro's came with 7:17 on a 23 yard run by Hauser, after freshman Billy Lechler made a great one-handed catch on a pass by freshman Alex Burrell to keep the drive alive. Hauser's touchdown put the Hornets up 25-14 after freshman Carson Davis converted the extra point. Muncy scored on a deflected pass, the second of the game, with 3:41 remaining to make the score 25-22, Hornets. Muncy had one final shot to take the lead late in the game, but Burrell intercepted a pass to secure the win.
"Tonight was huge win for these kids," continued Kriner. "They found a way to win a game in which not everything went our way. We need to continue to improve on the mental aspect of the game with silly penalties and turnovers."
The win improves the Hornets' record to 2-2-1. The team will be back in action on Monday, October 10 on the road at Cowanesque Valley.