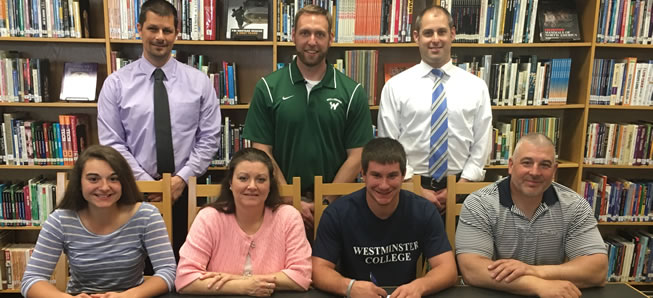 Tremper continues football career at Westminster College
By: Ed Weaver / May 12, 2016
Senior linebacker Nick Tremper announced he will continue his football career at Division 3 Westminster College on Thursday, May 12.
"I'm very excited and I can't wait and look forward to help impact the team in a big way," Tremper said.
Tremper had a career year in 2015, where he was an All-State selection at linebacker, being the team's leading tackler with a single-season record* of 161 total tackles in addition to ranking second for rushing yards (664) and third in all-purpose yards (1,089). As a team captain, Tremper helped guide the Hornets to their first-ever District IV Championship and first-ever PIAA State playoff game.
For his career, Tremper recorded back-to-back seasons with over 100 tackles for a total of 291 and rushed for 754 yards and 6 touchdowns.
One of the factors that led Tremper to Westminster College was its small campus size.
"I really liked that it wasn't really a big campus because I didn't want to go to a big school and the coaches were all nice and I got along with them and I just liked them. And when I went for my overnight I got along with all the players. I liked how they're a family and they're very family oriented and they're all together, that's what I really liked."
Tremper will join former Hornet Blake Gamble when he arrives on campus in the fall.
"That influenced me a little, but I just really liked the school, the team, and the coaches," continued Tremper. "But it's cool that I at least know someone there, and it's Blake, and we get along so that's good."
For head coach Matt Hildebrand Tremper is the sixth athlete under his guidance to continue his career at the next level.
"Nick has worked extremely hard his entire career and to get to this level and get to a point where you use football as transportation to get to the next level and continue his football career is great to see," Hildebrand said. "Football has always been a secondary sport for many years as baseball has been his primary, but I think coming into this senior year and seeing some of the things he did with being all-state for linebacker changed his mind, so I'm really proud to see him excel the way he did and move on to the next level."
Hildebrand also commented on the type of player Tremper is, and what Westminster will see from him when he gets to campus.
"Nick's definitely one of the toughest kids I've ever coached. There were times when he was hurting but he would neve show it. Last year he never came off the field and he was 'dog tired' after every game but he didn't want to come off the field either. He'll leave a big void for us this upcoming year on both sides of the ball and with the leadership he provided. He led by example all the time, both on and off the field. Westminster is getting a great kid and I'm really proud of him."
WellsboroFootball.com would like to congratulate Nick on continuing his career in the fall, and wants to wish him the best.
* - Records may not be accurate to date due to incomplete stats. If you know of a record not currently listed on this page, or have game statistics or film from previous years, please contact us.