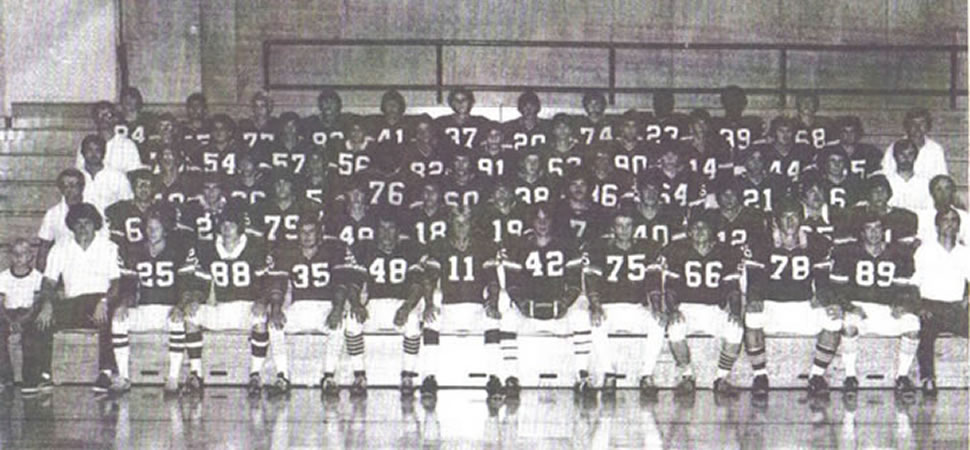 Football team to be honored for 40th reunion of NTL Championship
By: Ed Weaver / October 11, 2017
The 1977 Wellsboro Varsity Football team will be honored at halftime of the Wellsboro and Wylausing football game on Friday, October 20, 2017 to commemorate the 40th reunion of the Hornets 2nd NTL Championship.
30 former players and coaches will be attending this event. Many have stayed in contact, but most have not seen each other since graduation. A tent will be set up at the field for the members and their guest, and if you would like to stop by to say hello to an old classmate feel free to do so before the game between 6:00 p.m. and 7:00 p.m.
At the beginning of the '77 season expectations were high that the team was in the position for a run at their second NTL Championship in four years. After dropping the first two game by a total of 2 points (Loyalsock 22 – Wellsboro 21 / Wyalusing 20 – Wellsboro 19), most teams would have folded. But despite facing a mostly veteran Corning East, 1976 Sullivan Trail Champions, with a record of 10-0 in week three, the Hornets strapped on their helmets and won a thrilling 6-0 ball game (the Hornets also had one TD called back). This started an eight-game winning streak that ended with the Hornets dismantling the North Penn Panthers by a score of 61-6 and capturing a share of the NTL Crown.
Team Coaches
Ted Yeager
Dave Lintal
Russ Manney
Ed Campbell
Larry Clees
Jim Dinsmore
Bob Mazzitelli
Kevin Spink
Post season honors:
First Team NTL selections for Offense – Kevin Davis WR, Vince Driebelbies OT, Dave Gibson TB, Randy Gross HB
First Team NTL selections for Defense – Brian Parsells DE, Terry Ingerick DL, Steve Radocaj LB, John Driebelbies LB, Tim Cisco S
Honorable Mention – Bill Bower SS, Jerry Carson DE, John Henneman OT, Sam Smith OG, Randy Weimar DL
NTL MVP Defense – Steve Radocaj
First Team Offense All-Twin Tiers (Southern NY /Northern PA) – Vince Driebelbies, Dave Gibson
First Team Defense All-Twin Tiers – Steve Radocaj
Second Team Offense All-Twin Tiers – Randy Gross
Second Team Defense All-Twin Tiers – John Driebelbies
Honorable Mention – Kevin Davis, Terry Ingerick, Tim Cisco, Brian Parsells
Twin Tiers MVP Defense – Steve Radocaj