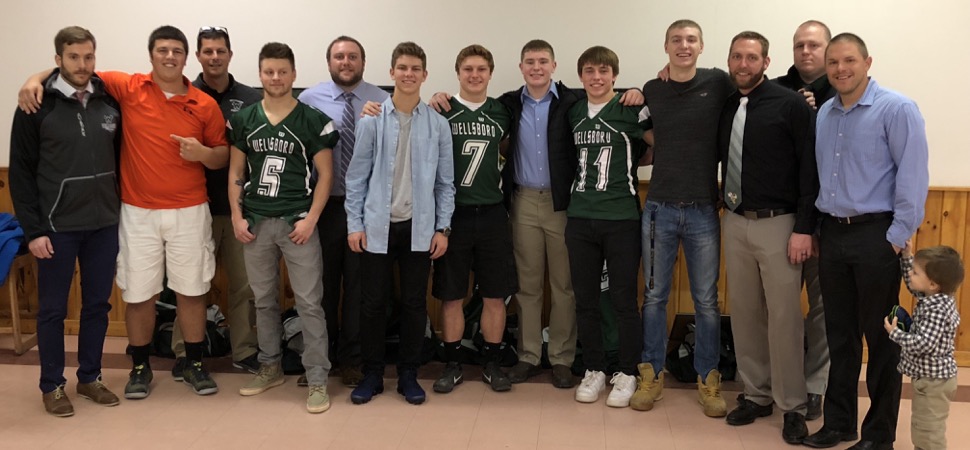 Gridders Club honors 2017 senior football class
By: Ed Weaver / December 18, 2017 / Photo: Ed Weaver
The Wellsboro Gridders Club honored the 2017 team and 2018 senior class at their annual banquet on Sunday, December 10.
As family members and friends gathered to close out the season, head coach Matt Hildebrand recapped the Hornets' second undefeated regular season, members of the coaching staff shared their favorite stories from the last year about the seniors, and following the speeches, the team gathered around to watch the annual highlight video presented by Wellsboro Home Page to close out the afternoon.
WellsboroFootball.com would like to thank the Gridders Club, Circle W Sports, Coach Hildebrand, Coach Mike Pietropola, Coach Nate Babcock, Coach John Johnston, Coach Ben Miller, Coach Chase Kriner, Coach Ed Weaver, Coach Jared Hurlbert, Trainer Alexis Knowlden, Strength Coach John DeLeonardis, Coach Shane Mascho, Coach Ike Cary, Coach Chris Reese, and everyone who helped make the 2017 season special.
Read Coach Hildebrand's final message to the 2017-18 Senior Class.