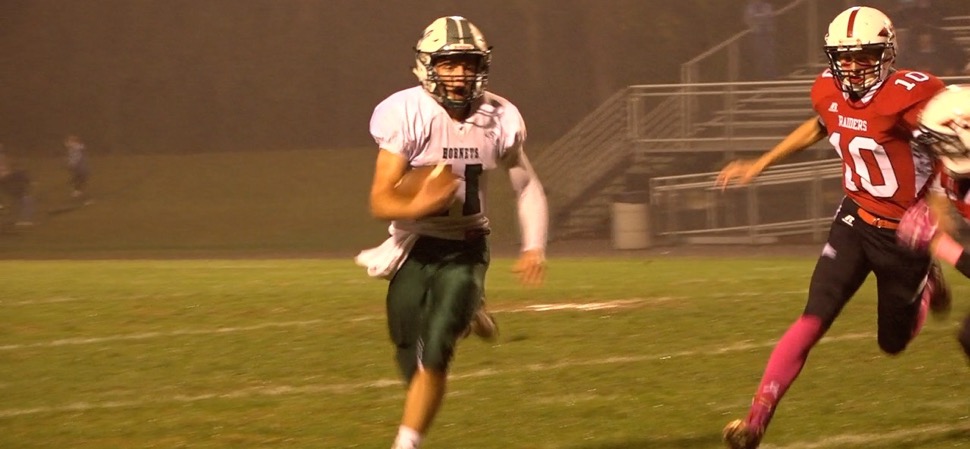 Henry scores 100th career touchdown in 51-8 win over Montgomery
By: Ed Weaver / October 14, 2017
As a freshman in 2014, Quinn Henry saw limited time. He rushed for 9 yards, caught 6 passes for 72 yards, and returned 4 kickoffs. Three years later, Henry scored his 100th career touchdown as the Wellsboro Hornets beat Montgomery 51-8 to improve to 8-0 on Friday, October 13.
Henry's legend grew as a sophomore in 2015 as he became the first Wellsboro quarterback to win a District IV championship as he moved into the starting role after Brandon Lamphier went down with an injury during pre-season. The Hornets finished that season 10-3 with a win two wins over rival North Penn-Mansfield and nearly a win in the first round of the PIAA State playoffs.
As a junior Henry led the Hornets to an 11-1 record, their only blemish coming in the final seconds in the District IV Class AA semi-finals against South Williamsport.
Flash forward to his senior year of 2017 and 37 career games later. Henry has thrown for 40 touchdowns, rushed for 55, caught 2, and returned 3 punts.
"I feel great but I couldn't do any of this with the offensive line and people just throwing blocks and making it easy to get in the end zone," Henry said after the game. "It's definitely not just me, the offensive line has been doing great for me."
In Friday's game against Montgomery, Henry scored on three of the first four times he touched the ball. After senior Collin Pietropola recovered a Red Raider fumble at the 14-yard line, Henry dialed his own number and scampered into the end zone untouched to put the Hornets up 6-0 not even a minute in.
Two minutes later on a Montgomery punt, Henry fielded the ball at the 49-yard line and weaved his way through traffic for his second score, making it 12-0.
Another Montgomery turnover led to Henry's third touchdown. On the second play of the drive Henry found the end zone from 36 yards out, then connected with sophomore Karter Witmer for the two-point conversion to put Wellsboro up 20-0 with 7:10 remaining in the opening quarter. Another Montgomery three-and-out gave the Hornets back the ball, and again Henry returned the punt, this time for 24 yards. Henry completed his second and final pass of the evening to sophomore Silas Wagaman for 23 yards down to the Montgomery 1. From there, senior Chase Moser punched the ball in to extend Wellsboro's lead to 26-0.
Wellsboro got the ball for a 5th time in the quarter on another Red Raider fumble, but only had possession for a play as sophomore Aidan Hauser raced 49 yards to put the Hornets up 33-0 with 3:20 left.
Wellsboro forced the fourth Montgomery turnover as Moser intercepted Brayden Strouse and returned it 40 yards for the Hornets' final score of the first quarter.
The Hornets scored twice more before the first half ended. The first came midway through the second quarter on an 8-play drive. Henry capped the drive from 4 yards out and scored number 100 with 6:13 remaining. With 2:47 left before the half, following another Montgomery three-and-out, Hauser scored his second touchdown, this time from 47 yards out, to make it 51-0.
Montgomery scored the game's final touchdown on their first play from scrimmage in the second half. Following a Wellsboro punt by sophomore Carson Davis, Hunter Budman caught the left corner of the Hornet JV defense and raced 71 yards for the score. Nick Winters plowed his way in for the two-point conversion to bring the score to 51-8.
The Hornets will be back in action next Friday, October 20 for Senior Night against Wyalusing.
With the mercy rule in effect, Wellsboro's JV team ran the clock out for their 8th win of the season and 19th straight regular season win.
Henry finished 2-for-2 passing for 26 yards and rushed 5 times for 71 yards with 3 touchdowns. Hauser led all rushers with 103 yards on 4 carries (25.75 yds/carry) and 2 touchdowns, and Wagaman led all receivers with 1 catch for 23 yards.
Defensively, Pietropola and junior Hunter Brown had 6 tackles. Pietropola also recovered two fumbles. Davis and junior Robert Brown both made 5 tackles, and Davis, Robert Brown, and sophomore Zach Florio all recorded sacks on the evening.
The Hornets will be back in action next Friday, October 20 as they host Wyalusing on Senior Night. Also, the 1977 Varsity Football team will be honored at halftime for the 40th anniversary since they won the NTL Championship.