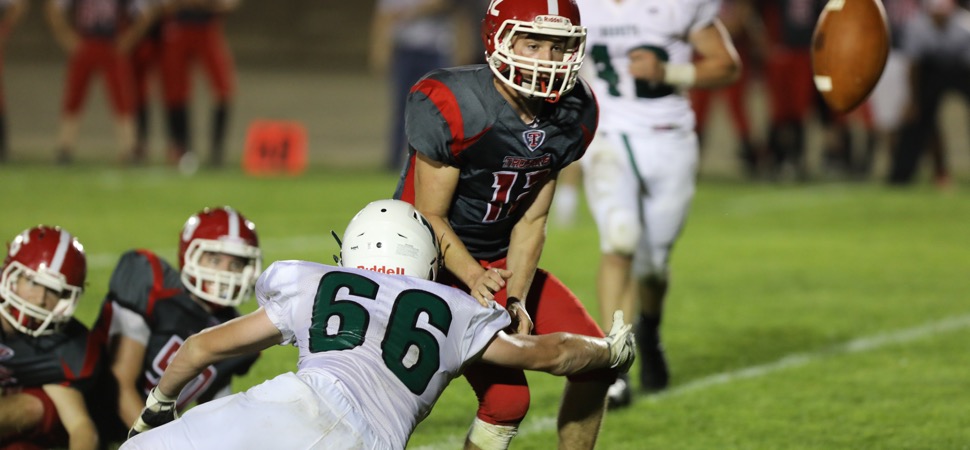 Hornet defense keys 49-14 win over Troy
By: Ed Weaver / September 23, 2017
The Wellsboro Hornet defense caused six (5 fumbles and 1 interception) Troy turnovers to improve to 5-0 after a 49-14 win on Friday, September 22.
The Hornets held Troy's triple option offense in check the majority of the night while holding the Trojans to under 200 yards of total offense. Of the six turnovers caused, Wellsboro's offense scored off four of those turnovers.
One thing that did hurt the Hornets on Friday was penalties. The Hornets were penalized 8 times for 65 yards in the first half, and 11 for 85 yards for the game. Head coach Matt Hildebrand knows he and the team must clean those up going forward.
"The score probably wasn't indicative of how we played," Hildebrand said. "I don't think we played our best football tonight but I give a lot of credit to Troy though. Troy was definitely by far the most physical team we've played this season. They smacked us in the mouth early on. We benefited from their turnovers that put us in some good situations. Take those away and it's a lot closer game. I knew coming in that Troy is a much better team than their record and they will win some games moving forward."
While it took the Hornet offense some time to heat up, they still managed to put up 375 total yards. After two Troy drives to start the game, both ending in punts, senior Quinn Henry scampered through the Troy defense for 44 yards to put Wellsboro up 7-0 with 4:57 remaining in the first after senior Nic Ingerick's extra point.
Troy immediately answered back as a 29-yard kick return by Ja Wallace and a 45-yard run by Tyler Williams put the ball at the Wellsboro 8-yard line. Clark Jackson called his own number and tied the game up just 33 seconds later.
The Hornets mounted an 8-play drive after Troy's score to retake the lead. A 22-yard run by sophomore Aidan Hauser on the fourth play of the drive got the ball to the Troy 20. Another 7 yard run by Hauser moved the ball to the 13, but the Hornets went in reverse on a negative run and 2 penalties. Faced with a fourth-and-long from the Troy 26, Henry connected with senior Dalton Prough, who went up and over his defender to haul in the touchdown with 2:20 remaining in the first. Hauser ran in the two-point conversion to put the Hornets in front 15-7.
Wellsboro's next three scores all came off of Troy fumbles.
The first score came with 1:04 left in the first quarter as Henry connected with Hauser from 42 yards out one play after the turnover. The Hornets went for two and Henry connected with sophomore Karter Witmer to put Wellsboro up 23-7. After another lost fumble to close out the first, the Hornets took ove at the Troy 27. After being hit with a holding penalty, Henry rushed for 20 yards down to the 15-yard line and senior Chase Moser scored on the next play to bring the score to 29-7.
Midway through the second the Hornet defense caused yet another Troy fumble, but this time sophomore Zach Florio scooped it up and returned it 42 yards for a touchdown. Ingerick's extra point split the upright and the Hornets led 36-7.
Troy coughed the ball up for a fourth time in the first half but the Hornets were unable to capitalize as they were hit with two penalties and were forced to punt.
Troy started the second half by recovering an onside kick and took over at midfield. A 35-yard run by Nate Martin put the Trojans in scoring position where Jackson again scored from 8 yards out to bring the score to 36-14 after Seldon Rogers' kick. Wellsboro's offense again got off to a slow start, but the defense was there to help them out.
After a Henry interception in the end zone, Troy started at their own 20-yard line, but a Michael Borden fumble gave the Hornets back the ball at the Troy 27. A 21 yard run by Henry got the ball to the 6 where Moser scored for the second time to make it 42-14 with 4:10 remaining. After a Troy punt on their next drive the Hornets tacked on 7 more points. Henry scored his second rushing touchdown, and the 48th of his career, from 27 yards out.
Henry finished with 139 yards rushing on 12 carries and was 10-for-16 through the air for 99 yards. Hauser finished with 89 yards rushing on 13 carries and caught 4 passes for 49 yards. Prough caught 3 balls for 38 yards and senior Alex Kozuhowski caught a pass for 9 yards.
Defensively, Moser and juniors Hunter Brown and Robert Brown all had 10 tackles each. Moser forced 2 fumbles, Hunter Brown recovered 3 fumbles, and senior Collin Pietropola recovered a fumble and made 6 tackles. Sophomore Silas Wagaman had an interception for Wellsboro.
"It was a good test for us tonight and I think moving ahead how the game unfolded it will serve us well," continued Hildebrand. "The kids needed to be tested a little bit and have some adversity and see how they were going respond. I think the next couple of weeks, going down to Muncy on the road again, it's going to be big for us to come out strong right from the get-go. We can't let a team get up on us, we have to take care of it early."
The win improves the Hornets to 5-0 (5-0 NTL Large School Division). Next up for the Hornets is a date with undefeated Muncy (5-0, 4-0 NTL Small School Division) on Friday, September 29.
"We're happy being 5-0 it's where we want to be sitting right now and we control our own destiny moving ahead," concluded Hildebrand. "We just have to continue to press every week and get better. We have to clean up things, things were sloppy tonight. We have to clean up penalties, we can't be in third-and-20's, we don't have a lot of good plays for that down and distance. From an offensive standpoint we have to clean that up. We'll keep moving ahead and play our brand of football every week."