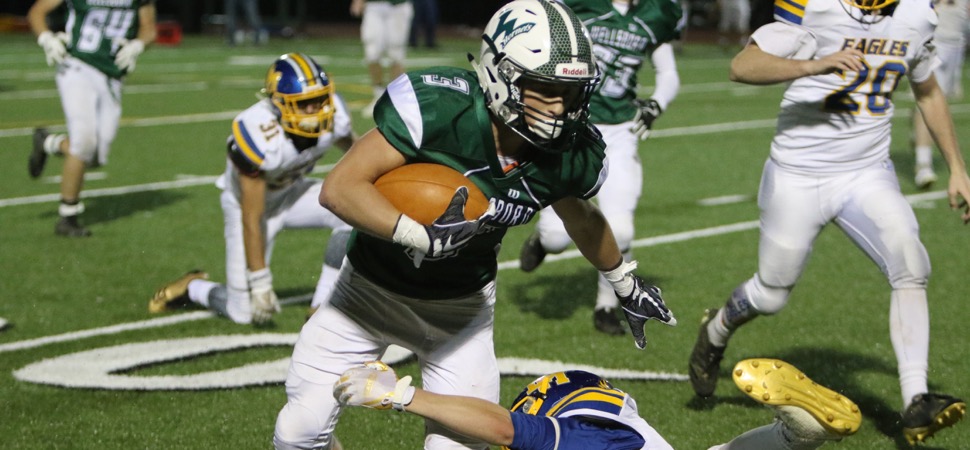 Hornets fall short against Line Mountain, 14-13
By: Ed Weaver / November 4, 2017
A week after the Hornets capped an undefeated regular season, the Wellsboro Football team's season came to an end in a 14-13 heartbreaking loss to Line Mountain on Friday, November 3 in the first round of the District IV Class AA playoffs.
The last time Wellsboro and Line Mountain played was 1995, at Wellsboro, with Line Mountain pulling off the upset. 22 years ago it was a last second field goal after Brandon Carson, now Line Mountain's head coach, drove his team down field to get in position. Flash forward to 2017 and Carson and the #7 seed Eagles again pulled off the upset over the #2 seed Hornets.
After Wellsboro opened up the game with two drives that stalled deep in Line Mountain territory, the Eagles took over and mounted a drive of their own to end the first quarter. On third-and-10 from their own 29, Evan Herb found Breven Derk for a gain of 17 out near midfield. The drive kept rolling with an 8-yard gain by Tyler Boyer and a 6-yard pass to Brenden Cregger to move the chains. After an incomplete pass, Herb again found Derk, this time for a 40-yard score as he out-positioned Wellsboro's defender for the catch, then raced the rest of the way for the score. Jaron Renn's extra point split the uprights, putting the Eagles up 7-0 with 10:05 left in the first half.
After a Wellsboro three-and-out and punt, the Eagles took back over at their own 21. Two passes and a run moved the ball again near midfield where Herb hit Cregger on a deep ball that deflected off a Hornet defender. Cregger than took it the rest of the way for a 54-yard score. Renn's second extra point of the night was good and the Eagles led 14-0 with 6:56 remaining.
Wellsboro's and Line Mountain's ensuing drives didn't produce anything, except for the game's first turnovers of the night. As Wellsboro moved into Eagle territory, Gavin Schaffner picked off a Quinn Henry pass and returned it down to the Wellsboro 30. Luckily for the Hornets, the turnover didn't harm them as senior Collin Pietropola intercepted Herb from his defensive tackle position on a shovel pass and returned it near midfield.
With time running down in the half, the Hornets' turned to Henry. Henry broke off a 22 yard run down to the Eagles' 29-yard line with a handful of seconds remaining. Wellsboro took a shot at the end zone as time ran out but Henry's pass fell incomplete.
While the Hornets were down entering the second half, and in unfamiliar territory (Wellsboro never trailed at halftime this season until Friday) they certainly were not out. After holding Line Mountain and forcing a punt, the Hornets finally found the end zone. Senior Alex Kozuhowski fielded the punt at his own 19, then flipped it to Henry who had lots of running room. Henry outraced the entire Line Mountain defense on his way to an 81-yard touchdown, the final one of his career, with 8:44 remaining in the third. Senior Nic Ingerick's extra point was good, and Wellsboro cut the lead in half to 14-7.
Henry would leave the game with an ankle injury and would not return and the Hornets rallied behind him to try and carry on for the win.
After fumbles by both teams, Line Mountain again went on the attack and moved into Wellsboro territory as Herb hit Cregger for a 31-yard gain down to the 30. Wellsboro got the ball back, however, as junior Hunter Brown picked off Herb and returned it to the Eagle 34.
The Hornets then turned to sophomore Aidan Hauser. A 21-yard gain on second-and-9 set the Hornets up at the goal line where the young running back punched it in two plays later to make it a one point game. This time, Ingerick's extra point was blocked and the Eagles held on to their slim lead.
From that point on, neither offense produced much output, leaving the door open for a Wellsboro comeback. Wellsboro had a chance with under two minutes remaining deep inside their own territory, but a fourth down pass fell incomplete, securing Line Mountain's upset win.
"We've been in this position before and it doesn't get any easier," said head coach Matt Hildebrand. "These seniors have done a lot of great things and we didn't play our best football tonight. I have to go back and look at things. This is the second year in a row we came up short. We were there at the end and things didn't work out our way. We'll get back to the grindstone, hopefully it motivates some of the younger guys.
"We told everyone at halftime to play like there is no tomorrow and leave it all on the field because you'll have regrets if you don't. Unfortunately we came up a little short but we battled right until the end. We had our opportunities, we just didn't capitalize."
Henry ended the night 1-for-10 passing for 3 yards and an interception and senior Brent English was 2-for-6 for 6 yards. Henry rushed for 127 yards on 19 carries and Hauser finished with 80 yards on 12 carries. Kozuhowski was the Hornets' leading receiver with a catch for 8 yards.
Defensively, English led Wellsboro with 9 tackles, Hunter Brown had 4 tackles and an interception, Pietropola had 5 tackles and an interception, Kozuhowski had 5 tackles, and sophomore Zach Florio pitched in with 6 tackles.
While the loss ended Wellsboro's season, the loss also ended the careers of Henry, Dalton Prough, Chase Moser, Kozuhowski, Ingerick, English, Pietropola, Austin Hendrickson, and Brian Pike.
Henry finished his career with 3,429 yards on 228-for-410 passing (0.556) with 43 touchdowns and 3,448 yards rushing on 422 attempts (8.2 avg) with 61 touchdowns. He also returned 4 punts for touchdowns and 674 yards. Henry's 4,360 all-purpose yards, 7,789 total yards, and 110 total touchdowns rank amongst the best in Wellsboro Football history.
Prough finished his career with 31 receptions for 712 yards and 10 touchdowns. Moser rushed 284 times for 1,922 yards and 23 touchdowns while catching 35 passes for 427 yards and 5 touchdowns, Kozuhowski rushed for 467 yards on 69 tries and caught 21 passes for 420 yards, and Ingerick was 97-for-116 (0.836) in extra points.
English had 129 career tackles and 4 sacks, Pietropola had 249 tackles and 7 sacks, Hendrickson had 16 tackles, and Pike had 4 tackles and a kick return for 10 yards.
"These seniors left a legacy behind that is going to be hard to replicate," continued Hildebrand. "Three NTL titles and a District title to their names in four years. The program though and what these seniors have done for it, this is a very special group and I wish them all the best and I think they're going to have some very bright futures and a lot of colleges are going to get some very special football players. I just wish it didn't have to end here tonight like it did."
The loss ends the Hornets' season at 10-1 (10-0 NTL Large School Division).