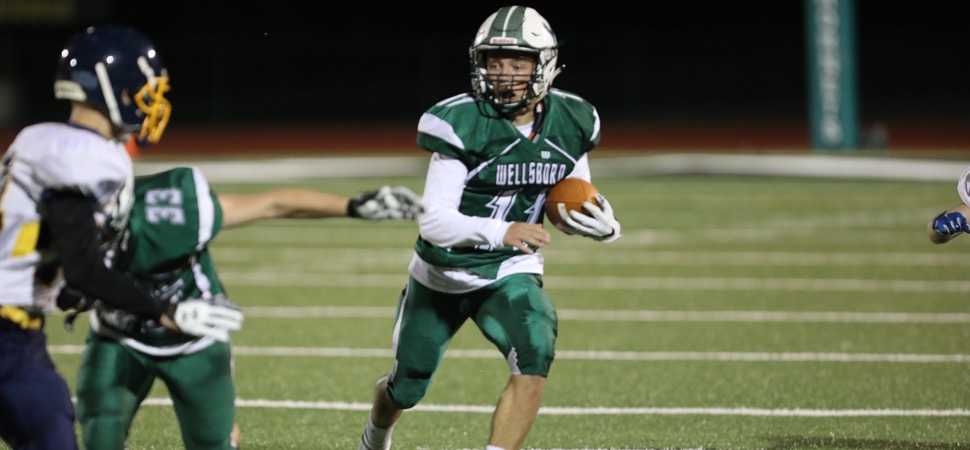 Hornets set record in 75-0 Homecoming win
By: Ed Weaver / October 7, 2017
The Wellsboro Varsity Football team set a school record for points scored in a 75-0 shutout against Cowanesque Valley on Friday, October 6.
Since the program was restored in 1958, the Hornets' two previous largest margins of victory came in 1995 (70 vs. CMVT) and 2014 (65 vs. Bucktail) until the Hornet offense exploded for 548 yards, while holding CV to -8 yards of total offense.
"It was nice for the senior guys, it was the first time they've had Homecoming on our own field since they were freshman and for the rest of the team they've never had a Homecoming they've had to travel for. I think they were excited about that and they came ready to play. We executed well," said head coach Matt Hildebrand.
Once the Hornets got the ball it took them only one play to score as senior Quinn Henry broke several tackles en route to a 39 yard touchdown run with 9:48 showing on the first quarter clock. Senior Nic Ingerick's extra point put the Hornets up 7-0.
On Wellsboro's second drive, Henry connected with sophomore Aidan Hauser from 18 yards out to make it 14-0 with 6:22 remaining. Wellsboro increased their lead to 20-0 three minutes later as Henry threw his second touchdown pass of the evening, this time to senior Dalton Prough from 14 yards out. Just over a minute later senior Chase Moser rushed into the end zone from 11 yards out to put the Hornets up 28-0 asd Hauser threw a two-point conversion pass to Ingerick.
Wellsboro's final touchdown of the first quarter came on another Henry run, this time from 34 yards out with 42 seconds remaining to make it 35-0.
Hauser kicked off the second quarter scoring as he rushed into the end zone from 34 yards out to make it 42-0 with 10:20 remaining in the first half before Moser intercepted a pass and returned it 32 yards to increase the lead to 49-0.
Henry scored for the third time on the night with 5:56 left before halftime as sophomore connected Karter Witmer with him for his first career Varsity touchdown from 24 yards out to put the Hornets up 56-0.
The Hornets scored once more before the first half expired. After an 11 play drive, sophomore Billy Lechler scored from 3 yards out with 4 seconds remaining to make it 63-0.
With the game well out of reach, the JV team played the entire second half and scored two more touchdowns. The first came on a 37 yard run by sophomore Alex Burrell with 2:08 left in the third quarter, then Witmer ran a quarterback draw from a yard out with 8:26 remaining in the game to bring the final to 75-0, Wellsboro.
Henry finished a perfect 4-for-4 passing with 81 yards and 2 touchdowns. He also rushed 3 times for 96 yards and 2 touchdowns and caught 2 passes for 26 yards and a touchdown, a feat that has never been done in Wellsboro Football history. Henry has now scored 96 total touchdowns during his Wellsboro career. Witmer finished 3-for-6 for 36 yards.
Burrell led all rushers with 129 yards on 13 carries, Hauser finished with 85 yards on 4 carries, and Lechler had 38 yards on 7 attempts. Prough led all receivers with 33 yards on 2 catches and senior Alex Kozuhowski caught 1 pass for 30 yards.
Sophomore Carson Davis led Wellsboro's defense with 5 tackles, junior Hunter Brown had 4 tackles and 2 sacks, and Moser, Burrell, senior Collin Pietropola, and junior Robert Brown all had 3 tackles.
The Hornets (7-0, 7-0 NTL Large School Division) will be back in action on Friday, October 13 on the road in Montgomery.