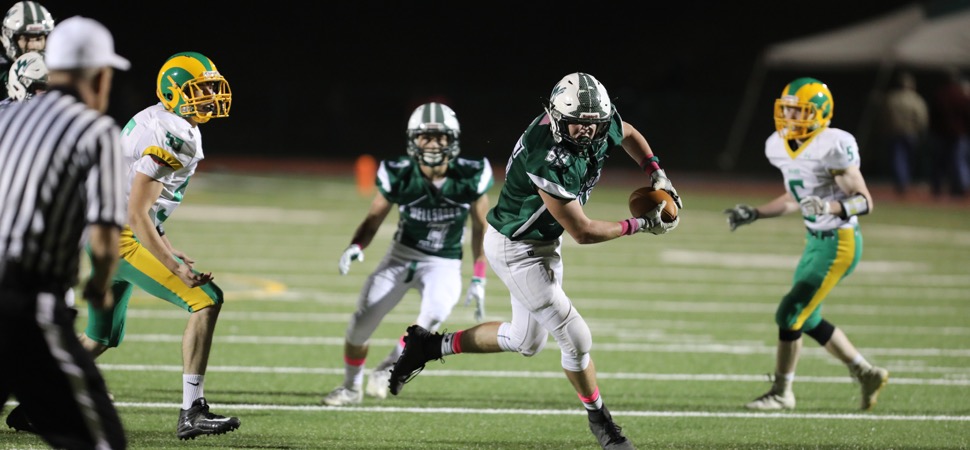 Hornets steamroll Wyalusing on Senior Night, 53-0
By: Ed Weaver / October 21, 2017
On a night where the 1977 team celebrated their 40th anniversary of winning the NTL Championship, the 2017 Hornets moved a step closer to winning their third title in five years as they defeated Wyalusing 53-0 on Friday, October 20 during Senior Night.
Just like the past two weeks, Wellsboro scored on their very first play from scrimmage after holding their opponents to a three-and-out. A punt return by senior Chase Moser gave the Hornets the ball at the Ram 38-yard line. From there, senior Quinn Henry found senior Alex Kozuhowski wide open in the Wyalusing secondary for the score. Senior Nic Ingerick made the extra point and the Hornets led 7-0 with 9:39 remaining in the opening quarter.
"We've talked the past five or six weeks about coming out and putting the hammer down early and they did it again tonight. We don't want a team to have any life at all," said head coach Matt Hildebrand. "Last year we struggled with that to be honest and it's something we wanted to improve upon this year. We get on top of teams early then our defense follows through and they've done a great job as well. I'm very happy how we're playing right now."
After both teams traded drives in the first, Wellsboro added to their lead with just over two minutes remaining. After a Henry punt return and run, Henry threw a deep ball to a wide-open Aidan Hauser for 32 yards to setup the team down at the Wyalusing 11. Three plays later the two connected again as Hauser jaunted into the end zone from 8 yards out for a 13-0 lead.
Wellsboro scored twice more before the first quarter ended to take a 26-0 lead. Henry scored on the ground from 6 yards out after he ran for 49 yards a play earlier. Then, the Wellsboro defense scored another touchdown as junior Hunter Brown intercepted a pass and returned it 22 yards for the touchdown.
Another Wyalusing three-and-out setup another Hornet punt return. Kozuhowski fielded this one and returned it for a touchdown, but it was called back on a holding penalty. Wellsboro was unfazed and scored on the very next play as Henry hit senior Dalton Prough on a fade from 21 yards out. Ingerick's extra point put Wellsboro on top 33-0 to start the second quarter. The pass also put Henry over 1,000 yards for the second time in his career.
Wyalusing went three-and-out on their next drive to give Wellsboro back control of the ball, and again the Hornets returned the punt only to have it called back on a hold. This time the Hornets put a drive lasting 13 plays that culminated in a 5 yard run by Moser to make it 40-0.
A Wyalusing turnover gave the Hornets possession at the 22-yard line. It took Wellsboro only 4 plays this time to find the end zone as Hauser went untouched from a yard out to make it 47-0 with 1:28 left before halftime.
After the '77 team was honored at halftime, Wellsboro scored the game's final touchdown on their opening drive of the third quarter. The drive featured a heavy dose of Moser, who capped the drive by punching the ball in from a yard out with 8:00 remaining. Wellsboro's JV team played the rest of the way to run the clock out.
Wellsboro finished with 444 yards of total offense while Wyalusing mustered only 40.
Henry finished 6-of-10 passing for 117 yards to put him at 1,013 yards for the season and 3,235 for his career. Henry also rushed for 78 yards on 8 carries to put him 48 yards shy of his third straight 1,000 yard season. Hauser rushed for 69 yards on 9 carries and Moser finished with 57 yards on 10 attempts. Kozuhowski caught 2 passes for 41 yards, Hauser caught 2 for 40.
Brown led the Hornet defense with 7 tackles, and interception, and a fumble recovery and sophomore Clayton Orsborn had 5 tackles. Kozuhowski, senior Brent English, Wagaman, and sophomore Tyler Hancock all had 3 tackles each. Sophomore Billy Lechler also recovered a fumble.
Through nine games of the regular season the Hornets have outscored their opponents by 400 points (478-78) and are averaging 59.8 points/game.
Next up for the Hornets (9-0, 9-0 NTL Large School Division) are their rivals the North Penn-Mansfield Panthers (6-3, 2-5 NTL Large School Division), 36-15 winners over Troy, in the annual Morton F. Jones Trophy Game. The Hornets have won the past five games.
"Records mean nothing at this point. It doesn't matter what you did last year and it doesn't matter what you've done this year. It's rivalry week and we just have to be focused," Hildebrand said. "These kids have a pretty big goal in mind this year in getting back to the District Championship game. The rivalry game will get them going and motivate them but they'll be focused and ready to go."