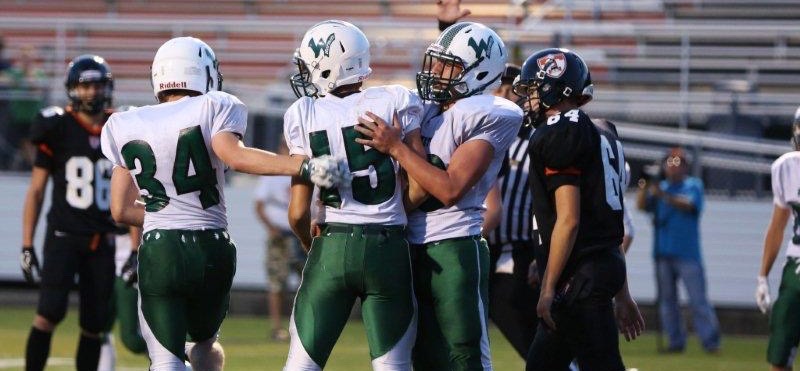 JV Hornets top Towanda, 27-12
By: Ed Weaver / September 19, 2017
The Wellsboro JV Football team bounced back from their first loss of the season to beat Towanda, 27-12 on the road on Monday, September 18.
Wellsboro put the game's first points on the scoreboard early in the first quarter as sophomore Karter Witmer connected with sophomore Alex Burrell to make it 7-0 after sophomore Clayton Orsborn's kick. Towanda answered back, however, with a touchdown with 2:42 remaining in the first, but the Hornets kept the Black Knights out of the end zone on the two-point conversion, and held a 7-6 lead.
Later in the second junior Tanner Button added the the Hornet lead as he returned a punt 35 yards for a touchdown. Orsborn made his second kick of the night making the score 14-6.
Wellsboro remained up by 8 and increased their lead with just over four minutes left in the third. A huge run by Burrell setup the Hornets on the Towanda 9-yard line. A handful of plays later Witmer punched the ball in from 3 yards out to put Wellsboro up 20-6. The Hornets tacked on another touchdown with 1:34 left in the third as Witmer and Burrell connected again, this time from 14 yards out, to put Wellsboro up 27-6.
Towanda scored once more on the night with 1:33 remaining in the game on a 10 yard run by quarterback Mason Johnson to bring the score to 27-12.
"Tonight was a bounce back game for the JV team. We came out ready to play," said coach Chase Kriner. "We had 0 turnovers tonight which was key. Offense moved he the ball well. Defensively, minus one drive, we were able to dominate the line of scrimmage and fly to the football.
"Special teams was excellent," continued Kriner. "Orsborn was 3-for-4 on extra points and also had a touchbacks. Tanner Button returned a punt and got some good blocks from his teammates. Overall, it's a great win and we are excited to be home for a our next game."
The Hornets (3-1) host Troy on Monday, September 25 at 6:00 p.m.