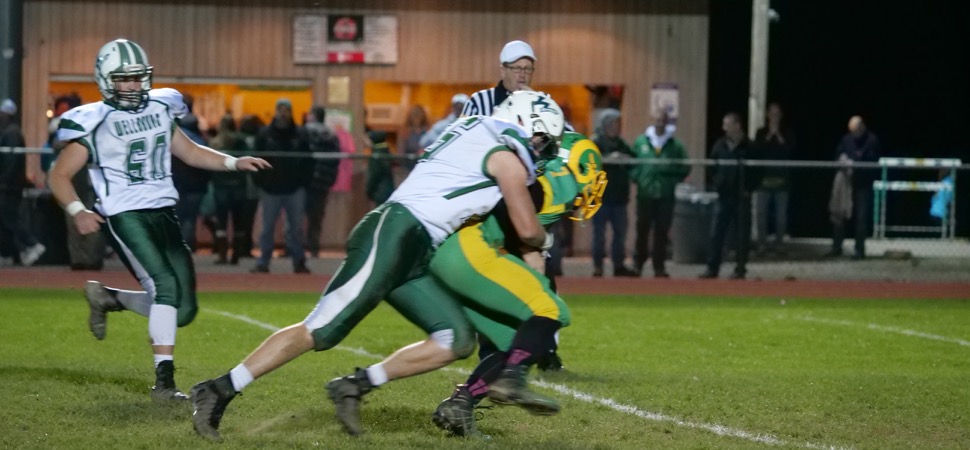 Brown sets record in Hornets 49-22 win over Wyalusing
By: Ed Weaver / October 20, 2018 / Photo: Dr. Robert Bair
Senior Hunter Brown broke Wellsboro's career sack record in the Hornets' 49-22 win over Wyalusing on Friday, October 19.
Brown recorded 2 sacks for his 5th of the season, and 16th of his career, to surpass Rob Kreger and Parker Jones's record of 14. Brown also accumulated 8 tackles, 1 pass deflection, and 2 forced fumbles on the night. Oh, and he also had an interception with a 20 yard return to go along with the other numbers.
"He had probably one of the better games that I've ever seen in Wellsboro history," Hornet head coach Matt Hildebrand said. "Some of the things he does doesn't make it in the stats. He had an incredible first half with the two sacks and the interception. He's just a special player. He's played defensive end and linebacker, if we could change his number we could split him out at receiver or a running back. I'm really happy for him. Offensively we have a touchdown that happens because of one of his blocks that put one of our receivers in the end zone. He was just all over the place."
Brown's first sack on the Rams' Shane Fuhrey also forced a fumble that sophomore Danny Timmons picked up and returned down to the down to the two. Two plays later junior Aidan Hauser was in the end zone with 7:52 remaining for a 7-0 Hornet let after sophomore Zach Singer made the extra point.
Wellsboro struck again later in the quarter. Following a Wyalusing 3-and-out forced by another Brown sack, Wellsboro took over at the Wyalusing 47 and drove down to the 10 where Singer booted a 26-yard field goal with 1:12 remaining. Those 10 points were the first the Hornets have scored in the first quarter since week two against Troy (13).
"We corrected a lot of mistakes we saw last week, the biggest one being turnovers. We won the turnover battle tonight and maybe just one offsides penalty and last week that was our Achilles' heel," Hildebrand continued. "Really happy with how we came out, we scored in the first quarter, something that we haven't been doing much this year, it's a win we needed and a good win going into next week."
The Hornets continued their offensive production following another Ram turnover. As they worked inside Wellsboro territory Brown, normally a defensive end but playing outside linebacker, picked off a Fuhrey pass and returned it to the Wyalusing 47-yard line. From there, freshman Isaac Keane connected with junior Alex Burrell from 47 yards out to make it 16-0 with 8:11 left. Wyalusing's ensuing drive went 3-and-out and again the Hornets went back to the air for another score. This time Keane connected with junior Silas Wagaman on a receiver screen for 36 yards to make it 23-0 with 5:49 remaining before halftime.
Another Wyalusing turnover, this time on a tackle for loss, forced fumble and recovered fumble by senior Robert Brown, gave Wellsboro the ball at the 27. After a defensive pass interference penalty and 17-yard pass to senior Tanner Button, Hauser found the end zone again from 2 yards out to make it 30-0.
The Hornets picked up right where they left off to start the second half as they scored back-to-back touchdowns on the opening drives in just a total of 4 plays. With 10:56 remaining Hauser broke loose from 53 yards out on 3rd-and-3 for his third rushing touchdown of the game to put the Hornets up 37-0. Wellsboro then got the ball back on the kickoff as Hunter Brown's kick bounced off a Ram player and into the Hornets' possession. This time it only took Hauser one play, another 53 yard score, to put Wellsboro up 43-0.
Wellsboro added one final score to start the fourth quarter. Keane capped an 11-play drive from a yard out with 11:53 to make it 49-0. As the Hornets started subbing defensively the Rams managed three late offensive touchdowns, one each from Fuhrey, Trent Nickeson, and Brandon Dake to bring the final score to 49-22.
Wellsboro accumulated 344 yards of total offense, 244 of that coming on the ground. Hauser led all rushers with 177 yards and 4 touchdowns on 14 carries, tying him for 3rd most all-time for rushing touchdowns in a single game. Hauser has now rushed for 1,412 yards this season, third behind Derek Harsch (2,064) and Jason Kennedy (1,446) for the most yeards in a single season.
Junior Clayton Orsborn rushed 6 times for 18 yards, sophomore Alex Moore had 4 carries for 16 yards, freshman Kanan Keck carried the ball 5 times for 14 yards, and Keane finished with 11 yards on 9 attempts. Kane completed 3-of-9 passes for 100 yards and 2 touchdowns. Burrell (47), Wagaman (36), and Button (17) all caught passes.
Defensively Robert Brown had 9 tackles, Button had 5, and Timmons had 4.
Up next for Wellsboro (8-1, 6-1 NTL Large School Division) is their annual rivalry game with North Penn-Mansfield for the Morton F. Jones Memorial Trophy along with a shot at a share of the NTL Large School Division title. The Hornets are 37-18 in the game and have won the last 6 games dating back to 2012.
"With the NTL title on the line moving ahead it means a lot for both team," Hildebrand said of the rivalry matchup. "Our hand is still in the pot and hopefully we'll come ready to play next week. It should be an exciting atmosphere, we're looking forward to a packed stadium, it's the first time we've actually got to play North Penn at home."