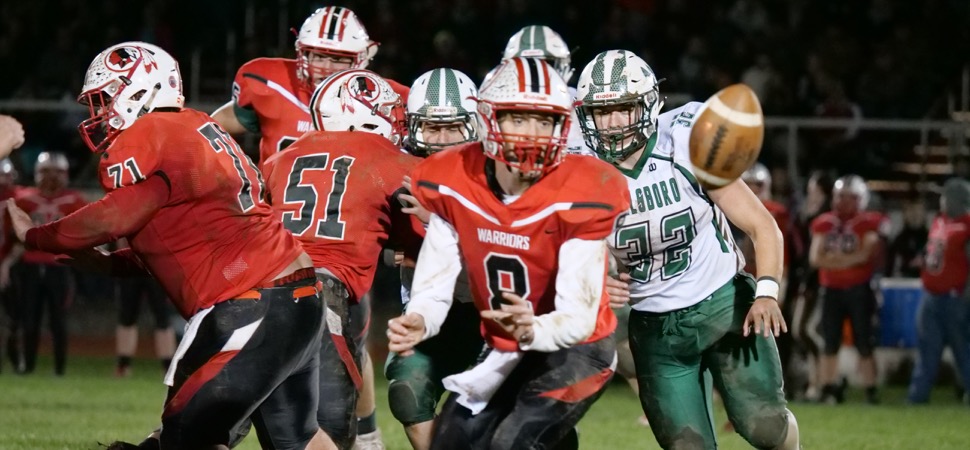 Canton hands Wellsboro first loss of season
By: Ed Weaver / October 13, 2018 / Photo: Dr. Robert Bair
Turnovers, penalties, and special teams blunders did in the Wellsboro Varsity Football team as the Canton Warriors snapped the Hornets' 28-game regular season win streak and handed them their first loss of the season on Friday, October 12.
Things started off great for the Warriors as Garrett Storch blocked a punt by sophomore Carson Davis and recovered it at Wellsboro's 2-yard line. Canton only needed one play as Uriah Bailie snuck his way in for six. Their two-point conversion attempt failed but Canton had a 6-0 lead with 9:25 left in the first quarter.
Two Wellsboro interceptions, and three failed drives, kept the score at 6-0 in favor of Canton until another special teams blunder hurt Wellsboro to setup another Canton score. A mishandled snap on another Davis punt gave the Warriors the ball at the Wellsboro 18. After going nowhere their first three plays Canton went for it on fourth down and completed a pass down to the Wellsboro 1. One play later Levi Gaiotti drug a slew of Wellsboro defenders across the goal line for another touchdown. This time the Warriors' two-point conversion was good and they led 14-0 with 3:27 left to go before halftime.
Wellsboro found success late in the quarter following Canton's touchdown to pull within a score. On their second play from scrimmage junior Aidan Hauser broke off a 49-yard run down to the Canton 5. Canton's defense kept Wellsboro out of the end zone for three plays, but on fourth down junior Karter Witmer snuck in from a yard out. Canton blocked the following extra point and led 14-6 at the half.
Wellsboro received the second half kickoff but again turned the ball over on an interception deep in Canton territory. Wellsboro got lucky, however, as Canton fumbled the ball back to the Hornets on the 20 three plays later, but held Wellsboro to a 30-yard field goal by sophomore Zach Singer, cutting the score to 14-9 with 7:15 left in the third.
Wellsboro's defense forced a punt on the Warriors' next drive, but again turned the ball over on their fourth interception. The Warriors moved down inside the Wellsboro 5 on six plays but were kept out of the end zone and came up empty-handed as Sawyer Wooster's field goal was blocked. Pinned at their own 3-yard line, Hauser broke off the game's longest play as he raced 97 yards for a touchdown. Singer's extra point was good and Wellsboro had their first lead of the game, 16-14, with 9:42 left to play.
The lead was short-lived for Wellsboro though as Timmy Ward returned the ensuing kickoff 85 yards for a touchdown to put Canton back up 20-16. Canton added the game's final score after both teams traded lost fumbles. Once the Warriors got the ball back they went to the air. Bailie hit Ward on a 51-yard pass down to the Wellsboro 22. Eventually Michael Smithers punched the ball in from a yard out to seel the win for Canton, keeping them undefeated and handing Wellsboro their first regular season loss since October 30, 2015 when Towanda beat Wellsboro 17-0.
The Hornets were penalized 10 times on the night, their third multi-penalty game of the season, but ground out 257 yards of total offense. 220 of those yards came on the ground as Hauser finished with 194 yards on 26 carries. Witmer and freshman Isaac Keane combined to go 3-of-20 for 37 yards through the air, with Witmer completing all three passes on the night. Senior Tanner Button hauled in 2 passes for 32 yards and junior Silas Wagaman caught 1 for 5.
Bailie (7-for-11) and Smithers (3-for-9) combined to throw for 145 yards for the Warriors. Ward caught 2 passes for 57 yards, Ben Knapp caught 3 for 50 yards, and Gaiotti hauled in 4 passes for 19 yards.
Next up for Wellsboro (7-1) is their final regular season road date on the year in Wyalusing (1-7).