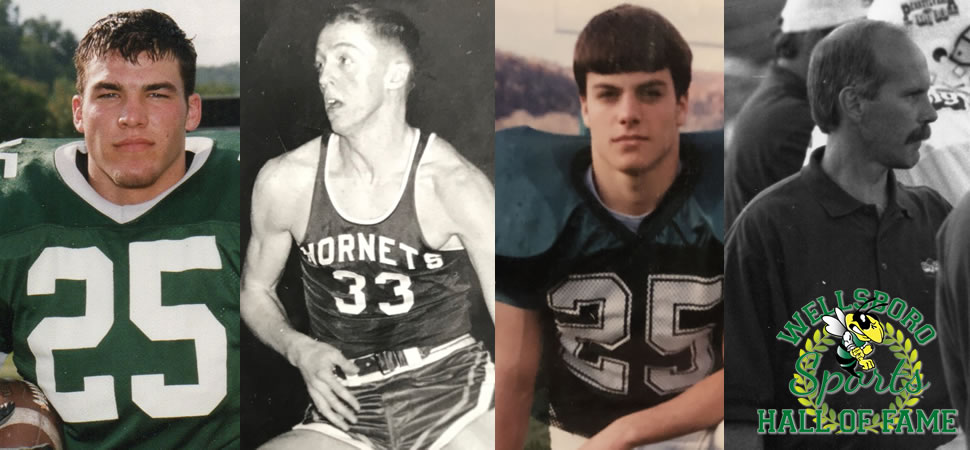 Four set to be inducted into Wellsboro Sports Hall of Fame's Class of 2018
By: Ed Weaver / March 21, 2018 / Photo: Ed Weaver
The Wellsboro Sports Hall of Fame committee is proud to announce its class of 2018.
The Wellsboro Sports Hall of Fame Class of 2018 includes three athletes and one former head coach. Derek Harsch (2002), Dale Tombs (1964), Russ Manney, III (1996), and Russ Manney, Jr.
Harsch (football) had a breakout year for the Hornets in 2001, setting not only Wellsboro's all-time rushing record of 2,064 yards but also setting the Northern Tier League's single-season record that same year, before it was broken in 2004. Harsch was the first Hornet since 1997 to break the 1,000-yard mark and is the only Hornet running back to ever rush for 2,000 yards in a single season.
Tombs (boys basketball) earned nine varsity letters, three each in football, basketball, and baseball, during his sophomore, junior, and senior years. Tombs received the 1963-64 John Antoine Prevost Award as the top male athlete of his senior class and was inducted into the Tioga County (PA) Sports Hall of Fame for baseball in 1990. As a captain of the 1963-64 team, Tombs led the Tioga County League in scoring and helped the Hornets finish 2nd in the league while being named a 1st team TCL All-Star.
Russ Manney, III (football) was named the NTL's "Offensive Player of the Year" and "Player of the Year" during his senior season in 1995 as he rushed for 1,351 yards, averaged 7.7 yards per carry, and scored 20 touchdowns. The Hornets finished the regular season 9-1 that year, and Manney was a 1st team All-Twin Tiers selection and District IV All-Star. In wrestling, Manney was two-time sectional champion and competed at districts all four years in four different weight classes. In track, Manney won eight District IV Championship medals and won the 110m hurdle District title in 1995 and participated in the PIAA State Championships in the same event. Manney went on to be named Outstanding Offensive Player in football, Outstanding Wrestler, and Track Athlete of the Year at the annual WHS Athletic Awards ceremony, while also being named the Male Athlete of the Year.
Russ Manney, Jr (coaching), a 1969 graduate of Shamokin, is currently Wellsboro's all-time wins leader in football. After being an assistant coach with the Hornets during the 1973-77 seasons, Manney became head coach of the Hornets in 1985 and coached until 1997, then later returned for another two years in 2001 and 2002. During that time, Manney won 66 games, with his best season coming in 1995 when he guided the Hornets to a 9-1 regular season record. In 1999, Coach Manney was inducted into the Bernie Romanoski Chapter of the Pennsylvania Sports Hall of Fame, and in 2012 he was inducted into the Tioga County Chapter of the Pennsylvania Sports Hall of Fame for his high school athletic achievements and his coaching successes on the gridiron. During his tenure at Wellsboro, Coach Manney also coached wrestling, track, and strength training. He also founded the Wellsboro Gridders Club in the early 1990's.
The Wellsboro Sports Hall of Fame Class of 2018 will be inducted on Friday, September 7, 2018, at halftime of the Wellsboro-Montgomery football game.