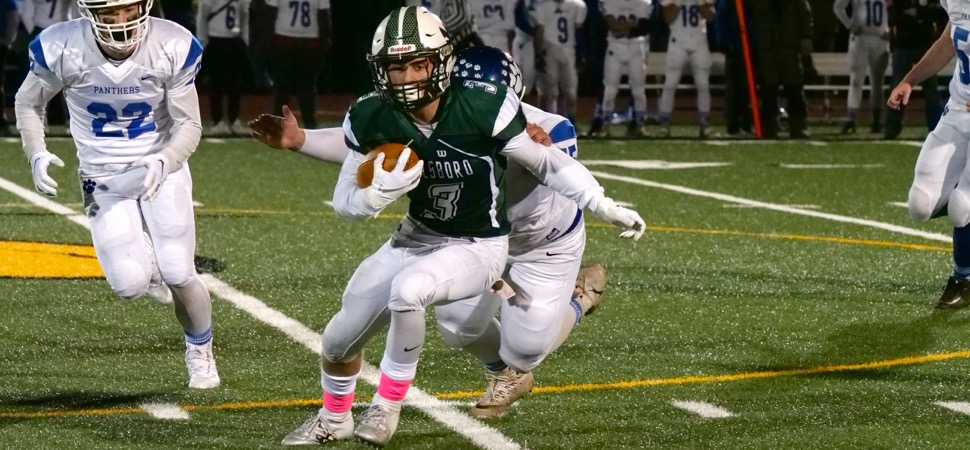 Hauser named WETM Sports Fall MVP
By: Ed Weaver / December 11, 2018 / Photo: Dr. Robert Bair
Junior running back Aidan Hauser was named WETM TV's Fall MVP on Monday, December 10.
Hauser, who received 49% of the 1,500+ votes on WETM's website, recorded the 2nd best season rushing in Wellsboro football history. Hauser recorded 1,578 yards rushing, 2nd all-time in a single-season only behind Derek Harsch (2,064), and scored 17 touchdowns on the ground, tied for third most in a single-season.
"I worked hard in the off-season and that transitioned into field play," Hauser said. "I couldn't do what I did this year without my brothers on the field and our coaching staff. It's a blessing to be the male athlete of the year, and I'd like to thank God, my family, my coaches, and my team for making this possible."
Hauser also threw for a touchdown in the Hornets' Homecoming win over Milton, caught 10 passes for 111 yards, returned 6 kicks (2 for touchdowns) for 236 yards, and 10 punts for 191 yards and a touchdown. Of the Hornets' 3,387 yards of offense during 2018, Hauser accounted for 50% of those yards.
"Aidan has been one of the best running backs in the area for the last two seasons and people are finally recognizing that," Hornet head coach Matt Hildebrand said. "This year Aidan really opened some eyes and is getting the recognition he deserves. Aidan is a great kid with a great work ethic. Aidan is very focused on wanting to get better and puts in the work year round to make that happen. I'm very proud of Aidan and very excited to see what his senior year will hold for him."