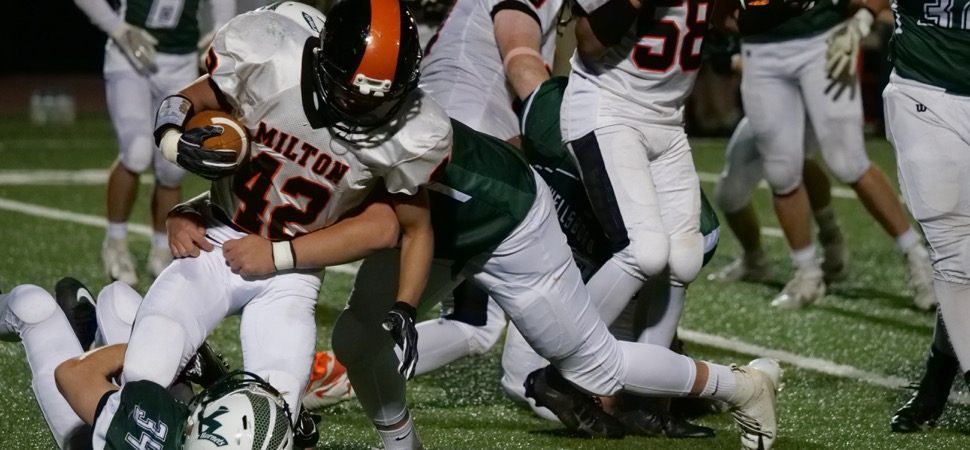 Hornets gut out 20-14 Homecoming win over Milton
By: Ed Weaver / October 6, 2018 / Photo: Dr. Robert Bair
The Wellsboro Varsity Football team won their 4th straight Homecoming game as they handed Milton a 20-14 loss on Friday, October 5.
While the Black Panthers might have come into Friday's game with a 1-5 record, they gave Wellsboro their toughest test of the season. The much larger Panthers allowed just one Wellsboro first down in the first half and kept the Hornets' offensive weapons in check. However, Wellsboro found a way to win and extend their regular season win streak to 28 games.
"We don't really think about that, we're just trying to get wins, win a league championship, and get ready for districts," said head coach Matt Hildebrand (56-9). "I'm happy with how the guys played tonight, we corrected a lot of mistakes we had last week. Going against a good football team and bigger school than us coming in here on Homecoming with the potential for distraction, our guys came out focused."
Milton controlled the ball for the majority of the first half and churned out first down after first down. The Black Panthers ran 39 offensive plays and held the Hornets to just 19 plays. Despite the lack of offensive production in the first half they had an early shot at putting points on the board. As Milton quarterback Philip Davis threw a pass to one of his receivers the ball went off his hands and into the hands of freshman Isaac Keane. Keane returned the ball down to the Milton 6, but Wellsboro's drive failed after they got down to the one, and they turned the ball over on downs.
The Black Panthers picked up right where they left off from their own 6 and picked up four first downs out to midfield but were hit with penalties are were forced to punt. After holding the Hornets to a three-and-out the Black Panthers took back over, this time through the air, as Davis connected with Bryce Gower, Quaylin Rice, and Qamar Bradley for gains of 12, 24, and 26, respectively and moved down to the Wellsboro 21. Two plays later Davis went up top and connected with Rice from 16 yards out to put Milton up 7-0 with 4:28 remaining in the half.
Although their drive following the touchdown failed, that didn't stop Tioga County's "Comeback Kids." After holding Milton to punt from their 28 Wellsboro took ove with excellent field position from their own 41. After a 5-yard run by junior Aidan Hauser and a loss by junior Karter Witmer back to the 44, Wellsboro took a timeout facing 3rd-and-6 with time running down. Wellsboro dialed up the perfect play as Witmer threw a swing pass out to Hauser and instead of running it, he pulled up and hit junior Silas Wagaman in stride, wide open in the Milton secondary, and Wagaman sprinted his way to a 56-yard touchdown with just 14.9 seconds left on the clock to tie the game at 7-7.
"You always have to have a couple (trick plays) in your bag to pull out," Hildebrand said. "We needed a little spark and I thought that it worked out well. It was a great ball by Hauser, we can add that to his repertoire now."
Coming into the second half the Hornets found themselves in familiar territory. Three times this season Wellsboro has been tied at 7-7 after halftime. Unlike the previous two games the score remained tied heading into the fourth quarter. After holding Mitlon to another punt Wellsboro's offense finally started clicking. The Hornets started out with back-to-back runs by Hauser but faced a 3rd-and-4. On that play Witmer threw a pass back behind the line of scrimmage to Hauser, as he looked to an ally he cut all the way back across the field and found room along the Wellsboro sideline for a 48-yard gain down to Milton's 22. Three plays later Witmer found senior Tanner Button wide open from 19 yards out to give Wellsboro their first lead of the game with 11:16 remaining.
Eight minutes elapsed between the Hornets' second and final touchdown drive in the quarter. After a 51-yard run by Hauser down to the Milton 4 the Hornets fumbled the ball back over to Milton. Wellsboro's defense kept the Panthers to three plays and out, forcing a punt that went out of bounds at the 25. After two negative runs and a 5-yard delay of game penalty, Witmer found Button again. After the catch Button broke loose from a tackle and raced the remaining yards for the 35-yard score with 3:46 remaining. Sophomore Zach Singer's extra point missed and Wellsboro led 20-7.
After the Hornet touchdown Milton's offense marched right back down field covering 83 yards in just 1:34. The drive was helped by a 40-yard and a 20-yard pass from Davis to Bradley then Davis Ethan Rowe from 6 yards out with 2:12 remaining to pull the Panthers within 6. Junior Alex Burrell covered the onside kick following the touchdown and the Hornets ran out to clock to preserve the win.
Davis finished the night 17-of-33 for 240 yards and 2 touchdowns through the air while Qamar Bradley caught 6 of those passes for 121 yards. Jason Valladares led the Panthers' ground attack with 88 yards on 21 carries.
Witmer led Wellsboro's aerial attack on 5-for-13 passing for 96 yards and 2 scores, both to Tanner Button. Button totaled 4 receptions for 85 yards and Wagaman finished with 2 catches for 67 yards.
After being held to just 11 yards on the ground in the first half, Hauser finished with 181 on the evening on 24 attempts to become the Hornets' 16th 1,000-yard season rusher. The junior now has 1,041 yards on the season through 7 games and also broke 2,093 yards for his career.
"He's a special kid," Hildebrand said of Hauser. "He gets the yards when we need them and tonight we told him we're giving you the ball and you find the hole kind of deal because they brought pressure all over the place tonight. He was able to find creases and got crucial yards at the end of the game to pick up first downs to seal it for us."
Defensively senior Robert Brown and junior Clayton Orsborn both finished with 9 tackles each. Brown is now 2nd all-time 319 career tackles. Wagaman finished with 6 tackles and an interception and senior Hunter Brown had 6 tackles and a sack, putting him one sack behind Parker Jones and Rob Kreger.
Wellsboro, now 7-0 (5-0 NTL Large School Division) will travel to Canton (7-0, 7-0) next Friday, October 12.
"We're looking forward to it," said Hildebrand about traveling to Canton next week. "Going in there into an opposing team's home with two undefeated teams is what high school football is all about and it doesn't get more exciting than that. We have to be ready, mentally focused, and ready to go."