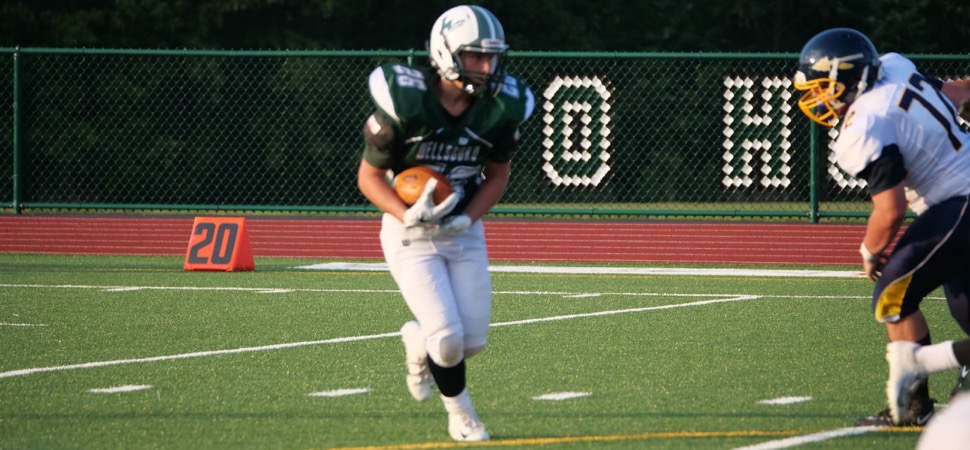 JV Hornets top CV, 41-6
By: Ed Weaver / August 28, 2018 / Photo: Dr. Robert Bair
The Wellsboro JV Football team started out their season with a big victory over Cowanesque Valley on Monday, August 27.
After a quick three-and-out by CV's offense the Hornets wasted little time getting on the scoreboard. Sophomore Nick Smith put the Hornets on the scoreboard with 8:15 remaining in the first quarter on a 30+ yard run. Freshman Ryan Sweet's extra point was good and the Hornets led 7-0. Wellsboro got the ball right back as they receovered a fumble on the ensuing kickoff.
The Hornet offense put together a nice drive that ended with a 5-yard touchdown run by freshman Kanan Keck to make it 13-0. Wellsboro added one more score late in the first as Keck again scored from a yard out to make it 19-0.
Wellsboro increased their lead midway through the second as junior Jacob Trowbridge picked off a bad option pitch by the Indians and took it 59 yards the other way to make it 25-0 after a failed two-point conversion. Four minutes later Keck scored his third touchdown of the game, this time from 7 yards out, and freshman Isaac Keane converted the two-point conversion to give the Hornets a 33-0 lead.
The Hornets added one more score in the third. Keck again found the end zone on a 14 yard run then converted the two-point conversion to put Wellsboro in front, 41-0.
Cowanesuqe avoided the shutout midway through the fourth quarter on a three-yard quarterback sneak to make it 41-0.
"It was a great start to our JV season," said coach Ben Miller. "We were pleased with how we moved the ball on offense as well as how strong our defense looked. We had a number of freshmen step up and make big plays for us."
Wellsboro (1-0) will travel to Troy on Tuesday, September 4.