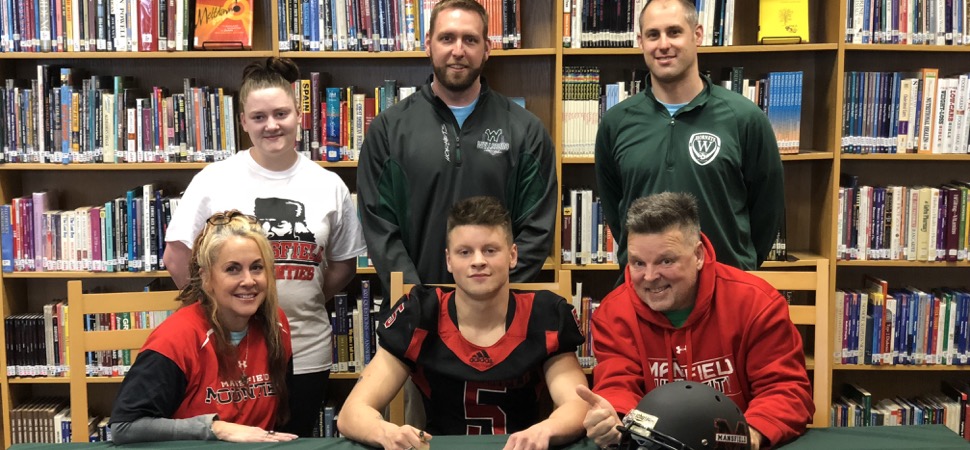 Kozuhowski set to join Mansfield University's sprint football program
By: Ed Weaver / April 12, 2018 / Photo: Ed Weaver
Senior Alex Kozuhowski announced on Monday, April 9 that he will be continuing his football career close to home as a member of Mansfield University's sprint football team.
Kozuhowski is the first Hornet under head coach Matt Hildebrand to join the Mounties sprint football team since it formed in 2008, and joins former Hornet Jerred Keltz.
Since his freshman year Kozuhowski has been one of the Hornets' most all-around elusive athletes, be it from his defensive back position, where he intercepted six passes for 140 yards and made 115 career tackles, or as a wide receiver, running back, or returner, where accumulated 1,863 all-purpose yards.
"He's been a very integral part of the program the last four years," said Hildebrand. "He's a hard worker and he has some God-given talent that he's taking to the next level. I think it's a great spot for him, he's going to get a great education and I'm very excited for him."
Before coaching at Wellsboro, Hildebrand played football at Mansfield University from 2002-05.
"Alex is the first athlete I've had in my five years as head coach to go Mansfield. I'm really happy to see where the program is going, I think it's going in a great direction and Alex can be part of that movement to take it to great places."
Kozuhowski chose Mansfield over Lycoming College, Kings College, and California University of Pennsylvania.
"The campus is great and the location can't get any better," Kozuhowski said of being 15 minutes away from home. "Plus my parents can come watch all of my games."
After helping lead the Hornets to their first-ever District IV championship as a sophomore in 2015, Kozuhowski has been a NTL Division 1 2nd Team Defensive Back (2015), District IV Honorable Mention Defensive Back (2016), NTL Large School Honorable Mention Wide Receiver and Corner Back (2016), Towanda Daily Review All-Region 1st Team Defensive Back (2016), District IV 2nd Team Defensive Back (2017), and NTL Large School 1st Team Defensive Back (2017).
WellsboroAthletics.com and WellsboroFootball.com woould like to congratulate Alex on continuing his athletic career and thank him for all his hard work and dedication to the program.