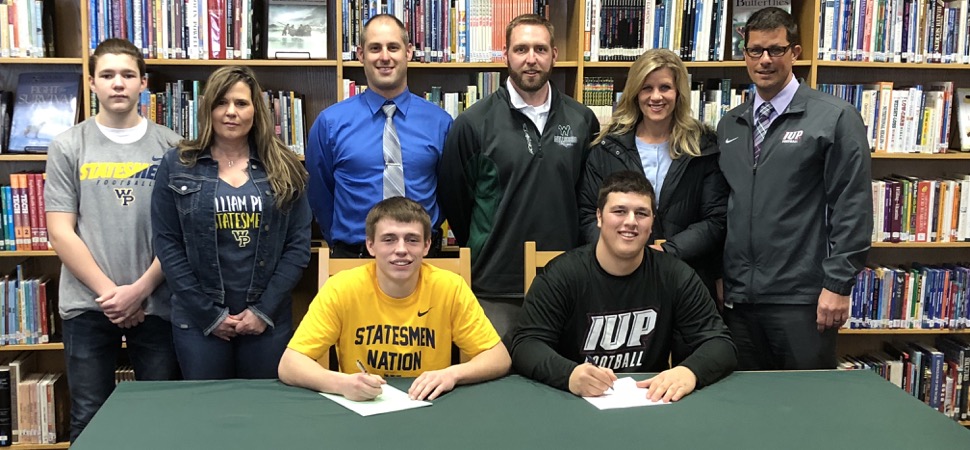 Pietropola, Henry to continue football careers
By: Ed Weaver / February 14, 2018 / Photo: Ed Weaver
Seniors Collin Pietropola and Quinn Henry officially announced they are continuing their football careers this coming fall on Tuesday, February 13.
Pietropola will continue his career at Division II Indiana University of Pennsylvania while Henry is attending William Penn University, an NAIA school in Iowa.
Pietropola joins his dad, coach Mike Pietropola, and older brother Michael Pietropola, who will be a senior this fall, as members of the IUP football team.
"It's definitely awesome that I get to follow in the footsteps of the family. It's going to be a great experience having my brother there, my dad was there before and I'm definitely looking forward to it."
For Henry, traveling to the Midwest will be a new experience.
"It's going to be a new opportunity and I can't wait to get out to Iowa," Henry said. "The coaches had a lot of confidence in me and thought I'd fit the program well. I saw that they competed and that they are a good football team. I'm just excited to go out."
During their time at Wellsboro the pair contributed to a lot of success the program has had ther past few years. As freshman, the Hornets were coming off their first undefeated regular season since the program was brought back in 1958. As sophomores, they won the program's first ever District IV Class A championship. As juniors and seniors, they helped the Hornets win back-to-back NTL Large School Division championships, had two undefeated regular seasons, and went a perfect 20-0 against Northern Tier League opponents.
Both feel that their accomplishments at Wellsboro have prepared them to play at the next level, and both want to contribute as much as they can during their freshman years.
"I'll do whatever it takes to get on the field," Henry said.
"Anything I can. I want to get on the field and play, so if they tell me to do something, I'll do it, if they want to switch my position, I'll switch my position. It just depends on what they want me to do," Pietropola said.
To say head coach Matt Hildebrand is proud of Pietropola and Henry is an understatement.
"I'm super proud being able to watch these two grow up," Hildebrand said. "They were my first fourth grade class so to see them go from fourth graders to now graduating seniors to going to college and play college football. I'm very proud of them and everything they've accomplished. Hopefully the work ethic and what we require on a daily basis has prepared them. These guys were driving forces behind that with what they did both on and off the field. Both IUP and William Penn are getting great kids, both character wise and athletically."
WellsboroFootball.com would like to congratulate both Collin and Quinn on furthering their education and athletic careers.