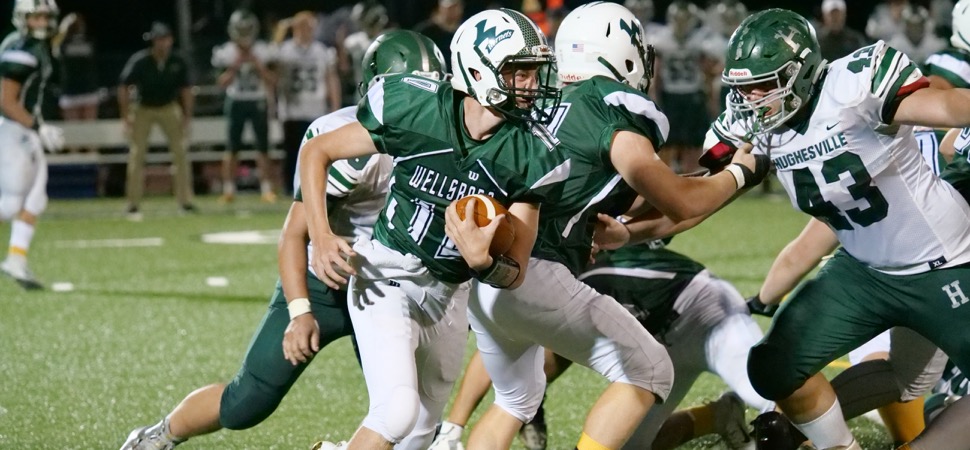 Second half Hornets sting Hughesville, 28-7
By: Ed Weaver / September 22, 2018 / Photo: Dr. Robert Bair
Over the last three weeks the Wellsboro Varsity Football team have been a second half team. That trend continued as they earned their fifth straight win as they topped Hughesville 28-7 on Friday, September 21.
The Hornets have only managed to score 14 points in the first half of the last three games, but when it counts the most, the Hornets have outscored their opponents 77-0 in that stretch.
"We're kind of struggling to focus in the first half and we continue to shoot ourselves in the foot with penalties and being offsides. Those things really get you as a coach because they're easily controllable, its just a lack of mental focus," head coach Matt Hildebrand said afterwards. "We have to come out ready to play because that's going to catch up with us. There's something to say about being a second half team, I'd rather be a second half team than a no half team, but moving ahead we have to change that and come out with a little more urgency and put the ball in the end zone."
Neither team was able to muster much offense in the game's opening minutes as each team's first two drives ended with punts. It wasn't until the Spartans third drive that they started churning out some yards, but their drive ended on a lost fumble that the Hornets recovered at midfield. That momentum got Wellsboro going and helped them put together a scoring drive.
Back-to-back runs by freshman quarterback Isaac Keane moved Wellsboro down to the Spartan 27 to end the first quarter. Once the second quarter started, sophomore Aidan Hauser only needed one run to give the Hornets the game's first score just 16 seconds in.
After that drive by Wellsboro, however, both teams traded punts until Hughesville finally mounted a drive in the closing minutes of the half. Taking over at their own 44-yard line, runs by Colton Yocum and Jase Wright moved the Spartans down inside the Wellsboro 20. Hughesville struck to their ground game and pushed their way down to the 4 where back-to-back runs by Yocum results in a touchdown with 26.6 seconds left to tie the score at 7-7.
Wellsboro started the half with the ball, but unlike the last two weeks, they put together a sustained drive to score. A 13-yard run by Keane, then a 13-yard pass from Keane to senior Tanner Button moved the ball into Hughesville territory. From that point on the Hornets relied on Keane's and Hauser's legs to move them into scoring position. Keane capped the drive from two yards out with 7:41 remaining to put Wellsboro up 14-7 following sophomore Zach Singer's extra point.
Hughesville's first possession of the half, and Wellsboro's second possession, both ended the same way, in punts, but the Spartans' following drive ended with an interception. Wellsboro, however, was unable to do anything following the turnover and turned the ball over on downs, giving the Spartans excellent field position at their own 45-yard line. Hughesville picked up two first downs on the drive, all on the ground, to move down inside Wellsboro territory, but Wellsboro's defense dug deep and held the Spartans on fourth down at their 24.
That stop gave Wellsboro more momentum as again the Hornets mounted another scoring drive. Prior to this drive, Hauser, with the exception of his earlier touchdown run, was held in check. This drive the junior fought his way for gains of 13, 26, 3, and 6 to get the ball down to Hughesville's 27-yard line. After a 3-yard run by Keane, Hauser broke a 20-yard run for a first down to Hughesville's 4-yard line. A play later, Hauser found the end zone for the second time of the evening with 4:10 remaining in the game to make it 21-7 in favor of the Hornets.
Another Spartan interception gave Wellsboro a short field to work with. Starting at the Hughesville 37 the Hornets needed only 3 plays to score their final touchdown of the night. A 4-yard run by senior Robert Brown, a 1-yard run by Hauser, then a 32 yard run from the junior with 1:59 left put Wellsboro ahead 28-7.
"We told him (Hauser) that he was going to be the workhorse and that he needed to grind it out," said Hildebrand of his junior running back. "He got the wind knocked out of him one time but he sucked it up and we kept him in there because we needed to get about 3 more yards and he ended up in the end zone actually. He's a special kid and has a second gear that nobody else really has and is pretty elusive with the ball. I'm happy with him obviously and what he can give us, and it allows our young quarterback to mature a little bit."
Wellsboro produced 269 yards of total offense, compared the Hughesville's 166 yards, with 252 yards coming from the ground attack. Hauser led all rushers with a game-high 180 yards and 3 touchdowns on 26 carries (6.9 yards/carry), Keane finished with 62 yards and a score on 12 carries, and Brown gained 9 yards on 2 carries. After not completing a pass in the first half Keane finished 4-for-10 for 17 yards with Button leading the way with 13 yards.
Senior Hunter Brown led the Hornet defense with 11 tackles and a fumble recovery, junior Alex Burrell had 10 tackles, junior Tyler Hancock finished with 9 tackles, and Robert Brown and freshman Wayne Shirley each recorded 6 tackles. Juniors Clayton Orsborn and Karter Witmer also recorded interceptions.
Yocum led the Spartans ground game with 86 yards and a touchdown on 20 carries, Wright finished with 51 yards on 16 attempts, and Carter Marquardt rushed 7 times for 21 yards. Ethan Snyder finished 1-for-8 through the air for 19 yards, with his lone completion going to Wright.
The win improves the Hornets' record to 5-0 (4-0 NTL Large School Division) and keeps them at the top of the standings with Canton (5-0, 5-0 NTL Large School Division). The Hornets are on the road next Friday, September 28 at Athens (3-2), who lost 34-0 to Canton.