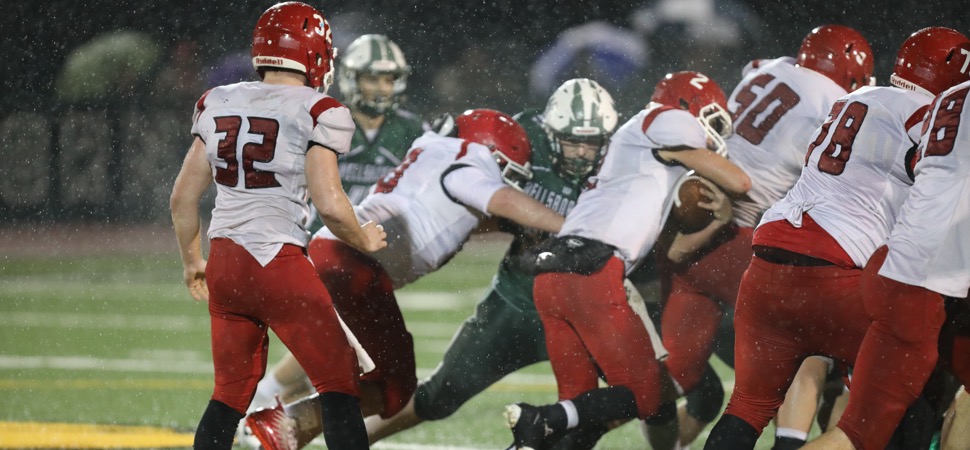 Trojans end Hornets season in D4 AA quarterfinals
By: Ed Weaver / November 3, 2018 / Photo: Dr. Robert Bair
The Troy Trojans avenged a 36-8 week two loss to the Wellsboro Hornets by knocking them out of the District IV Class AA playoffs on Friday, November 2.
The Trojans forced 7 Wellsboro turnovers, 5 in the first half alone, as they hung on to beat Wellsboro 38-32.
"If you turn the ball over seven times, you're going to make it hard on yourself and its going to be an uphill battle," head coach Matt Hildebrand said after the game. "Troy's a good football team and we knew they were going to battle and be physical."
Troy scored on the game's opening drive as they marched the ball down field on 9 plays, 8 of them on the ground, to get down to the Wellsboro 8 before the Hornets' forced a 4th-and-6. Troy opted for a Seldon Rogers field goal from 25 yards out with 7:21 left to go in the opening quarter.
Despite trailing things went from bad to worse for Wellsboro.
On just their second play from scrimmage, freshman quarterback Isaac Keane was sacked for a 19-yard loss and fumbled the ball in the process. Troy immediately capitalized as Bailey Cohick found the end zone from 3 yards out to put Troy up 10-0. Then Wellsboro fumbled the following kick at their own 27. On the very next play Dominick Ayres hit Rogers on a 27-yard touchdown to make it 17-0 with 5:28 left in the first.
Despite spotting Troy 17 early points the Hornets eventually put together a drive as the first quarter wound down. After returning the following kick up to the 42, passes from Keane to junior Silas Wagaman and from senior Robert Brown to senior Tanner Button and another pass from Keane to Wagaman moved the ball to the Troy 17. Wellsboro started going backwards from there but managed to find the end zone on 4th down as Keane connected with senior Hunter Brown in the back-right corner of the end zone. Sophomore Zach Singer made the extra point and Wellsboro was down 10, 17-7 wtih 46 seconds left.
Wellsboro stopped Troy on their ensuing drive and went back to work. Thie time the Hornets only needed two offensive plays to find the end zone. One 1st down Keane connected with Button for a 30-yard pass down to the 1 where Robert Brown finished the drive one play later. Just like that the Hornets were down 17-14 just two minutes into the second quarter.
Troy, however, regained their 10-point lead just a minute later. On their third play from scrimmage Cohick broke free on a 40-yard run to push the lead to 24-14 with 9:08 remaining in the half. Two more Hornet turnovers led to another Troy touchdown This time Tyler Williams rumbled for 66 yards to push the lead to 31-14.
Despite trailing by 17 as the second half started the Hornets were determined to mount a comeback. The Hornets have been billed as a second half team all season, and they continued to be that Friday. As the half started Keane broke off a 33-yard run into Troy territory, then later hit Button for a gain of 25 down inside the Trojan 10. After a false start Keane scrambled for a gain of 12 and Brown finished the drive from 2 yards out. Singer's kick missed and Wellsboro was down 31-20.
"We've been in this situation before," continued Hildebrand. "The guys all looked at each other and said this isn't the time to panic. We've been here before. How we responded out of halftime, I'm really happy with that. Coming out and getting a score right out of halftime. That's what we needed to do. The guys responded, they fought, but unfortunately we came up short tonight."
Troy, however, answered back on their next drive putting an 18-point cushion up on the scoreboard. The Trojans marched down the field in a 12-play drive, 11 of those on the ground, with Williams scoring from 12 yards out to make the score 38-20.
Troy held that lead until the 8-minute mark of the fourth quarter.
The Hornets forced another turnover on downs and took over near midfield. Right away Keane hit Button for a gain of 26 down to the Troy 25-yard line then hit Wgaman for 22-yards down to the 2. Again the Hornets turned to Brown and the senior delivered for the third time, cutting the lead to 38-26.
The Hornet defense held Troy on their next drive. Wellsboro then went back to work from their own 39 and marched down field to again cut into the Trojan lead. On 1st down Keane found Hunter Brown for a gain of 16, he hit Button for a 4-yard pickup, then found Wagaman for a gain of 19. Another 21-yard pass to Hunter Brown got the ball down to the Troy 3 where Robert Brown scored his fourth touchdown of the night. Singer's kick missed and Troy was up 38-32 with 2:09 left to play.
Wellsboro went for the onsides kick and nearly came up with it, but Troy recovered and returned the ball for 11 yards and went on to run out the clock to end Wellsboro's season.
Dominick Ayres finished 6-of-9 for 63 yards and a touchdown. Williams and Cohick both eclipsed the 100-yard mark on the ground. Williams finished with 166 yards on 18 carries while Cohick had 22 carries for 109 yards. Rogers led the receiving corps with 3 catches for 41 yards.
Keane finished with 234 yards on 15-of-29 passing and Robert Brown was 1-of-2 for 12 yards. Keane also led the Hornets on the ground, picking up 64 yards on 14 carries. Robert Brown finished with 32 yards on 10 carries and Button ran the ball twice for 9 yards. Button caught 6 passes on the night for 102 yards, Hunter Brown finished with 73 yards on 4 grabs and Wagaman caught 6 passes for 71 yards.
The loss ends the Hornets' season at 8-3 (6-2 NTL Large School Division). Troy will advance to the semi-final round of the District IV Class AA playoffs next week against #1 Southern Columbia.