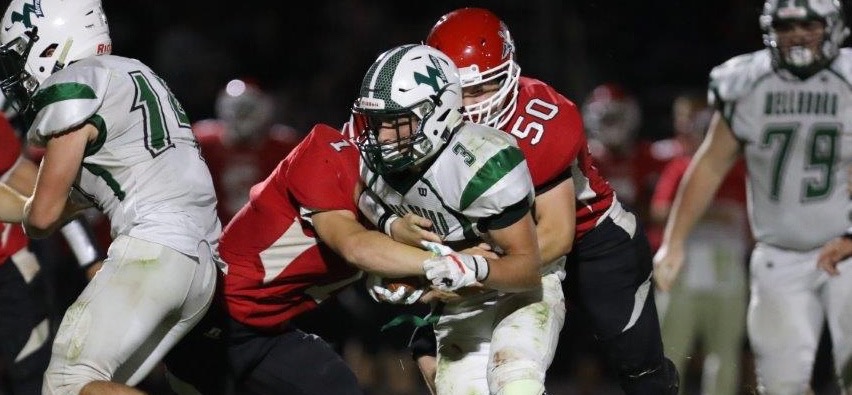 Big 2nd quarter leads Hornets past Red Raiders
By: Ed Weaver / September 7, 2019 / Photo: Dr. Robert Bair
A 28-point 2nd quarter propelled the Wellsboro Varsity Football team to a 70-28 win over Montgomery on Friday, September 6.
The first quarter in Friday's game, the Red Raiders' home opener, saw both teams combine for 28 points. Just over a minute into the game the Red Raiders lit up the scoreboard on a 69-yard pass from Logan Almeida to Steven Prince for an early 7-0 lead.
Wellsboro then answered on their opening drive, one that lasted only 8 plays and ended on a 4-yard run by senior Aidan Hauser with 7:26 on the clock. Junior Zach Singer's extra point missed tough, and Montgomery clung to a 7-6 lead. But it wouldn't last long.
Three plays into the Red Raiders' ensuing drive, sophomore Darryn Callahan stepped in front of an Almeida pass and returned in 38 yards the other way for the score. Wellsboro opted to go for two and senior Alex Burrell punched the ball in from 3 yards out for a 14-7 lead. Again the Red Raiders answered. With back-to-back 11-yard runs by Kaide Drick, and two passes from Almeida that totaled 25 yards, Montgomery worked their way down to the Wellsboro 21. A 12-yard gain by Drick got the ball down to the 7 where Almeida connected with Prince again to tie the game up.
"They have a dangerous offense," said head coach Matt Hildebrand of Montgomery following his 59th career win. "We had to make some adjustments we stopped some of their keys they were throwing to, but in the 1st quarter, 14-14, they were going punch for punch. I was happy how we responded, we didn't put our heads down and we dug in."
From that point on it was all Green Hornets.
Wellsboro recaptured the lead with 9:20 left before halftime as they turned to their workhorse. Hauser picked up gains of 7, 6, 10, and 17 to march down in Montgomery territory when he later scored on another 4-yard jaunt to go up 21-14 following Singer's kick. Just over two minutes later Hauser scored again, from 23 yards out, after the Hornet defense forced Montgomery to punt, to go up 28-14.
A second Callahan interception ended Montgomery's next possession, and again Hauser struck for the third time of the evening from 47 yards out with 6:09 left to play to make it 35-14. Wellsboro added one more touchdown just a handful of plays later. After Montgomery fumbled the ensuing kickoff sophomore Isaac Keane capped a 3-play drive to increase the lead to 42-14.
The Red Raiders added one final touchdown of the half with 1:22 remaining on a 16-yard run by Drick to cut the score back to 42-21.
Wellsboro kept rolling once the second half got underway, adding 28 more points with 21 coming in the third quarter. The Hornets got the ball to start the third and immediately went to work, putting together a 10-play drive. The Hornets kept working the ground game as Keane and Hauser broke off three 10+ yard runs. Wellsboro threw the ball twice on the drive, once from Keane to senior Logan Henry and once to Burrell for a 2-yard score to cap the drive with 6:59 on the clock.
A third Red Raider interception ended their following drive and turned into 6 more points for Wellsboro. This time Keane grabbed a deflected pass and raced 75 yards for the score to put the Hornets up, 56-21. The Hornets' final score of the quarter came with 1:07 remaining as Hauser sprinted 53 yards for his 5th touchdown of the evening.
With backups in for both teams for the final 12 minutes, each team added one final touchdown. Montgomery's Kade Showers scored on a 1-yard run with 9:03 to go then Wellsboro freshman Conner Adams scored from 4 yards out with 3:58 left.
Keane finished 7-for-10 for 70 yards and a score on the night with Burrell catching 3 passes for 23 yards and a score and Singer making a grab for 27 yards. Hauser led all rushers with 272 yards and 5 touchdowns on 26 carries. Hauser's 5 touchdowns tie him 2nd all-time with Quinn Henry (2017 against both Towanda and North Penn-Mansfield) and Derek Harsch (2001 against Sayre) and moves him past Harsch with 3,265 career yards.
"He's getting better each week and more comfortable on his knee," Hildebrand continued. "I've been very fortunate as a coach to have a kid like this every year that you can put the ball in his hands and he's explosive, you don't get them all the time."
Defensively for the Hornets senior Andrew Larson had 6 tackles, senior Silas Wagaman had 4 tackles, and junior Alex Moore recovered a fumble.
Next up for Wellsboro (2-1, 2-1 NTL Large School Division) is a date with Towanda (0-3, 0-3 NTL Large School Division) on Friday, September 13. Wellsboro will host Hall of Fame Night during halftime of the game to honor the class of 2019, Mike Burns and Susan Sweet.
"They play us tough every year, it doesn't matter where we play them at. They come in with a great game plan and it's a tough game each year. I'm happy we're at home and it's another league game that we need to win."