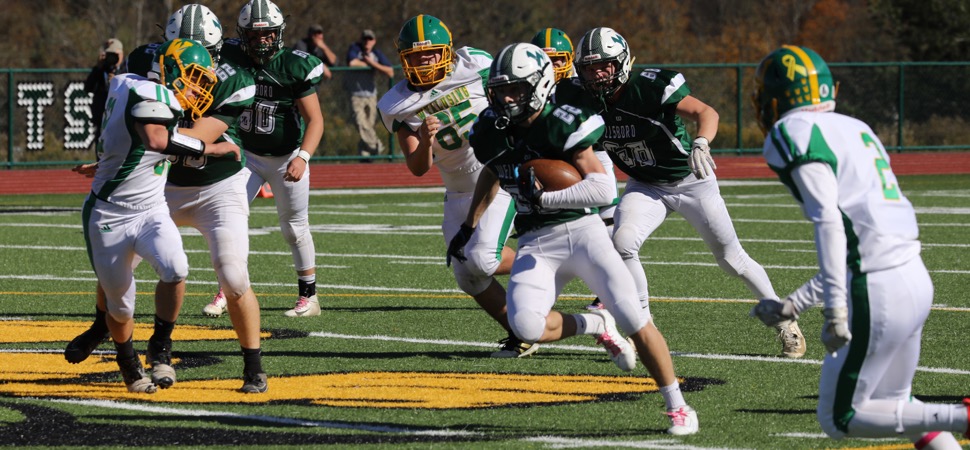 Hornets overcome slow start, turnovers to beat Wyalusing
By: Ed Weaver / October 20, 2019 / Photo: Dr. Robert Bair
Despite 4 first half turnovers the Wellsboro Varsity Football team won their 7th straight game after defeating Wyalusing 48-14 on Saturday, October 19.
"We had an extra day to prepare this week and weather wise we gave them a day off and looking back I'm kinda of second guessing myself," head coach Matt Hildebrand. "I take the blame for how we started today. I'm definitely not happy with how we came out of the gates but the response in the second half was more of our brand of football."
The Hornets started with back-to-back runs down into Wyalusing territory, then the Rams came up with the first of 4 interceptions in the half. After forcing the Rams to punt their ensuing drive ended in another interception.
Again the Hornets kept Wyalusing from gaining any yards and forced another punt. This time the Hornets were able to put together a scoring drive. After runs by seniors Silas Wagaman and Logan Henry moved Wellsboro down inside the Wyalusing red zone, sophomore Isaac Keane found senior Jacob Trowbridge down the the Wellsboro 2 as the 1st quarter came to an end. As the 2nd quarter started, Henry would put Wellsboro on the scoreboard with a 1-yard touchdown run.
Wellsboro added to their lead after forcing another Rams punt. This time senior Alex Burrell fought his way into the end zone from a yard out to put the Hornets up 14-0 midway through the quarter. Wyalusing answered back just 20 seconds later on a 74-yard pass from Mitchell Burke to Shane Fuhrey to cut the lead to 14-6.
Wellsboro held that lead the rest of the half then went on a scoring binge to begin the third quarter.
After holding the Rams on their opening 2nd half drive, and after a short punt, sophomore Darryn Callahan took over and scored back-to-back touchdowns, one from 3 yards out and one from 36 yards out, to put Wellsboro up 28-6 with 6:14 to play. Burrell then added one more score on a 12 yards pass from Keane with just over a minute to go in the quarter.
The Hornets scored for the fourth time of the half on a 10-yard run by freshman Conner Adams to make it 42-6. Wyalusing cut the lead to 42-14 as Burke found Kashawn Cameron on an 84-yard bomb with 7:42 remaining. Adams later capped the scoring on a 9-yard run with 23 seconds to go.
The Hornets had success on the ground all afternoon as they accumulated 508 yards rushing from 11 different ball carriers. Callahan led the way with 125 yards on 10 carries, Henry finished with 91 yards, senior Aidan Hauser rushed 6 times for 56 yards, Wagaman had 52 yards on 4 carries, Adams had 47 yards, junior Nick Smith carried the ball 9 times for 29 yards, sophomore Kanan Keck had 25 yards on 6 attempts, Keane rushed 3 times for 12 yards, and freshmen Connor Burrell and Will Kibler each rushed once for 16 yards.
"It speaks volumes of our offensive line," Hildebrand continued. "They've really come together, they're seniors, but some of them didn't see a lot of time before this year but they have really come together as a group. Coach (John) Johnston has done a teriffic job with them."
Next week the Hornets (8-1, 6-1 NTL Large School Division) travel to Blossburg to take on rival North Penn-Mansfield (4-5, 3-3 NTL Large School Division) for the Morton F. Jones Trophy. Wellsboro holds a 37-19 series lead and have won 6 out of the last 7 games.
"We have to have a really good week of practice and having as many seniors as we do it means a lot to the guys. They've played in this game 3 years now and lost last year. That's still burning with them and they want to bring the trophy back home their senior year. We'll have a good week of practice, I don't expect anything less, and go over there to play some good football and bring it back home."