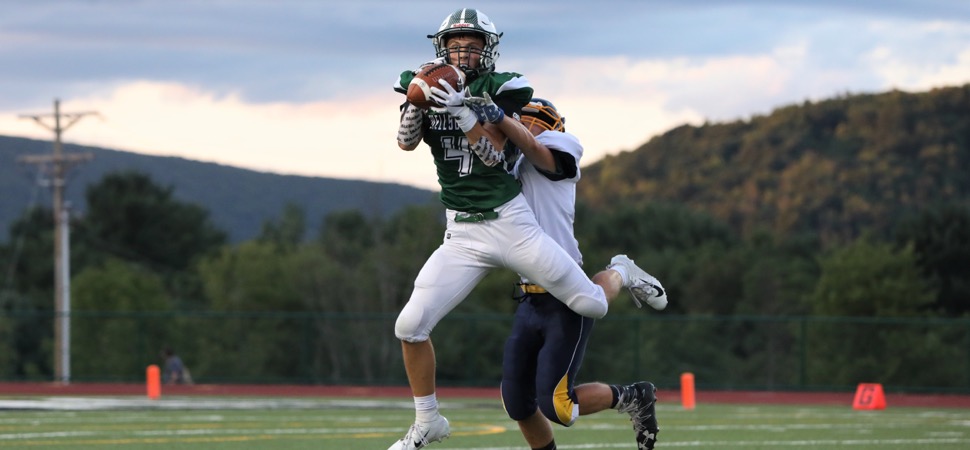 Hornets rout CV in opener, 53-6
By: Ed Weaver / August 24, 2019 / Photo: Sarah Wagaman
Right from the opening buzzer the Wellsboro Varsity Football team put on a dominating performance in a 53-6 win over Cowanesque Valley on Friday, August 23.
One thing that plagued the Hornets in 2018 was slow starts. Friday night they got off to a fast start, something that 7th year head coach Matt Hildebrand (7th year, 58-12) liked.
"One of the things we talked about in the off-season was having a sense of urgency. There were a lot of times last year when we dug ourselves a hole and would get down and have to fight back. We want to get that habit out of there, it's a new year and we want to set the standard of what we want to do."
Coach Hildebrand's squad did just that, as the Hornets scored 8 times on the evening.
After holding the Indians to just 3 plays on their opening drive senior Aidan Hauser, back from a season-ending knee injury in 2018, ripped off a 40 yard run down the the CV 14. The very next play sophomore Isaac Keane connected with junior Zach Singer to give the Hornets' their first points of the season. Singer also converted the extra point, putting the Hornets up 7-0.
From that point on the Hornets were in complete control. With 6:25 remaining in the opening quarter Hauser found the end zone from 4 yards out, then senior Logan Henry caught a 6-yard pass from Keane. After the opening quarter Wellsboro pulled away for a 20-0 lead.
Wellsboro hit pay dirt 3 more times in the 2nd half, starting just over a minute in as Hauser scored from 11 yards out. Henry checked in on the Hornets' next offensive series for Hauser and busted off a long run of his own, a 72-yarder to the opposite end zone to increase the lead to 32-0. Hauser found the end zone for a third time in the first half on a 26-yard run, pushing the score to 39-0.
The Indians managed to mount a drive late in the half and scored as time expired on a 6-yard pass from Seth Huyler to Kole Hurler, bringing the score to 39-6 in favor of the Hornets at halftime.
Two more Hornet scores in the third, a 7-yard run by Hauser and 5-yard run by sophomore Darryn Callahan pushed the final score to 53-6.
"Our defensive line played exceptionally well," remarked Hildebrand. "We scrimmaged CV in the summer and their quarterback has a great arm and can throw the ball really well, so the press was key up front to disrupt that."
The Hornets amassed 509 yards of total offense on the night, led by 201 yards on the ground by Hauser on 16 carries. Henry finished 105 yards on 5 carries, and freshman Joe Brown added 38 yards on 4 carries late. Keane finished 5-of-7 through the air for 84 yards and 2 touchdowns. Senior Silas Wagaman and Singer both led the Hornets with 2 catches, with Wagaman 42 yards and Singer adding 36.
Defensively Henry accounted for 7 tackles, senior Alex Burrell added 6 and a sack, and Callahan and junior Danny Timmons added 5 each. Timmons, senior Andrew Larson, and junior Nick Smith also added sacks.
The win starts the Hornets out at 1-0 (1-0 NTL Large School Division) before they hit the road next Friday for an NTL Large School Division matchup with Troy.
"Every year that's a game where we exchange blows for 4 quarters and it comes down to the last man standing," concluded Hildebrand. "Coming off that playoff loss last year we have a little chip on our shoulder and some revenge we're looking forward to. It's a contrast of styles, but our guys have to be ready to go over to their place. It's going to be a great atmosphere and we're looking forward to it."