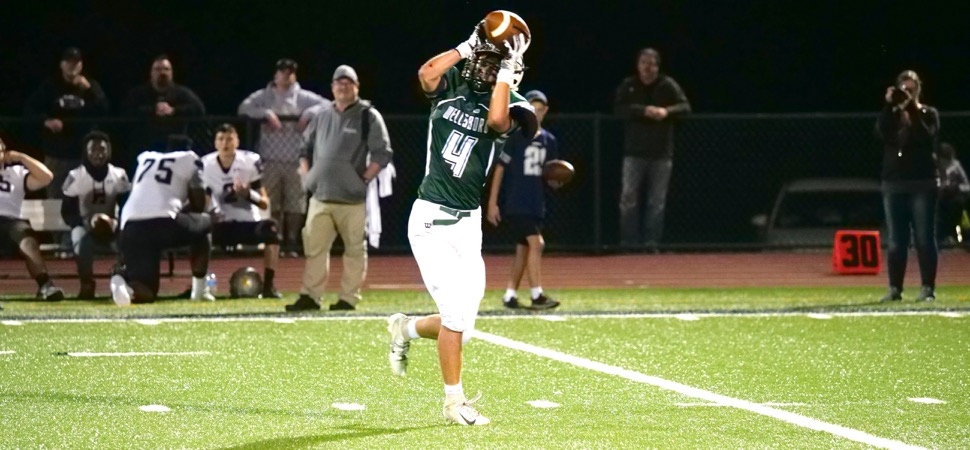 Hornets score Homecoming win over Athens
By: Ed Weaver / September 28, 2019 / Photo: Dr. Robert Bair
A 27-point 3rd quarter led the Wellsboro Varsity Football team past Athens for their 5th straight Homecoming win on Friday, September 27.
Prior to their breakout 3rd quarter the Hornets held a 15-6 lead after the first 24 minutes of game play. On their opening drive the Hornets needed only 5 plays to find the end zone as senior Aidan Hauser scored from 39 yards out follwing junior Zach Singer's extra point. Wellsboro kept their lead for another five minutes before the Wildcats scored on a 3-yard run by Shayne Reid with 3:37 left in the opening quarter. Aaron Lane's extra point missed and Wellsboro held a 7-6 lead.
The Hornets held on to their one-point lead until late in the half. After an Athens punt Wellsboro took over on their own 7-yard line an 18-play drive, featuring passes from sophomore Isaac Keane to seniors Alex Burrell and Logan Henry and Singer. Once Wellsboro moved into Athens territory they turned back to their ground game and Hauser, down to the Wildcat 5. From there, Keane finished the drive on a 1-yard run, putting the Hornets up 15-6 after a two point run by Burrell.
From that point on the Hornets dominated the game as they went sandwiched an Athens touchdown with four of their own. Hauser scored on a pair of runs, one from 8 yards out and the other from 57 yards away, to build a 22-point, 28-6 lead with 6:34 remaining. Following Athens' final touchdown with 3:03 to play, Keane and senior Silas Wagaman connected on a 61-yard with just under two minutes to go, then Hauser scored on a 29-yard run as time expired to put the Hornets up 42-13.
In the 4th quarter Wellsboro added two more scores. Keane and Singer connected on a 10-yard pass with 5:25 left to play, then with 1:53 remaining junior Nick Smith scored on a 27-yard run, with two-point conversion on a botched snap by freshman Jack Poirier, bringing the final score to 57-13 in favor of Wellsboro.
Hauser finished the night with 238 yards rushing on 18 carries (13.2 yards/carry) and 4 touchdowns to lead all rushers. Keane finished 9-for-13 for 128 yards and two touchdowns, and Wagaman caught 3 passes for 70 yards and a score. Defensively senior Tyler Hancock led the team with 11 tackles, Wagaman made 6 stops, and Henry (2) and senior Carson Davis recorded sacks.
The win improves the Hornets' record to 5-1 (4-1 NTL Large School Division). Wellsboro hits the road next Friday, October 4, as they travel to Milton to take on the Black Panthers.