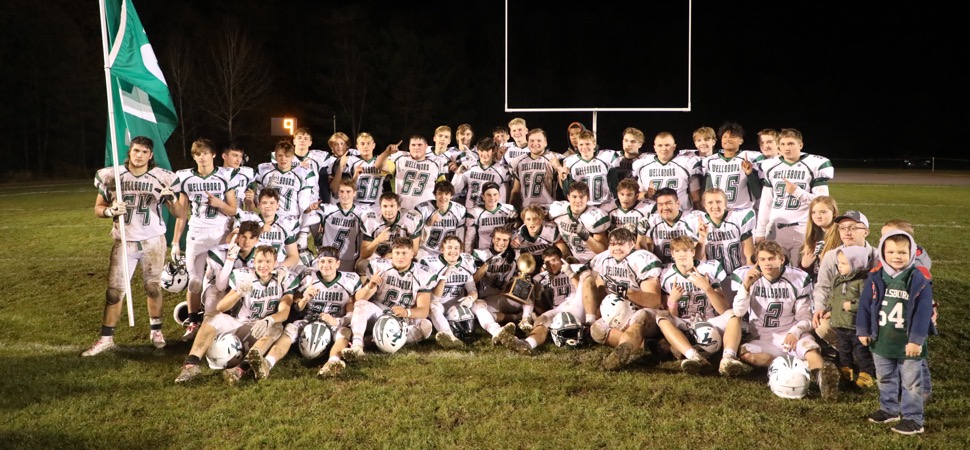 Hornets top North Penn 21-7 to regain Morton Jones Trophy
By: Ed Weaver / October 26, 2019 / Photo: Dr. Robert Bair
The Wellsboro Varsity Football team brought back the Morton F. Jones Trophy back to Wellsboro after beating rival North Penn-Mansfield 21-7 at Island Park on Friday, October 25.
The win is the Hornets' 38th in the series (38-19 all-time) and the 7th time out of the last 8 games Wellsboro has won the trophy. The win also had more significance as head coach Matt Hildebrand tied former head coach Russ Manney (2001-2002, 1985-1997) for the program's all-time wins with 66.
The win wasn't the prettiest of wins, however, as North Penn-Mansfield score on the game's opening drive. The Panthers needed only 6 plays, highlighted by a 17-yard pass from Colton Litzelman to Kaelan Matczak to jump out to an early 7-0 lead not even two minutes into the game. Wellsboro then mounted a drive all the way down to the Panther 1-yard line, but were unable to score as the Panthers held on 4th-and-goal.
"Give them a lot of credit, they played really well," Hildebrand said. "They had a good scheme for us and shut our run game down for most of the night."
The Hornets were able to flip field position as they forced North Penn to punt on their next drive, and eventually tied the game. After sophomore Isaac Keane connected with senior Logan Henry on a short pass, Keane and senior Silas Wagaman perfectly executed a wide receiver screen with Wagaman finding the end zone from 58 yards out to tie the game at 7-7 as the second quarter started.
The Hornets again held the Panthers on defense, this time a 3-and-out, and took over at their own 41-yard line. A short run by senior Aidan Hauser setup a 23-yard pass from Keane to junior Zach Singer into Panther territory, then Hauser took the ball 29 yards down inside the North Penn 20. With the help of two North Penn penalties, Keane scored from a yard out with 7:08 remaining before halftime to put the Hornets up 14-7.
Both teams traded drives the rest of the half, as they combined for 4 turnovers, 2 fumbles and 2 interceptions each, to keep the score at 14-7.
"We told them at the half to play loose and have fun," Hildebrand continued. "They were definitely ready to go coming out but they scored and they got a little tight thinking, 'oh no, we're in for one here.' We told them to play our brand of football and don't try to be anyone else, be Wellsboro, and we'll be fine."
Wellsboro took the words of Coach Hildebrand to heart as they opened up the second half with a score, which would be the game's final one.
Starting at their own 27 Wellsboro turned to their workhorse, Hauser, for five runs across midfield down to the Panther 31. Wellsboro converted two 4th down plays to keep the drive alive as Keane hit Wagaman on a 12-yard pass to the Panther 17, then later on 4th-and-goal from the 10, connected with Singer from 10 yards out with 6:09 remaining.
North Penn had a chance to answer on their ensuing drive. After starting with great field position, thanks in part to a Wellsboro personal foul, the Panthers and Litzelman turned to their aerial game on three straight passes to setup a 1st-and-goal at the Wellsboro 4. A short run by Bryan Bogaczyk moved the ball to the 2-yard line, but the Hornet defense kept the Panthers out of the end zone by stopping three consecutive passes.
Wellsboro's offense had a hard time gaining any traction the rest of the third quarter, and into the fourth quarter, which setup the Panthers with one final opportunity midway through the 4th quarter to make the things interesting. After starting at their own 32 the Panther put together three big plays, highlights on a RB screen to Bogaczyk, that got all the way down to the Hornet 1-yard line. Again, the Hornet defense held and stopped the Panthers on 4th-and-goal from the 3.
"I'm really happy how our kids responded, especially defensively, stepping up and making those huge stops down inside the red zone. That speaks for a lot of character for these kids, they haven't really been backed up like that and I didn't know how they were going to respond, and I definitely liked how it went."
Litzelman finished 23-of-33 for 209 yards passing with 1 touchdown and 1 interception. Bogaczyk had 38 yards on 8 carries and 73 yards on 7 receptions.
Keane finished the night 11-of-17 for 187 yards and 2 touchdowns, and also ran in a score to account for all three Hornet touchdowns. Hauser led all rushers with 152 yards on 27 carries. Wagaman and Singer each caught 3 passes and had 1 touchdown, with Wagaman finishing with 76 yards and Singer 59. Senior Alex Burrell (58 yards) and Henry (15 yards) each caught 2 passes.
The win is the Hornets' 8th straight to finish the regular season at 9-1 (7-1 NTL Large School Division), their 7th consecutive season with 8+ wins. The win also sets up a likely rematch with North Penn-Mansfield back at Wellsboro next Saturday, November 2.
"(In 2014 against North Penn) we won the regular season then we lost that district game the following week so we don't want a repeat of that," concluded Hildebrand. "We have to be focused, we have a lot of seniors in this group and they've done a good job of coming out focused and ready to play football this year, so I hope we don't see anything less than that."