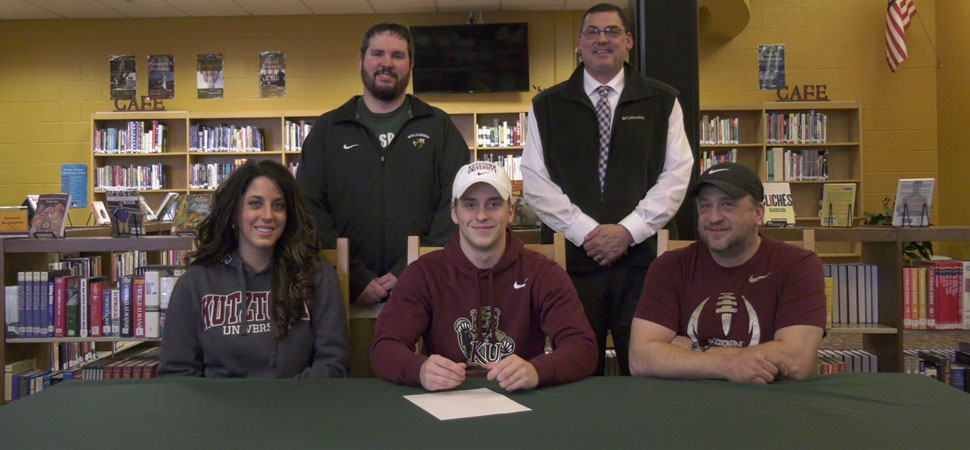 Hauser signs National Letter of Intent to Kutztown
By: Ed Weaver / February 18, 2020 / Photo: The Home Page Network
Senior Aidan Hauser signed his National Letter of Intent to continue his football career at Kutztown University back on Wednesday, February 5.
Hauser, one of Wellsboro's most dynamic running backs in school history, rewrote the Wellsboro Football record books the past two seasons on his way to becoming the Hornets' all-time rushing leader. After rushing for 1,578 (8.2 yards per carry) and 17 touchdowns in 2018 Hauser upper his totals in 2019 rushing for 1,791 and 26 touchdowns and nearly 10 yards per carry.
Hauser finished his career with 4,421 yards and 57 touchdowns.
After visiting the campus Hauser fell in love with the school and the team atmosphere.
"I really like the campus. The campus was beautiful," said Hauser. "They have good places to eat, I'm eating all the time. The guys on the team are really close. All the coaches care about you as a person and a player, they have been doing well the past few seasons and that was a big part of my decision."
For Hauser the recruiting process was one day at a time.
"It was quite stressful at times, but I really enjoyed it. I didn't know what schools were coming and at what time."
Hauser is the 12th Hornet under head coach Matt Hildebrand to continue his playing career after high school since 2013.
"Aidan exemplifies what we want our program to be and we're all really proud of him," Hildebrand said. "Seeing him grow up the last four years and becoming the young man he is today and then take this final step to play in college. As a coach that's really how we measure success. You see the wins and losses on the field but when these guys can take what they learned here in high school and move on to the next level and continue playing football and get an education that's what we look for as a staff and a program."
WellsboroAthletics.com and WellsboroFootball.com would like to congratulate Aidan on continuing both his academic and athletic careers.