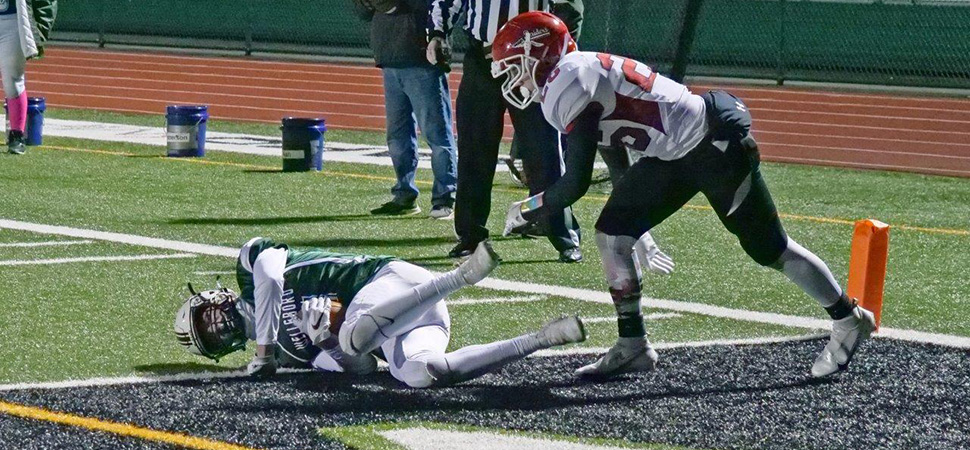 Hornets finish 2020 season with 42-6 win over Montgomery
By: Ed Weaver / October 31, 2020 / Photo: Dr.Robert Bair
In their final game of the 2020 season the Wellsboro Varsity Football team ended it on a positive note to finish 3-3 overall after a 42-6 win against Montgomery on Friday, October 30.
"That was a very important win for our program and for our kids as it springboards us into the off-season and hopefully into the winter season. We want as many of these kids to play this winter," said head coach Matt Hildebrand. "I'm very happy with how the kids came out today. We told them to just relax and have fun, those were some of the things we didn't do the last two weeks and I think they did that today."
After a couple early mistakes, penalties and a muffed punt, the Hornet offense came alive. In the Hornets' last two losses has struggled to put points on the scoreboard.
With 9:25 remaining in the opening quarter junior Isaac Keane called his own number on a QB sneak from a yard out, after he connected with sophomore Will Kibler a play earlier to give the Hornets an early lead. The Hornets would add a touchdown with 20 seconds remaining in the quarter on a 29-yard run by junior Darryn Callahan to give the Hornets a two score lead after the first 12 minutes of play.
Wellsboro increased their lead in the second quarter as they added three more scores on their way to a 35-0 lead at halftime. Just over the mid-point of the quarter Keane connected with senior Zach Singer on a diving 4-yard pass. On the Hornets' next possession Kibler caught a 9-yard pass from sophomore Conner Adams to make it 28-0 in favor of Wellsboro, then Kibler returned a punt 75 yards after picking it up off a bounce to further increase Wellsboro's lead.
The Hornets scored for the final time to start the fourth quarter. Callahan found the end zone for the second time on the evening, this time through the air, from 62 yards away on a pass from Adams.
Montgomery scored at the end of the third quarter on a 3-yard run by Kaide Drick.
Adams finished a perfect 3-of-3 through the air for 86 yards and 2 touchdowns. Keane was 3-for-6 for 66 yards and a touchdown. Callahan carried 10 times for 108 yards, his second 100-yard game of the season. Adams rushed for 33 yards on 7 carries and Keane carried the ball 4 times for 10 yards. Kibler led all receivers with 4 catches for for 86 yards. Sophomore Jack Poirier was a perfect 6-for-6 on extra points and intercepted a pass late in the game.
Hildebrand was also excited for his senior players.
"This class has been through a lot of adversity. This year was challenging for everybody and these guys are part of the glue that held us all together. In the spring and the summer when we couldn't get together they organized workouts and they've done a great job representing this program. I'm very thankful for them and they're always going to be a part of this program."