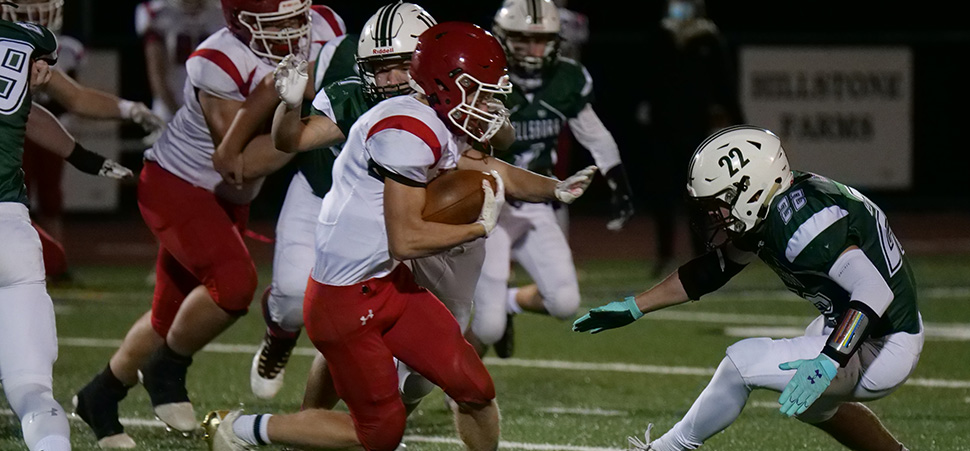 Hornets no match for Troy
By: Ed Weaver / October 17, 2020 / Photo: Dr.Robert Bair
It took the Troy Trojans just over eight minutes to find the end zone, but after that the flood gates opened as they defeated the host Wellsboro Hornets 41-0 on Friday, October 16.
Troy last played on September 25. It showed on their opening drive, but once their second possession started they never looked back the rest of the game. The Trojans scored the game's opening points with 3:59 remaining in the opening quarter for an early 7-0 lead on their second drive of the game.
The duo of Damien Landon and Caleb Binford combined for all 41 of Troy's points. After Landon's first-quarter score Binford returned a punt 82 yards just over two minutes into the second quarter to make it a 14-point lead. Just over two minutes later Landon broke off a 53-yard run to make it 21-0, then Binford scored from 81 yards out on the ground with 3:17 to push the Trojans' lead to 28-0.
Landon struck once more before the half ended to put Troy comfortably ahead, 35-0, at halftime.
With the mercy rule in effect Troy scored once more in the third quarter. With 1:26 left to play Binford scored again from 30 yards out.
Troy amassed 389 yards rushing and 451 yards total, compared to the Hornets' 114 yards of total offense. Binford rushed for 153 yards on 9 carries, but Landon led all runners with 224 yards on 17 carries. Quarterback Dominick Ayres was 1-for-4 for 48 yards.
Junior Darryn Callahan was the only Hornet ball carrier to finish with positive yards on the evening, 63 yards on 10 carries. Junior Isaac Keane completed 5-of-23 passes for 72 yards. Senior Zach Singer led the Hornets receiving corps with 1 catch for 29 yards. Defensively, sophomore Joe Brown had 10 tackles to lead Wellsboro.
The loss drops the Hornets' record to 2-2 (2-2 NTL Large School Division). The team is back in action next Friday, October 23 on the road in Sayre.