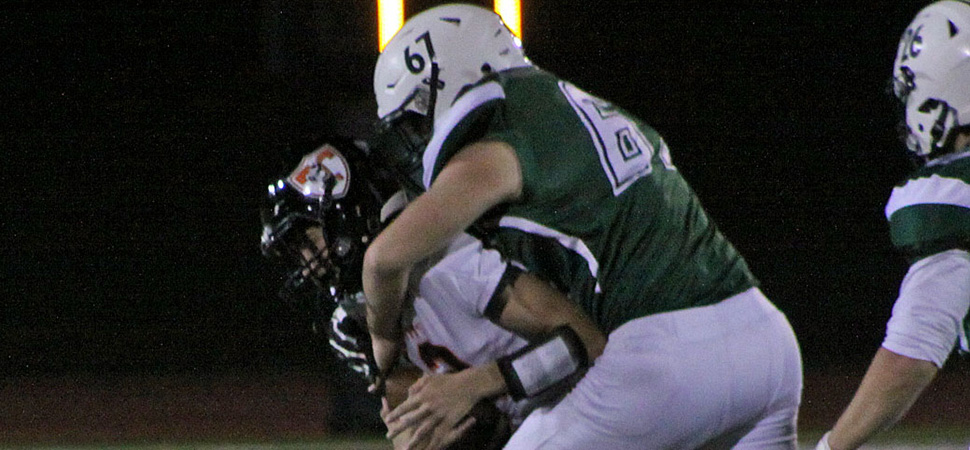 Hornets shutout Towanda, 43-0, following 2 week layoff
By: Ed Weaver / October 10, 2020 / Photo: Chris Manning
After not playing for two weeks the Wellsboro Varsity Football team regained their stride after a 43-0 win over Towanda on Friday, October 9.
"The kids were hungry," head coach Matt Hildebrand said. "You get tired after three weeks of practice and just beating yourself up. That's longer than we have in camp. It was a long layover there and we said we had to come out and start strong and shake the cobwebs off. I'm happy with what we saw tonight. We definitely got better in areas we lacked against North Penn-Mansfield."
Shaking off the cobwebs is exactly what the Hornets did. One their second drive of the game, starting at midfield, the Wellsboro offense marched quickly down the field in just three plays, capped off on a 23-yard pass from junior Isaac Keane to senior Zach Singer for a 7-0 lead with 3:37 left to play in the first quarter.
As the second quarter started the Hornets struck again on another three-play drive. Highlighted by a 22-yard run by senior Nick Smith junior Darryn Callahan hit pay dirt from 14 yards out to make it a 13-0 lead. Six minutes later Keane found the end zone from 31 yards away to push the score to 20-0. As time wound down under a minute in the half the Hornets took advantage of excellent starting field position, due to a "sack" on a punt attempt at the Towanda 16, and added a 22-yard field goal by sophomore Jack Poirier to put the Hornets in front with a comfortable 23-0 lead.
Wellsboro started out with the ball in the third and went back to the ground game to advance the ball up near midfield. Keane then connected on a pass to junior Ryan Sweet then rattled off a run before finishing the drive on a 28-yard pass to sophomore Will Kibler, pushing the lead to 29-0.
The pair would connect again on the Hornets' ensuing drive, this time from 30 yards away, to make it 36-0 with 5:29 remaining in the third quarter.
"One of the areas we worked really hard on the last three weeks was the passing game," Hildebrand continued. "That was an area we weren't please with after the North Penn game. Something had to change. I'm glad to see that the work paid off."
Hildebrand also noted Kibler's play after some missed opportunities in the first half.
"He's athletic. Very athletic. He creates a match up problem. We have a lot of guys on the outside that draw a lot of attention. You didn't really see a whole lot of him in the first half but then you go back to him in the second when everyone is drawing their attention to our bigger guys, Sweet and Singer. He had a really good second half. He's very electric and can light things up quickly."
Wellsboro added one more score early in the fourth quarter. With sophomore Conner Adams calling the plays, he called his own number and scrambled 28 yards for the score.
Keane led all rushers on the night with 62 yards and a score on 7 carries. Adams finished with 5 carries for 41 yards and a score, Callahan ended up with 35 yards on 8 carries and a score, and Smith ran twice for 30 yards. Keane completed 6-of-16 passes for 117 yards and 3 touchdowns, tying his career-high against Canton in 2019. Kibler led the receiving corps with 2 catches, both touchdowns, for 58 yards. Singer finished with 2 receptions for 34 yards and a score.
Freshman Hayes Campbell led the Hornets with 8 tackles, sophomore Joe Brown recorded 7 tackles, Sweet had 6 tackles and a sack, and Adams and junior Dylan Abernathy both intercepted passes.
Next up for the Hornets is a date with Troy, next Friday, October 16, in Wellsboro. The game was originally scheduled to be played on October 2, but was rescheduled as both teams had the upcoming week off. This will be the Trojans first game since they last played North Penn-Mansfield on September 25.
"You could say they'll be rusty but they run three plays, they tell you they're going to run three plays, and they're very good at it. They've been doing it for years," concluded Hildebrand. "Jimmy (Coach Smith) will have them ready, I'm confident of that. It's going to be a game of physicality. We have two game styles that are opposite of each other. We've had some good battles over the years and we're just looking forward to playing football right now, I think everybody is."