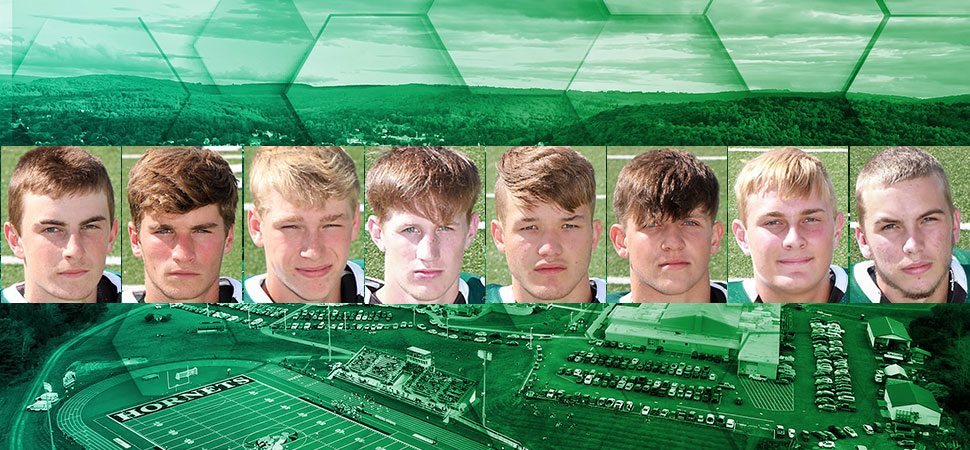 Eight Hornets Named To NTL All-Star Football Team
By: Ed Weaver / December 27, 2021
Eight members of the Wellsboro Varsity Football team were named to the NTL All-Star team as the league released their selections on Monday, December 27.
On the team were seniors Isaac Keane, Ryan Sweet, and Dylan Abernathy, juniors Cameron Brought, Conner Adams, Jack Poirier, Joe Brown, and sophomore Hayes Campbell.
Keane was selected as a 2nd team defensive back and an honorable mention quarterback. He finished the season completing 59-of-137 passes for 1,025 yards and 11 touchdowns. Defensively Keane picked off 5 passes for 111 yards and made 36 tackles.
Sweet earned 1st team honors at defensive end and 2nd team at wide receiver. Sweet led the Hornets with 11 receptions for 334 yards and 4 touchdowns. Defensively he made 55 tackles, 1 interception, and 5 sacks.
Abernathy was an honorable mention wide receiver. In just his 2nd year he caught 8 passes for 184 yards and 3 touchdowns.
Brought was a 1st team offensive lineman and 2nd team defensive lineman. He helped anchor the Hornets' offensive line that rushed for over 1,000 yards and averaged 135.7 yards per game. Defensively he led the team with 93 tackles and 1.5 sacks.
Adams was a 1st team defensive back. He recorded 22 tackles, 2 interceptions, a pass deflection, and forced two fumbles.
Poirier was selected as an honorable mention kicker. Poirier finished the season making 17-of-21 extra points and 2-of-3 field goals. He also punted 31 times on the season, averaging 31 yards per kick.
Brown picked up 1st team nods at both tight end and linebacker. Brown was 2nd on the team in tackles with 67. He also had an interception, 2 pass deflections and a fumble recovery. Offensively he caught 10 passes for 80 yards and rushed 39 times for 219 yards and a score.
Campbell was named an honorable mention offensive linemen. He, like Brought, helped Wellsboro rush for over 1,000 yards and averaged 135.7 yards per game.
WellsboroFootball.com would like to congratulate Isaac, Ryan, Dylan, Cameron, Conner, Jack, Joe, and Hayes on their all-star selections.
View the complete 2021-22 NTL All-Star Football team.