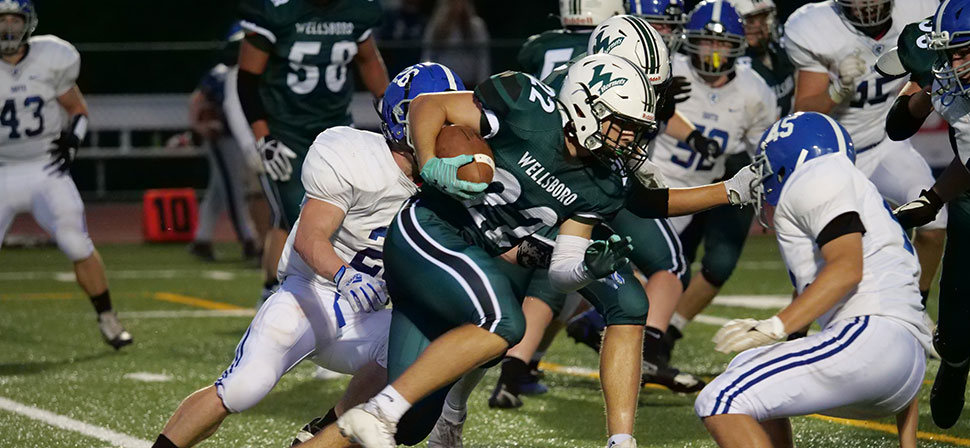 Hornets Dominate Second Half to Beat South Williamsport
By: Ed Weaver / September 4, 2021 / Photo: Dr. Robert Bair
A week after suffering a season-opening loss to Montoursville, the Wellsboro Varsity Football team rebounded for a 17-7 win over South Williamsport on Friday, September 3.
After being tied at 7-all heading into the second half the Hornets completely dominated South, holding them to just 19 offensive plays over the span of the final 24 minutes.
"Coming out of the half we liked the position we were in," head coach Matt Hildebrand said. "We made some adjustments to some things we saw in the first half. Our guys' conditioning continues to improve and be where it needs to be at this point. And the physicality, we said nothing was going to be easy, and they came out and answered the bell right away. We got a quick score and our defense was phenomenal the entire night."
Wellsboro broke the 7-all tie with 6:11 remaining in the 3rd quarter to go ahead 14-7 on a one-yard run by senior Darryn Callahan. After the Hornets received the second half kickoff they marched down field, and thanks to a 33-yard pass from senior Isaac Keane to senior Ryan Sweet on 3rd-and-long, they put together an 11-play drive that killed nearly half of the quarter's clock. The Hornets continued to slow the game down the remainder of the way.
After a seven-play drive by South stalled the Hornets took back over and again moved into Mountie territory. They put together a nine-play drive that carried over into the start of the 4th quarter that culminated in a 31-yard field goal by junior Jack Poirier to increase Wellsboro's lead to 17-7.
Earlier in the evening the Hornets put up the game's opening points, for the second week in a row, as Keane connected with Sweet on a 76-yard strike just 15 seconds into the start of the 2nd quarter to give the Hornets an early lead. That didn't last long, however, as the Mounties answered back in less than a minute on a 65-yard run by Clayton Swarthout to knot the game up at 7-7.
What helped the Hornets in the win was their defensive play. Wellsboro recorded three goal-line stands, and came up with an interception by Callahan on the second one, to keep South's offense out of the end zone.
"Last week our tackling wasn't where it needed to be," Hildebrand continued. "We knew they had two big running backs and I thought our guys met their physicality, especially at the goal-line. Those goal-line stands were huge. I'm just super proud of our defense and these guys, they're the same ones on offense, defense, and special teams this year and it's a great win for our program, and it's one that I haven't been able to achieve in my coaching career (the last time the Hornets beat South Williamsport was in 2007 when they won 25-14). We've had some good battles and I'm just really proud of the kids and what they did this week."
Wellsboro accumulated 17 first downs, while holding South Williamsport to just 9. The Hornets racked up 282 yards of total offense on the night on 56 plays with just one penalty. Keane finished the evening 6-for-14 for 133 yards and a touchdown, with 114 of those yards going to Sweet (3 receptions). Junior Joe Brown also caught 2 passes for 17 yards and Callahan snagged a receptions for 10 yards. Callahan led the Hornets on the ground with 64 yards on 17 carries and a touchdown. Keane added 41 yards rushing on 12 attempts and Brown chipped in 25 yards on 5 carries.
"We wanted to get Darryn established this week, we weren't able to do that last week. We were able to get him the ball early and he was able to move the ball. That only happens with our offensive line, and those guys up front did a great job of moving the football and we were able to control the clock."
Junior Conner Adams completed a pass for 5 yards and also rushed 7 times for 14 yards.
Defensively Sweet made 10 tackles, Brown recorded 7 stops, and sophomore Hayes Campbell and junior Spencer Wetzel had 6 tackles each.
Landon Lorson finished 3-of-14 for 49 yards through the air for the Mounties. Swarthout carried the ball 6 times for 157 yards (including his 65-yard scoring run) and Lane Lusk gained 66 yards on 17 carries. Grant Bachman hauled in one pass for 40 yards.
Next up for Wellsboro (1-1, 1-0 NTL Large School Division), is a date with the Hughesville Spartans (0-2). It will also be "Hall of Fame Night" as the Wellsboro Athletic Department and Booster Club induct the Class of 2020-21 next Friday evening.
"We are going to enjoy this win, and I'm going to do a better job of enjoying this win tonight, we'll get back to the grind this weekend and take a look at Hughesville on film. I enjoyed all the fans in the stands, and we hope to see even more next week as well. It's great after last year and not being able to have many spectators to get people in here and have a great atmosphere like we did tonight."