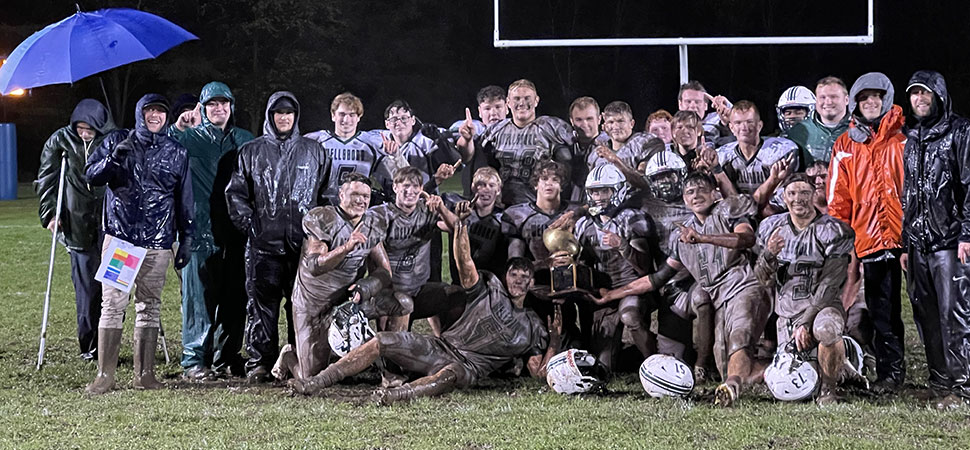 Hornets regain Jones Trophy after 13-0 win over North Penn in "Mud Bowl"
By: Ed Weaver / October 30, 2021 / Photo: Ed Weaver
The Wellsboro Varsity Football team regained the Morton F. Jones Trophy by shutting out rival North Penn-Mansfield 13-0 on Friday, October 29.

With rain starting late in the afternoon Island Park turned into a proverbial swamp. Both teams each recorded only 5 first downs and attempted a combined 5 passes.
"We knew once we stepped on the field that it wasn't going to be pretty at all," head coach Matt Hildebrand said. "The conditions started out terrible so they weren't going to improve as the game went on so it was going to come down to who was going to bust one. I think our guys were confident coming in but getting that late second score took the pressure off because you were one blocked punt or a fumble away from it being a completely different game. I'm definitely happy with the outcome."
With Friday's conditions the game was going to be determined by who made the least mistakes. That team happened to be Wellsboro. The Hornets managed to control the ball while the Panthers had 8 fumbles (one lost), mainly on bad snaps.
"In the first half they did a good job with pinning us deep but in the second half we were able to flip the field a little. Our defense pinned them back and made them punt. It wasn't pretty, and one of those game where it wasn't our traditional style but it was grind the ball and get out of here."
Wellsboro struck first on their second drive of the evening. Starting at their own 25, a run by senior Darryn Callahan moved the ball up to the 34. From there, junior Joe Brown bounced a fullback dive around the right end, caught the corner and was off to the races before being tracked down at the North Penn 5-yard line. One play later senior Isaac Keane called his own number on a QB draw to score. Junior Jack Poirier's extra point put the Hornets up 7-0 with 7:15 remaining in the opening quarter.
From that point, it was a defensive and special teams battle. The next nine combined drives in the first half ended in punts. The second half started the the way the first half ended as the first six drives ended in punts. The 7th drive, however, was when the Panthers committed the game's only turnover. A bad snap and hand off exchange was recovered by Brown at the Panther 40, giving Wellsboro back the ball. Wellsboro put together a 7-play drive that got all the way down to the North Penn 17 but stalled on 4th down.
Wellsboro's defense held on the Panthers' ensuing drive, forcing them to punt from the own 9. This drive the Hornets would hit paydirt for their game-winning score. On 3rd-and-12 from the 45, Keane faked a sweep to junior Conner Adams and tucked the ball. He eventually broke contain and hit the corner, carrying the ball the entire 45 yards for the score with 2:14 to play. Poirier's extra point was blocked, but it wouldn't matter.
"Honestly if we got a first down we went back to the plays we felt successful. During our timeout we asked the kids and both Brown and Callahan let us know that their defense was overloading to our offensive strength, so we ran a jet and had Isaac pull and keep it. In a game like this you have to turn to your kids and let them tell you what they are comfortable doing. They're the ones out there, we were just trying to stand up on the sidelines. Give those two credit, they suggested it and we ended up in the end zone. I won't take credit for that play, those guys had great input."
Unlike last week against Athens, the Hornets had 187 yards of total offense, but held the Panthers to just 72 yards. All of Wellsboro's offense came on the ground. Keane led the way with 76 yards and two scores on 16 carries. Callahan carried the ball 17 times for 51 yards, and Brown had 65 yards on 5 attempts. Keane did complete a pass (1-for-3), a screen pass to Callahan that got back to the line of scrimmage.
"Darry, Joe, and the offensive line had great games tonight," said Keane. "They pushed everyone around and I had two good runs. That's it. You have to give all the credit to them and they made everything possible by opening up holes for me to run through."
Karson Dominick was 0-for-2 passing for the Panthers while Kohen Lehman was the offensive workhorse, carrying the ball 33 times for 91 yards.
Defensively, junior Cameron Brought made 13 tackles to give him 80 on the season. Sophomore Hayes Campbell also had double-digit tackles with 10, and Brown and senior Kanan Keck had 5 tackles each.
Next week Wellsboro (5-3, 4-2 NTL Large School Division) will be back in action in the PIAA District IV Class AA playoffs. They will face off against South Williamsport at a date, time, and location to be determined.
"They are obviously playing really well too, I think they had 600 yards last night. It's going to be a very physical game, similar to the first game we played against them, and in years past, I think depending on where we play is going to have a big influence on the style of football. Hopefully we have one more home game."