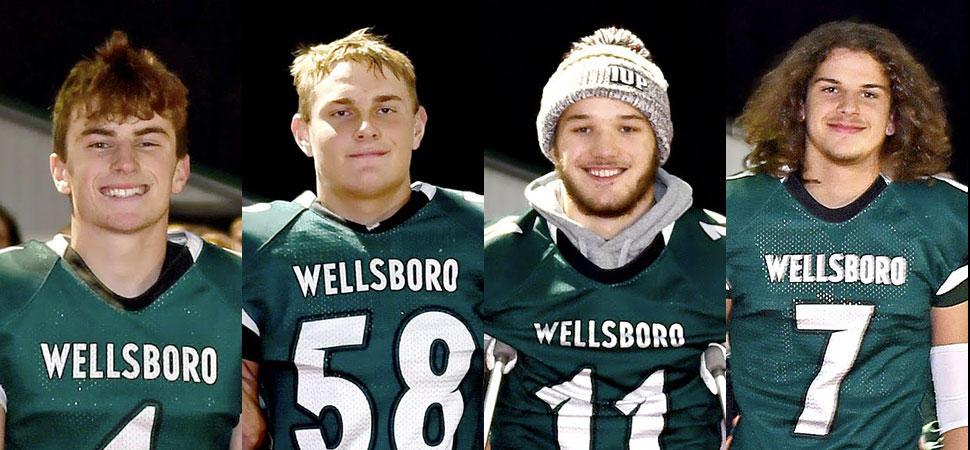 Four Hornets Named To NTL All-Star Football Team
By: Ed Weaver / December 26, 2022 / Photo: Wendy Snyder
Four members of the Wellsboro Football team were named to the NTL All-Star team as the league released their all-star selections yesterday, Monday, December 26.
Seniors Conner Adams, Spencer Wetzel, Joe Brown, and Cameron Brought were all named to the team.
Brown was named as a 1st team tight end and linebacker despite an injury-shortened season, Brought was named 1st team offensive line and 2nd team defensive end, Adams was named a 2nd team athlete, and Wetzel was named a 2nd team wide receiver.
Brown rushed 24 times for 59 yards, caught 19 passes for 184 yards and made 37 tackles in 4 games, including two double-digit tackle games against Montoursville (12) and Muncy (11).
Brought helped the Hornet offensive line to average 82 yards per game on the ground and 9 touchdowns. On the defensive side of the ball he tied for the team lead with 100 tackles on the season while making 4 sacks, forcing a fumble, and recovering 2 fumbles.
Adams completed 53-of-93 passes for 548 yards and 5 touchdowns and rushed 80 times for 138 yards and 4 scores. He also caught 9 passes, three of them for touchdowns, for 173 yards, and returned both a kick and a punt for a touchdowns.
Wetzel led Wellsboro with 27 receptions for 240 yards and 2 touchdowns.
WellsboroFootball.com would like to congratulate Conner, Spencer, Joe, and Cameron for their all-star selections.
View the complete 2022-23 NTL Football All-Star teams.