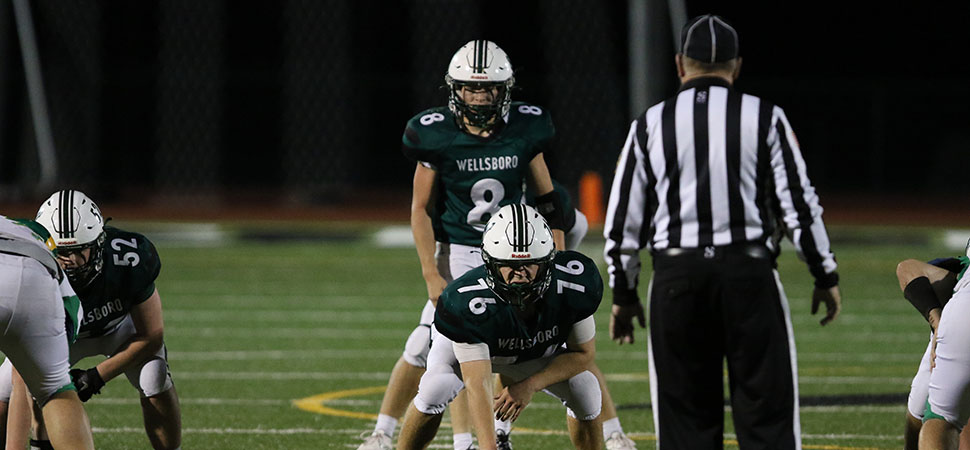 Hornets End Skid, Mercy Rule Wyalusing For Homecoming Win
By: Ed Weaver / October 8, 2022 / Photo: Dr. Robert Bair
Sophomore Quaterback Will Gastrock threw 4 touchdowns as the Wellsboro Hornets ended a six-game losing streak in a 41-6 Homecoming win over Wyalusing on Friday, October 7.
The Hornets have won their last seven Homecoming games, and eight of their last nine, despite not having one last year.
"It feels good for the guys to experience this. It's been too long. I'm happy for the kids, I'm very proud of them and hopefully we have this feeling the next few weeks," Hornet head coach Matt Hildebrand said after his 75th career win. "Having Conner (Adams) back was a huge help and it was one of the first times this season we've been able to get guys breaks. We got into a good flow early, its only Will's (Gastrock) second start and I think he was more comfortable as well."
Gastrock's 4 touchdown performance tied himself for third all-time with former Hornet QBs Quinn Henry, Michael Pietropola, Ben Shaw, and Todd Coolidge. Adams was on the receiving end for 3 of Gastrock's touchdown passes, tying the record for reception touchdowns in a game.
"Will did a really good job, a couple of those scores came off audibles based on the look they gave us," continued Hildebrand. "They were going to bring pressure, we knew that, but he did a good job of slowing things down, check out of certain looks, and get the ball to our play makers. I'm really happy with his play."
It took the Hornets a few minutes to kick their offense into gear, but once they did, the flood gates opened on the Rams. On the Hornets' second possession Wellsboro picked up two crucial first downs to keep the drive alive, one on the ground by sophomore Ryder Bowen, the other through the air from Gastrock to senior Spencer Wetzel. The drive ended on a 15-yard pass from Gastrock to Adams with 3:49 remaining in the opening quarter. After a Wyalusing three-and-out the Hornets went right back to work. This time the drive only lasted two plays, but culminated in another Gastrock-to-Adams touchdown pass, this one from 63 yards to put Wellsboro up 14-0.
In the second quarter the Hornet offense kept rolling. On their first drive of the quarter Gastrock and Adams connected again for their third score of the night on a 55-yard pass. On the Rams ensuing drive senior Wyatt Gastrock recovered a fumble at the Ram 20. After an incomplete pass and negative run, Gastrock connected with Wetzel for his fourth touchdown of the evening, putting the Hornets up 28-0 with 8:21 to go. Two minutes later Bowen scored his first career touchdown on a 2-yard run to put Wellsboro up 35-0 with 6:22 remaining.
"It feels pretty good. We were firing on all cylinders. We finally put a full game together and finished," Gastrock said. "The line did a great job all night, I had Conner wide open all night, and Ryder found the end zone for us a couple times. It was a great night for us."
Wellsboro would take the 35-point lead into the locker room to enable the Mercy Rule. In the third quarter Bowen struck again on a 15-yard jaunt into the end zone for the Hornets' final points of the night.
The Rams scored midway through the 4th quarter to avoid the shutout on a 2-yard run by Ayden Hunsinger.
Wellsboro had 14 first downs to the Rams' 10 and also won the turnover margin. Wellsboro did have a turnover on the evening, but forced 4 Wyalusing turnovers, all fumbles. Wyatt Gastrock, senior Blake Levindoski, and sophomore Jacob Dean all made the recoveries.
"This is what we've been working towards, we've been close in a lot of games and we put it all together tonight. I hope the kids see this why we've been doing what we've been doing all year and keep grinding and get a couple more wins under our belt."
Gastrock finished 7-of-16 through the air for 182 yards and 4 touchdowns and also carried the ball 6 times for 9 yards. Bowen led the Hornets' ground attack with 128 yards on 20 carries and 2 scores. This was Bowen's first career 100-yard game. Adams led the Hornet receiving crops, making 3 catches for 133 yards. Wetzel caught 4 passes for 49 yards and a score.
Cade McMicken completed 9-of-16 passes for 79 yards, Ayden Hunsinger carried the ball 12 times for 50 yards and a score, and Gus Taber caught 2 passes for 32 yards.
"It was a big defensive night for us," junior Hayes Campbell said. "We came out strong and everyone was flying around and making plays. Offensively Will was slinging the rock, having Conner back was a big plus at receiver, and the line gave Will protection so we could do all that. We just played really well offensively tonight and hopefully that sets us up for a run."
Senior Cameron Brought also echoed Campbell's comments, "It feels great to come out and put a whole game together and get our first win. We really played as a team tonight and it was a really big win for us. We were in our element all game and its awesome to pick up a win on Homecoming."
Bowen, Brought, and senior Blake Levindoski all had 7 total tackles, Campbell finished with 6 tackles and a sack, freshman Hayden Stevens added 6 tackles and forced a fumble, and Wetzel, Adams, and freshman Marek Mascho all chipped in 5 tackles each. Sophomore Jacob Dean also recovered two fumbles.
Next up for Wellsboro (1-6, 1-5 NTL Large School Division) is a trip to South Williamsport. Wellsboro went 1-and-1 with the Mounties last year, beating them in the regular season 17-7, but losing to them 36-7 in the first round of last year's District IV Class AA playoffs.
"We haven't seen any film on them yet this year, but we know what to expect," concluded Hildebrand. "They're a run-heavy team and we have to stop their ground game. We also have to execute our offense like we did tonight. Ryder ran really hard and we'll need that next week. It's a tough place to play, the fans are right on top of you, but we're looking forward to going down and hopefully getting win number two."