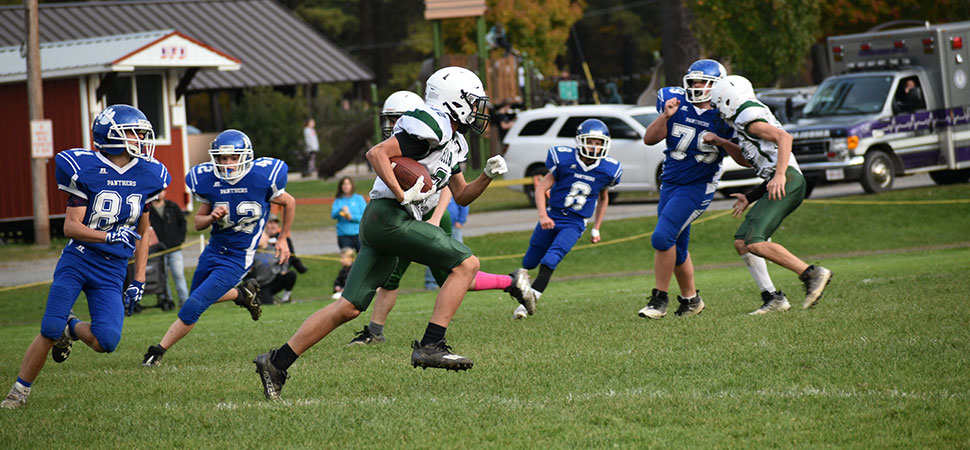 Junior High Hornets End Season With 35-0 Shut Out Over North Penn
By: Ed Weaver / October 13, 2022 / Photo: Chrissy Dean
The Wellsboro Junior High Football team shut out rival North Penn-Mansfield 35-0 in their final game of the season on Wednesday, October 13.
The young Panthers started out with the ball but a Griffin Morral interception went for six points to put the Hornets in front 7-0 after a Coen Tennis extra point. After a defensive stop, Wellsboro would put together a drive finished by Reed Richardson punching it in for a touchdown. Tennis would again add the PAT to make it 14-0.
On Wellsboro's next possession, Keagan Spaar would carry it in from 30 yards out for the third Wellsboro score on the day. Tennis's Pat made the score 21-0 Wellsboro at the half.
Maxwell Mascho would open up scoring for Wellsboro in the second half with a short touchdown run. The PAT was wide leaving Wellsboro with a 27 point lead.
Sylar Pietrzyk would add one more score for Wellsboro. Mascho completed a conversion pass to Ethan Keane to bring the score to 35-0 Wellsboro.
"We played a complete game today from the opening snap until the end," head coach Shane Mascho said. "Everyone we put in the game performed well and executed their assignments. Levi Champaign had an extra level of intensity today to lead both sides of the line. Coen continued to dominate on the edge. Coen and Justin Mosher being able to set the edge has led to our turnaround as a team. Sylar has started running the ball with authority the second half of the season as well. It has been great to see their growth over the course of the season and I cannot wait to see what they are able to do at the JV and Varsity level in years to come."
The Hornets end the season 4-3 and on a 4-game winning streak.