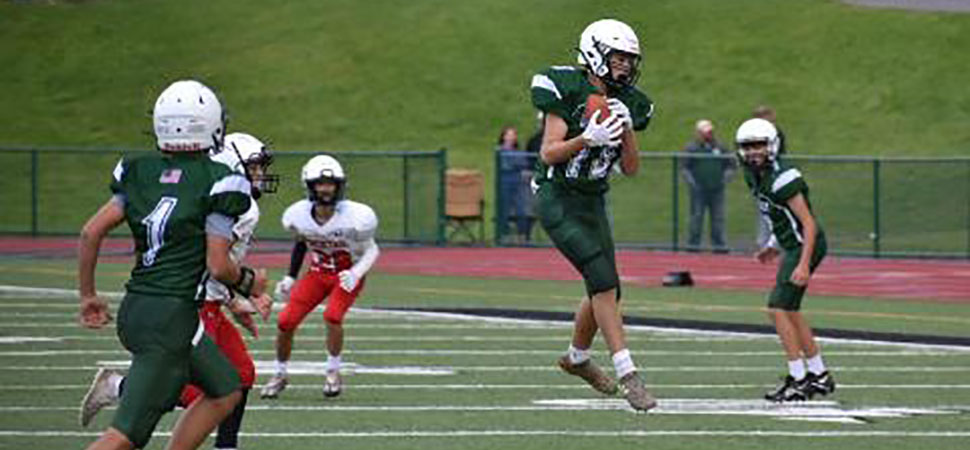 Junior High Hornets Shut Out Bucktail, 28-0
By: Ed Weaver / September 23, 2022 / Photo: Chrissy Dean
The Wellsboro Junior High Football team earned their first win of the season following a 28-0 shut out of Bucktail on Thursday, September 22.
Syler Pietrzyk capped off the opening drive with a Touchdown run. A failed conversion left the Hornets up 6-0.
Maxwell Mascho would put Wellsboro's next drive in the end zone with a rushing touchdown. Griffin Morral complete a pass to Ethan Keane for the 2 point conversion.
Keegan Spaar scooped and scored for a touchdown when Wellsboro returned to defense. Coen Tennis ran the conversion play in to make the score 22-0 going into the half.
In the second half, Wellsboro would hold on defense and have their drive stalled in the red zone as a penalty took a score off the board. Maxwell Mascho would add another run to close scoring for the night.
Defensive standouts for Wellsboro were Izaya Campbell and Coen Tennis.
"Coach Reese put together a nice defensive game plan to pitch a shut out," head coach Shane Mascho after the victory. "The kids played fast on defense today, reading their keys and attacking well. We were more disciplined on offense today keeping the penalties to a minimum."
The Hornets improve to 1-3 overall and host South Williamsport next Wednesday, September 28.