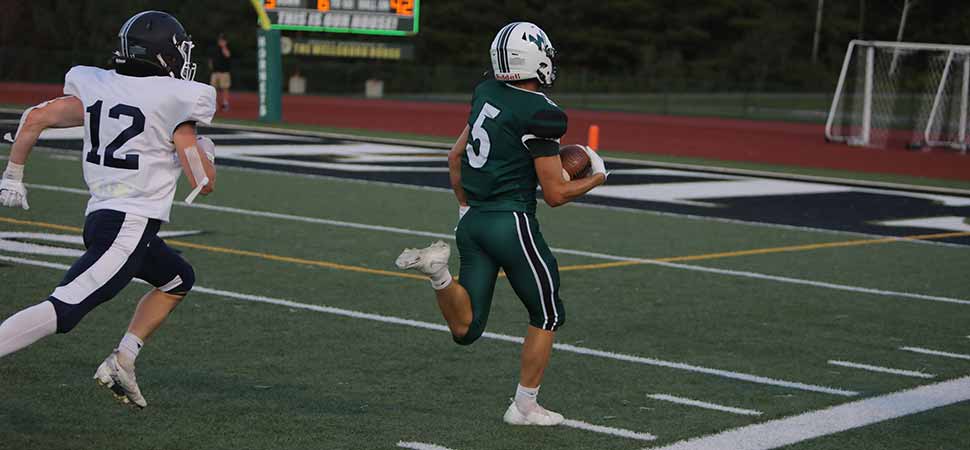 Miscues Doom Hornets in 30-22 Loss To Muncy
By: Ed Weaver / September 3, 2022 / Photo: Dr. Robert Bair
Penalties, turnovers, and special teams miscues led to a 30-22 loss in Wellsboro's home opener on the gridiron against Muncy on Friday, September 2.
Despite all of that the Hornets still had a shot at pulling off an upset in the games closing minutes.
Trailing 30-14 after a 39-yard run by Muncy's Austin Johnson, senior quarterback Conner Adams connected with fellow senior Jack Poirier on a slant pattern. Poirier turned on the gas and out-raced the Indians defense for an 80-yard score to cut the lead to 30-22 with 1:49 remaining in the game. Wellsboro attempted the onside kick, which the Indians recovered, but the Hornets forced a three-and-out and a punt.
With no timeouts Wellsboro's first two pass plays fell incomplete. Adams' third pass was complete, but senior Joe Brown was brought down in bounds, keeping the clock running. Wellsboro managed to the get next play off, a pass from Adams to senior Spencer Wetzel that was complete for 20 yards to end the game.
"The last two weeks we've beat ourselves," Wellsboro head coach Matt Hildebrand stated. "They're both good football teams (Montoursville and Muncy), I don't want to take anything away from them, but I fully believe we were capable of winning last week and this week. This week we talked before the game about how we needed to finish and we didn't do that. We make mistakes that we can't recover from."
Both teams traded drives until the Hornets struck with 6.8 seconds remaining in the opening quarter when Adams connected with Poirier from 58 yards out to give Wellsboro an early 7-0 lead. Muncy would answer back off a Wellsboro fumble with 9:16 remaining in the 2nd quarter on a 23-yard run by Johnson, tying the game at 7-all.
Wellsboro later broke the tie midway through the third quarter on their opening drive when Adams broke free on a 36-yard run for the score following a 14-yard pass to Brown, making it 14-7.
The Indians answered on their ensuing drive but would fail to take the lead. A 27-yard run by Johnson moved the ball all the way down to the Wellsboro 23, but the penalty bug bit the Indians and moved them back to their 39. From there, back-to-back passes from Branson Eyer to Ross Eyer capped the drive on a 19-yard touchdown strike. Sophomore Will Gastrock blocked the extra point, keeping Wellsboro in front, 14-13.
However, this is when things started to turn sour for the Hornets. Wellsboro's ensuing drive stalled after six plays deep in Wellsboro territory on a bad hop on the kick return. Forced to punt, the snap went over Brown's head and into the end zone. Brown scooped up the ball, tried to find an open teammate, but was called for intentional grounding, resulting in a safety. Muncy now led 15-14 with 46.1 seconds left in the 3rd quarter. Just over two minutes into the start of the 4th Branson Eyer broke loose and scored from 45 yards out, pushing Muncy's lead to 23-14.
Wellsboro's next drive again ended in a punt, and again, a bad snap force Brown to try and run for the 1st down.
Following back-to-back interceptions, Muncy again found the end zone with 2:53 remaining on Johnson's 39-yard run.
Adams finished 12-or-22 through the air for 206 yards, 2 touchdowns, and 2 interceptions. Poirier caught both of Adams' touchdowns for 138 yards. Brown caught 5 passes for 38 yards and Wetzel added 3 grabs for 31 yards. Sophomore Ryder Bowen led the Hornets on the ground with 53 yards on 15 carries, followed by Adams with 41 yards on 12 attempts. Defensively, senior Cameron Brought had 12 tackles, a forced fumble and recovery while Brown and junior Hayes Campbell made 10 stops each. Will and brother Wyatt Gastrock each made 7 tackles while Wyatt also recorded 2 sacks.
"I like the kids fight," continued Hildebrand. "They fought all the way until the end. I take just as much blame, there's some situational football where I have to do a better job of teaching the kids. At the end of the game we can't go down, we have to try and throw the ball around, knowing the situations, getting out of bounds. There's things that we have to do better as a coaching staff. Our schedule doesn't get any easier and we have to continue to get better because I do believe we're a good football team right now, our records just doesn't show it."
Wellsboro (0-2, 0-1 NTL Large School Division) travels to Canton (2-0, 1-0 NTL Large School Division) next Friday, September 9.