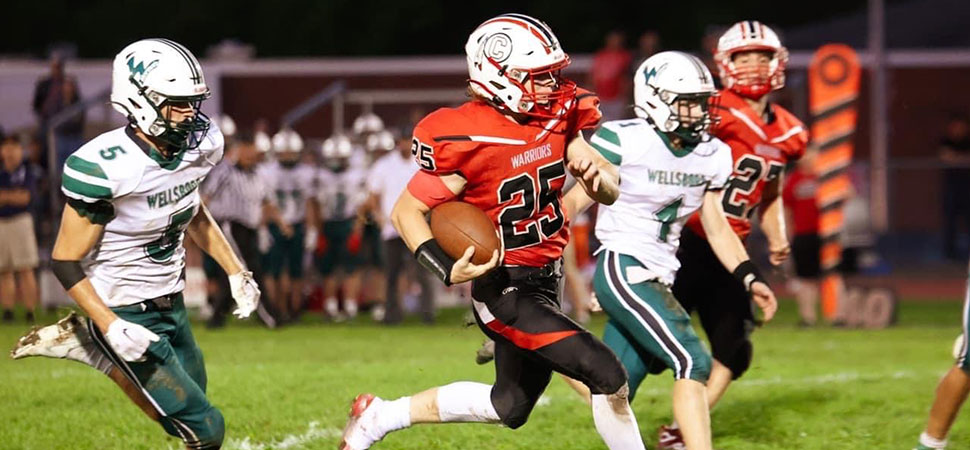 Parker's 3 TDs lead Canton In Shutout Of Wellsboro
By: Ed Weaver / September 10, 2022 / Photo: Joe Carreon
Canton's Riley Parker rushed for 163 yards and 3 touchdowns to lead Canton in a 35-0 rout of Wellsboro on Friday, September 9.
So far in the 2022 season the Warriors have been a run heavy team, however on their second play from scrimmage QB Austin Allen connected with Weston Bellows on a 41-yard pass, which both Bellows and senior Spencer Wetzel came down with, but possession was ruled in favor of Bellows. Four plays later the Warriors found themselves in the end zone as Allen dialed up his own number and rushed in from 22 yards out with 9:33 left in the opening quarter.
From there the Warriors turned to Parker.
Parker scored the next three Warrior touchdowns on runs of 66, 45, and 50 to put Canton up 28-0 with just under 10 minutes to play in the first half.
Not even two minutes later, a stalled Wellsboro drive deep in Hornet territory ended in disaster. On 4th down at the 9 Canton broke into the backfield and blocked a Joe Brown punt, which Brenen Taylor recovered in the end zone for the game's final score.
Canton accumulated 351 yards of total offense, 306 of which came on the ground. Parker led the way and behind him was Hayden Ward with 61 yards. Allen and Bailey Ferguson, who split time at QB, both completed one pass. Allen's for 41 and Ferguson's for 4. Both passes were caught by Bellows.
Sophomore Will Gastrock led the Hornets in the air, completing 4-of-8 passes for 57 yards. Senior Conner Adams was 4-for-12 for 12 yards. Brown caught 3 passes for 44 yards and rushed 7 times for 19 yards. Sophomore Ryder Bowen carried the ball 8 times for 18 yards and Gastrock added 9 yards on a pair of carries. Wetzel also caught 3 passes for 18 yards, and senior Jack Poirier made 2 grabs for 7 yards.
Bowen led the Hornets with 9 tackles. Will Gastrock add 8 tackles, senior Cameron Brought had 7 tackles and a sack, freshman Hayden Stevens made 6 stops, and Brown added 6 tackles.
The loss drops the Hornets to 0-3 (0-2 NTL Large School Division). The last time the Hornets started off the season 0-3 was in 2006, when they lost to South Williamsport, Canton, and Athens to start the year before finishing 4-6.
Next up for Wellsboro is a date with the Athens Wildcats (2-1, 2-0 NTL Large School Division) on Friday, September 16. It is also Hall of Fame Night, as the Wellsboro Hall of Fame Class of 2022 will be inducted during halftime.