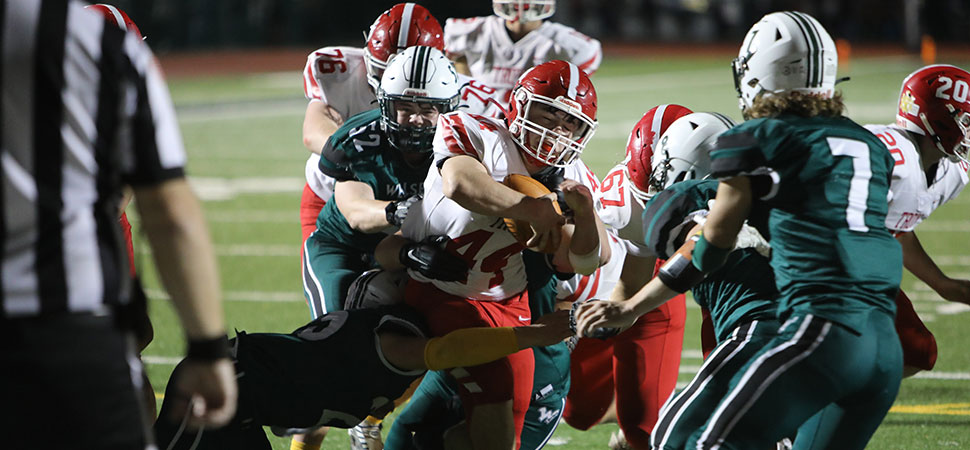 Trojans Mercy Rule Hornets
By: Ed Weaver / September 30, 2022 / Photo: Dr. Robert Bair
The Troy Trojans accumulated nearly 400 yards of total offense to improve to 6-0 following a 45-3 NTL Large School Division win over Wellsboro on Thursday, September 29.
Troy scored seven times in the opening half to enact the Mercy Rule running clock for the second half. Wellsboro started out with the ball after Troy deferred the opening toss, but it didn't take the Trojans long as they picked off a Will Gastrock pass on the Hornets' 5th play from scrimmage and returned the ball down inside the 10. Two plays later, Clayton Smith plowed his way in from 4 yards out to put the Trojans up, 7-0.
Wellsboro's ensuing drive would be their best of the night and produced their only points, a 33-yard field goal by senior Jack Poirier, cutting Troy's lead to 7-3 with 5:34 remaining in the opening quarter.
However, the flood gates would open and Troy would score 38 unanswered points.
On the kickoff following Wellsboro's field goal, Troy's Charles Oldroyd returned the kick 90 yards for a score, then Troy recovered an onside kick that led to a 44-yard touchdown run by Evan Woodward, followed up by a 78-yard pass from Woodward to Justice Chimics to make it 28-3 at the end of the opening quarter.
Troy picked back up where they left off with 7:48 remaining as Woodward threw his 2nd TD pass of the evening, this one from 20 yards out to Mason Woodward. Just over two minutes later the Trojans followed up with a 31-yard Chimics field goal, then with 1:43 remaining Smith scored for the second time this evening from a yard out, pushing the score to 45-3.
Evan Woodward finished 3-for-4 for 104 yards and 2 touchdowns through the air, Smith carried the ball 11 times for 47 yards, and Chimics caught two passes for 84 yards.
Gastrock was 2-for-12 for 41 yards in the air to lead Wellsboro and also added 19 yards on 10 carries. Ryder Bowen rushed 18 times for 51 yards and Poirier caught one pass for 37 yards.
Troy improves the 6-0 (4-0 NTL Large School Division) while the Hornets fall to 0-6 (0-5 NTL Large School Division). Troy returns home next Friday to host Towanda while its Homecoming week in Wellsboro, with the Hornets hosting Wyalusing.