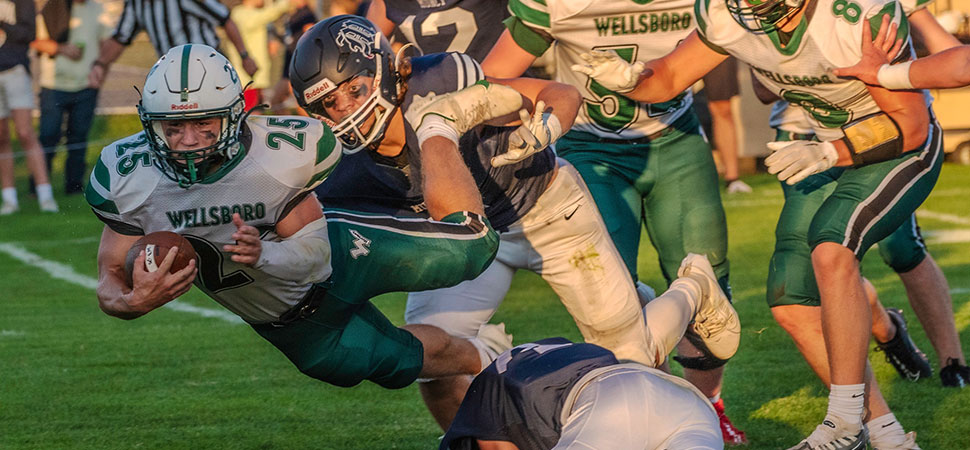 Bowen's 2 TDs Lead Hornets In Upset Over Muncy, 14-13
By: Ed Weaver / September 2, 2023 / Photo: High On The Mountain Photography
Junior Ryder Bowen scored a pair of touchdowns to lead the Wellsboro Varsity Football to a 14-13 upset win on the road in Muncy on Friday, September 1.
The win breaks Wellsboro's four-game losing streak dating back to October 14, 2022.
"The offensive line did a great job tonight," Bowen said. "They've been working harder than any of us on the field and they made it easy to run behind them."
After Muncy's first two drives ended in punts, along with the Hornets' first possession, Wellsboro's second possession resulted in the game's first points. Bowen put the team on his back, leading all rushers with 99 yards on 26 attempts. His first tow carries went for 11 and 12 yards and a pair of first downs. Bowen carried the ball six straight times moving the Hornets all the way down inside the Muncy red zone. A 9-yard carry by junior Will Gastrock setup the Hornets with a first and goal from the Indians' one, which Bowen would capitalize on one play later. Sophomore Jonathan Carl drilled the extra point, putting Wellsboro up 7-0 with two minutes remaining in the opening quarter.
Muncy moved the ball well on their ensuing drive, highlighted with a big pass from Stiles Eyer to Jacob Fowler into Wellsboro territory before Austin Johnson capped the 9-play drive with a 4-yard jaunt into the end zone, knotting the game at 7-all with 10:06 left in the opening half.
The score remained tied, mainly due to Muncy's defensive efforts coming up with a pair of interceptions.
Wellsboro's opening drive of the second half stalled after another interception, which led to seven more points for the Indians. After Johnson was dropped at the line of scrimmage on the first play, Landyn Wommer caught the left corner and out-raced the Wellsboro defense on his way to a 35-yard score. The following kick, however, was no good, leaving the Indians up 13-7 with 9:17 to go in the third quarter.
Following the Indians' tie-breaking score, the Hornets mounted a drive that consumed the rest of the third quarter clock and the beginning of the fourth. Starting at their own 34 head coach Matt Hildebrand mixed up runs by Bowen and Gastrock, and a pass from Gastrock to senior Hayes Campbell , to work their way down to the Muncy 2. However a bad center-quarterback exchange resulted in a fumble, the Hornets' fourth turnover of the evening, preventing Wellsboro from scoring, and giving the Indians back the ball. Muncy's drive stalled after three plays in the shadow of their own end zone, forcing a punt. Wellsboro took back over with excellent starting field position at the Muncy 30, and wasted little time getting back to where they were a drive before.
This time it was Gastrock to Campbell for 24 yards on 4th-and-5 at the Muncy 25 that setup Bowen's second one-yard plunge into the end zone. Carl converted the extra point, giving Wellsboro the one-point, 14-13, lead with 7:06 left to play.
Neither team could do much of anything offensively over the course of the next few minutes, however Wellsboro did pick up a sack and an interception on Muncy's Stiles Eyer. Following back-to-back punts by Wellsboro the Indians had one last chance for the come-from-behind win. Starting on their own 25-yard line Eyer broke free from the pocket and scrambled for a 22-yard pickup to the 47. However, the Indians were hit with a delay of game penalty, then Eyer was dropped for a 10-yard loss by junior Lincoln DeCoursey as time expired, sealing the Wellsboro victory.
"That sack at the end felt incredible," said DeCoursey. "The line did amazing tonight, I think we played really well and I'm glad we won."
"I'm really proud of these guys, they fought all night and beforehand I told them to just believe in themselves. The kids are good football players, we just need to learn how to win games. Coming off last week it would've been very easy to think some things about yourself that aren't true, but these guys came out tonight and just played football and they fought, and fought, and fought. It doesn't have to be pretty, no one looks at how pretty it is they look at the score at the end of the game and if that's how we have to win, we'll take it. We found out last year it's not easy to get wins and these guys grew up a lot tonight. Our special teams play was huge, we had freshman step up tonight big time. I'm just really, really proud of these guys."
Gastrock completed 4-of-11 passes, all to Campbell for 91 yards and also rushed 16 times for 57 yards. Bowen led Wellsboro's defensive efforts with 8 tackles. Campbell added 4 stops, sophomore Marek Mascho made 5 tackles, sophomore Hayden Stevens added 4 tackles, and freshman Ethan Keane made an interception.
"Having Lincoln back and between him and Jacob Thurstin we probably ran the ball 20-30 times behind those two bruisers, and they got the job done," continued Hildebrand. "It makes me so happy for a guy like Lincoln who's put all the work in to get back on the field and to come out and get a win really makes it worth it. That's what football's all about. I just can't be more proud."
Eyer finished 5-of-10 through the air for 59 yards. Johnson carried the ball 11 times for 44 yards with a touchdown, Wommer added a touchdown from 35 yards out, and Jacob Fowler also rushed 9 times for 35 yards.
Next week the Hornets (1-1, 1-0 NTL Large School Division) host Canton (2-0, 2-0 NTL Large School Division) on Thursday, September 8. It will also be Hall of Fame night as the Wellsboro Athletic Department and Booster Club honor the Hall of Fame Class of 2023.