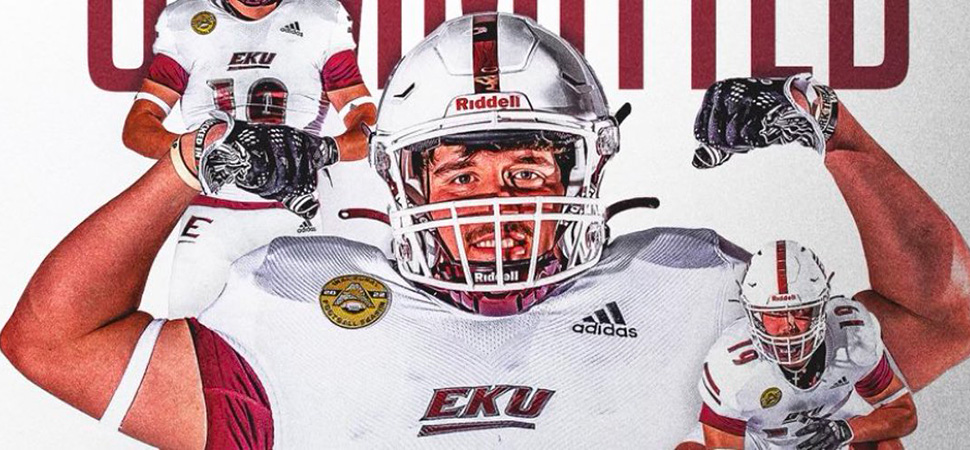 Brown Commits To Eastern Kentucky
By: Ed Weaver / June 13, 2023
Former Hornet Hunter Brown committed to Eastern Kentucky to finish his two remaining years of college football on Thursday, May 25.
Brown spent the past four seasons at St. Francis (Division I FCS) playing at Tight End in 25 games before entering the transfer portal earlier this winter / spring.
"I decided to enter the portal, because I spent my 4 years at SFU and decided it was time for me to move on and try and play the best competition I can in my playing window," he said.
Before settling on Eastern Kentucky, Brown had offers from Samford, Northern Arizona, Western Illinois, Mercer, Chattanooga, and Texas A&M Commerce.
"This was a tough decision," continued Brown. "Not really being recruited out of high school to having a decent amount of people contact me and offer me, I didn't know what I wanted. Having so many decisions definitely made the whole process harder, but it was between Chattanooga and EKU. After thinking about everything both had to offer, EKU seemed like the better fit and choice for me.
"I liked the head coach, Coach Wells, along with the whole coaching staff. The campus is nice. Their facilities are very nice, and they have a good support system behind their football team. Also play great competition. They had success with getting guys to the NFL, which is my ultimate goal."
Brown finished his Wellsboro career with 4 catches for 73 yards and a touchdown, 228 tackles, 3 interceptions for 83 yards, 7 pass deflections, 5 forced fumbles, 11 recovered fumbles, and 17 sacks. At SFU Brown rushed 10 times for 46 yards and a touchdown and caught 30 passes for 405 yards and 3 scores.
"I am extremely proud of Hunter and what he has accomplished, in his academic and football career," head coach Matt Hildebrand said of his former player. Not many players from the NTL go on to play Division I football. The fact that Hunter worked his way into a 3-year starter at tight end, a position he played only once in high school is even more impressive. Hunter now going to Eastern Kentucky to complete his grad work on another full scholarship adds to his legacy. Hunter has been able to use football to gain an education and future masters degree and set himself up for a very bright future. What has always separated Hunter from the rest of his competition is his relentless work ethic and never letting anybody tell him he can't do something. There will always be bigger, stronger and faster players on the field but none that work Harder than Hunter Brown. He has already made a lot of people very proud in what he has accomplished but continues to go further and further into his football journey. Eastern Kentucky is getting a great football player and an even better person. It will not surprise me if this is not his final stop as he chases his dreams in football and sees how far he can take himself. I wish him the best of luck and many of us in the Wellsboro football community are very excited to watch you continue this journey."